Energy IQ: Hybrid clouds to edge computing, trends that will shape the data centers industry in this decade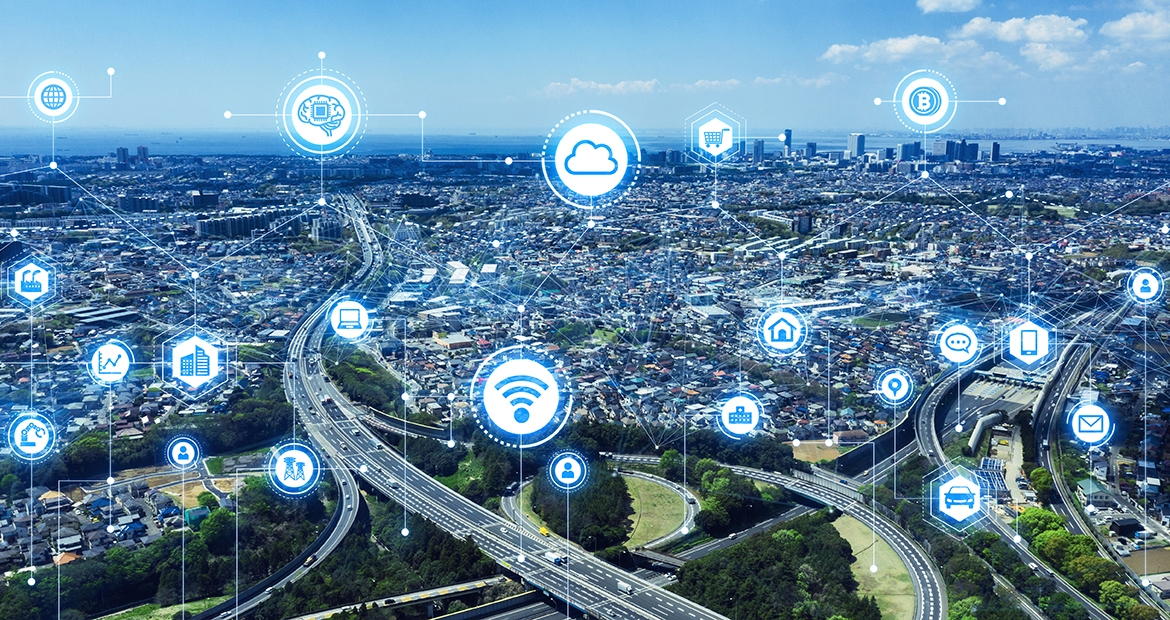 We take a look at five trends that will influence the future of the data center industry in our latest Energy IQ article. 
If you look back to the last decade and reflect on a few trends that have shaped the data center industry, it is likely you might think about the increase in hyperscale data centers and the rise of cloud. Looking into the decade ahead, the data center industry is still on track to continue its growth pattern. In fact, cloud computing market is estimated to grow by 18% a year within the first three years of the decade 1. Meanwhile the trends that will shape the industry through this growth will be different than the previous decade.
Trends shared in this article are aimed to keep your perspective of the future of data centers fresh as you continue to shape the data center industry. Let's look at these five trends that will influence the data center industry this decade..
No. 1: Hybrid clouds to increasingly become the top choice for most enterprises
The rise of cloud started in the 2000s and rapidly took off within the world of data centers the following decade. Meanwhile, this decade will be shaped with the rise of hybrid cloud. 
Private and public clouds offer different benefits to the users. Users of private clouds enjoy higher levels of security and customization to fulfill their regulatory needs and unique circumstances. On the other hand, users of public clouds enjoy relatively lower costs and on-demand scalability. Meanwhile, hybrid clouds bring a combination of these benefits with manageable shortcomings.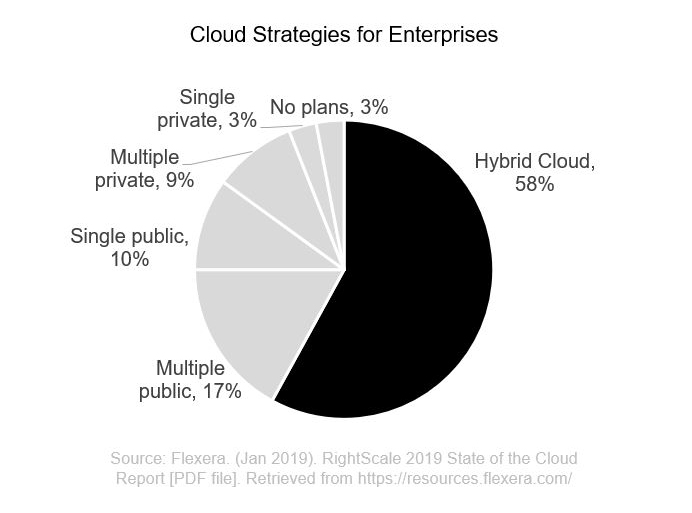 A hybrid cloud is when a company combines the use of a private cloud for mission-critical workloads and a public cloud for less sensitive workloads. Companies using hybrid clouds can still have higher security for mission-critical workloads and leverage lower cost public clouds for less sensitive workloads. They key shortcoming of a hybrid cloud is the compatibility between the public and private clouds, however, this could be effectively managed. 
These benefits make the hybrid cloud the top cloud strategy among enterprises. In fact, 58% of enterprises are pursuing it, in comparison to 51% the year before. The hybrid cloud is expected to continue its rise through this decade.
No. 2: Growth in edge computing, fueled by IoT and enabled by 5G, will complement, not replace, the cloud 
Increased use of Internet of Things (IoT) devices is one of the key drivers behind the expanding need for edge computing. Meanwhile 5G comes to play as one of the technologies that enable edge computing. 
Businesses from healthcare to manufacturing are increasingly using IoT devices, and expect very low latency in their operations. In these cases, it is not acceptable to produce the data, send it thousands of miles away to be processed and receive back the processed data. As 5G adoption speeds up, it will exponentially increase the amount of data generated by IoT devices, thus worsening the latency issues. Interestingly, this is not an issue restricted to businesses, as our homes feature more IoT devices, and more of us are driving autonomous cars, each of us will generate more data and expect it to be processed with low latency. Imagine having a smart bulb and having to wait 5 seconds to turn it on after using the smart light switch or the app on your smart phone.
Edge computing could address this need for improved latency by bringing the computation resources much closer to end users and their IoT devices. This growth in edge computing won't necessarily replace the cloud, instead the combination of the edge and cloud will result in a more capable digital and physical infrastructure. 
No. 3: Talent shortage will arise in new geographies and existing talent will experience a shift in skills
The first International Data Center Day, powered by 7*24 Exchange International, intentionally aimed to inspire the next generation of talent as the talent gap for data centers continues to widen. Beyond  the sheer growth of the industry, the two trends covered above are driving this expanding talent gap. 
As the need for edge computing increases, new data centers are being built in new geographies to get closer to the end users and their IoT devices, while improving the latency. This creates the need for data center talent in cities and towns that didn't previously have any significant data center footprint. However, when it comes to the rise of hybrid clouds, the situation is a little different. Operating data centers supporting hybrid clouds require a combination of both software and hardware related skills, as hybrid clouds bring both together. 
On the other hand, the rise of artificial intelligence (AI) will likely help data center operators build smarter data centers where certain tasks are managed by AI, easing the talent shortage to some extent.
Talent shortage, whether it is talent in new geographies or new skills existing talent needs, will shape the coming decade. This will bring opportunities for cloud providers and their enterprise customers to collaborate more closely in cross training talent to expand their skills.
No. 4: Energy efficiency and environmental impact will get increasing attention
While the power usage effectiveness (PUE) of data centers continue to improve from 2.5 in 2007 to 1.67 in 2019 3, signaling increasing efficiency, data centers are still consuming a large amount of energy. In fact, it is estimated data centers collectively consume more energy than the world's fifth largest economy, the United Kingdom 4. 
Meanwhile, keep in mind the  world's energy and electricity are still primarily produced by fossil fuels and 38% of the electricity is from coal, one of the worst offenders in carbon emissions. Between data centers' high energy consumption and our dependence on fossil fuels, you might not be surprised to hear that data centers generate about 2% of the world's carbon emissions.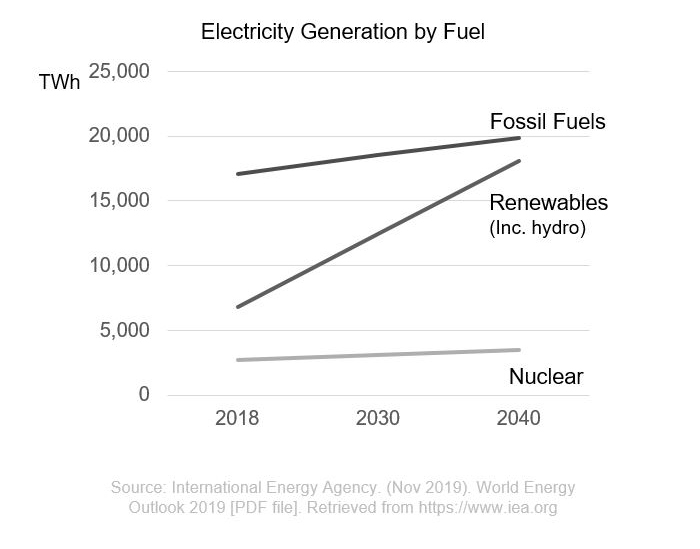 In addition to carbon emissions, water usage is forecast to get more attention as a part of the broader sustainability umbrella. On the other hand, there is some good news for data centers too. A range of developments ranging from converged technologies to cooling architecture changes are forecast to enable data centers to become more energy efficient. "Energy trends in data centers" brings more details on the energy future of data centers, including a look at carbon offset credits.
No. 5: Security was important and will be important, but for evolving reasons
We have debated whether the list should start with security or end with it. Security was always important for data centers and would be on this list whether we focus on 2000s, 2010s or 2020s.
If you go back a decade ago, regulatory needs kept security top of mind for data center operators. More recently, financial consequences of security breaches became a key driver, and the regulatory aspect became more of a table stake. 
In the decade ahead, two aspects of security will take the center stage. First is the life-threatening aspect of security breaches. Think of the consequences of security breaches in data centers that support the operation of autonomous cars or healthcare IoT applications. Second is the security challenges introduced by edge data centers. Edge data centers will be smaller in size and likely won't have local personnel, and the industry will need to find solutions to address security in these unmanned sites.
While there seems to be no end to the growth in the data center industry, the profile of growth will change during this decade. Whether it is increasing the adoption of hybrid clouds or the rise of edge computing, it will be an exciting decade for all stakeholders of the industry. Insights shared in this article are aimed to keep your perspective of the future fresh and current as you continue to shape the data center industry.
Sign up below for Energy IQ to receive energy focused insights in markets ranging from data centers and healthcare facilities to schools and manufacturing facilities, and everything  beyond. To learn more about data center power solutions Cummins offers, visit our webpage.
Think your friends and colleagues would like this content? Share on LinkedIn and Facebook.
References: 
1 Cloud Computing Market by Service, Deployment Model, Organization Size, Workload, Vertical And Region - Global Forecast to 2023. (February 2019). ReportLinker. Retrieved from https://www.reportlinker.com/
2 Global Cloud Index Projects Cloud Traffic to Represent 95 Percent of Total Data Center Traffic by 2021. (February 2018). Cisco. Retrieved from https://newsroom.cisco.com/
3 Lawrence, A. Is PUE actually going UP?. (May 2019). Uptime Institute. Retrieved from https://journal.uptimeinstitute.com/
4 Danilak, R. Why Energy Is A Big And Rapidly Growing Problem For Data Centers. (December 2017). Forbes. Retrieved from https://www.forbes.com/