Global teamwork procures masks for Cummins employees in China
Putting their job skills to work, Cummins employees from Johannesburg to Columbus, Ind., sprang into action last month and procured more than 500,000 protective masks for their fellow employees in China.
China residents must wear respiratory masks when in public as the first line of defense to the spread of the novel coronavirus. More than 90,000 people in over 65 countries have been infected by the virus, and more than 3,000 have died.
"A lot of colleagues across the world have provided great support in helping us source masks and relentlessly driving to the final resolution of this urgent request." said Steve Chapman, Cummins' Group Vice President, China and Russia.
"The procurement of the 500,000 FFP2 masks not only ensures the protection of our employees' health and safety, but also helps us remove one of the major obstacles for the business continuity of our operations in China," Chapman added.
Groups within Cummins, including Indirect Purchasing and Manufacturing teams within the company's Supply Chain organization, as well as the Distribution Business' Global Operations, aggressively reached out to potential suppliers and identified other resources to address the issue for their colleagues in China.
Although the team successfully secured some orders from the U.S., U.K. and a few other countries, there was still a huge gap between the demand and supply needed to reopen operations and protect the more than 12,000 Cummins employees in China.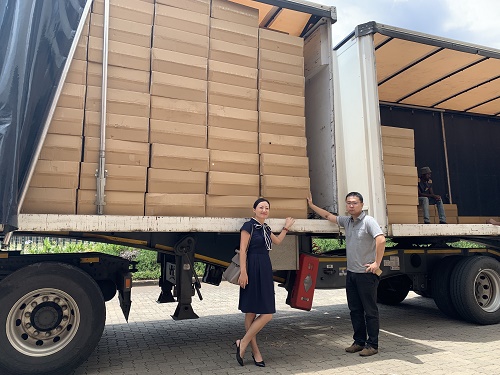 THE TURNING POINT
The turning point came in South Africa. After receiving urgent requests from their colleagues in China, the Africa and Middle East Area Business Organization immediately mobilized. Annie Chu and Yueqian Zhang in Johannesburg spent a weekend searching for a supplier. On Feb. 2, they successfully secured 500,000 FFP2 masks.
The supplier, however, asked for immediate payment, which made the process even more urgent. Company officials in China and Africa worked with Corporate Supply Chain, Finance and other functions around the clock to resolve the business issues while abiding by all regulations and requirements.
The first batch of 160,000 masks arrived in Shanghai on Feb. 8, and by Feb. 14, all the remaining masks had arrived. The masks played a critical role in the resumption of business for many Cummins' China operations. The cross-border teamwork is continuing as another set of masks is readied to ship to China.
"It has been a privilege for us to be in a position where we could do something to help, and I am very proud of the dedication and selflessness of our Africa and Middle East employees and the great collaboration between them and our colleagues in China," said Thierry Pimi, Executive Managing Director of the Africa and Middle East Area Business Organization.
TEAMWORK IS EVER PRESENT
The teamwork didn't stop there. Many Cummins employee groups have also mobilized to secure donations for individuals in impacted regions. For example, the Columbus Chinese Association, Cummins East Asia Employee Resource Group and many others explored various opportunities to source and donate masks and other items. Those efforts alone resulted in 10,000 masks successfully sent to Cummins employees and local communities in Wuhan and Xiangyang.
The campaign to procure masks demonstrated once again that teamwork isn't just talked about at Cummins. It's put into action everyday to build a stronger company and stronger communities around-the-world.