Energy IQ: What is stationary energy storage and how energy storage works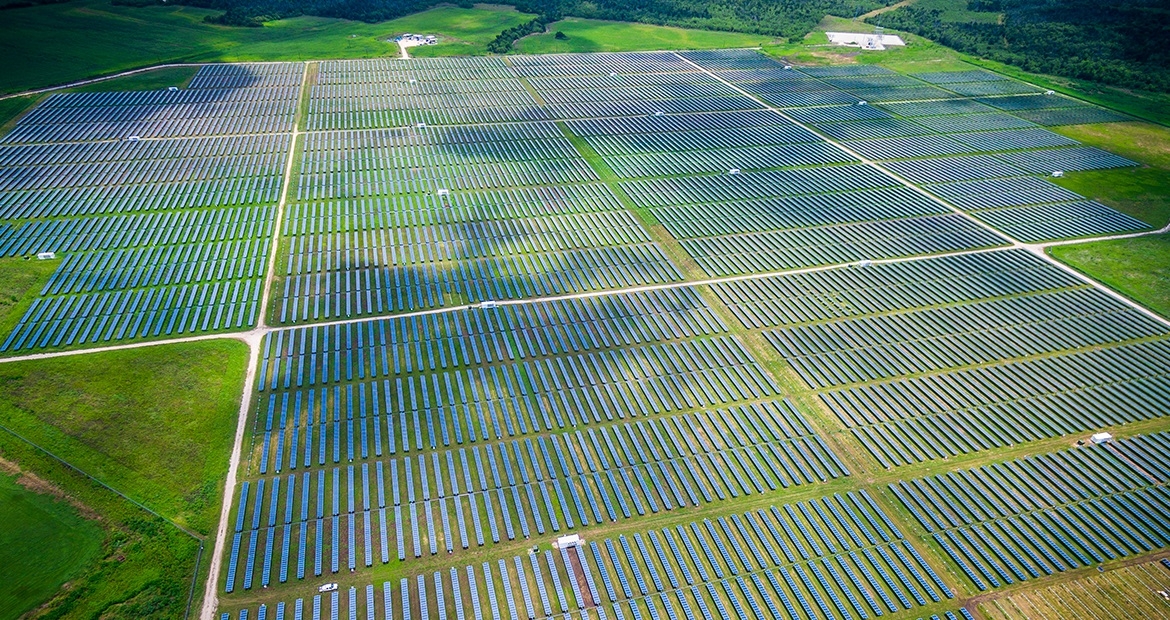 Last year, solar installations across the world were over 100 GW1 and covered an area equivalent to one tenth the size of Puerto Rico in just one year. Similarly, the installation of on-shore and off-shore wind turbines are speeding up.
This is great news, yet introduces an unexpected challenge. In a given geographical area, newly installed solar and wind capacity will likely be producing electricity at the same time with the existing solar capacity. This can result in excess electricity from renewable sources during a certain time of the day, and no energy being produced when the sun isn't shining, and the wind isn't blowing. So, the challenge becomes how to capture and store this excess energy for future use.
This is where stationary energy storage technologies comes to play and become an instrumental component of the future of energy infrastructure. Let's answer four common questions about energy storage technologies to boost your energy IQ.
No. #1: Why do we need stationary energy storage technologies?
The daily pattern of when and how much electricity we produce differs from when and how much electricity we consume. Moreover, renewable energy sources aren't flexible, meaning they can't be dispatched when needed to meet the ever-changing requirements of energy consumers.
While traditional power plants and interconnections will continue to be key levers to address this challenge, energy storage systems are projected to be the rising star in solving this flexibility challenge.
Advancements in battery technologies and decreasing costs are the enablers behind the rise of stationary energy storage technologies. 
No. #2: What is a stationary energy storage system?
A stationary energy storage system can store energy and release it in the form of electricity when it is needed. 
In most cases, a stationary energy storage system will include an array of batteries, an electronic control system, inverter and thermal management system within an enclosure. 
Unlike a fuel cell that generates electricity without the need for charging, energy storage systems need to be charged to provide electricity when needed.
No. #3: How does a stationary energy storage unit work?
Batteries and an electronic control system are at the heart of how stationary energy storage systems work. Batteries are where the energy is stored within the system in the form of chemical energy, and lithium is the most popular element used to store the chemical energy within batteries. 
Here is a simplified overview of how batteries work during discharging and charging.
Discharging energy in the form of electricity: Lithium is stored on one end of the battery with its electrons. Electrons get separated from lithium and move through a circuit to provide electricity to the loads. Meanwhile, lithium ions, now positively charged since they lost negatively charged electrons, move from one side of the battery to the other side. This movement continues until all the lithium ions move to the other end; this is when the battery is discharged.
Charging the batteries and storing the chemical energy: A source external to the battery starts to provide electricity, providing an influx of electrons to the battery. These negatively charged electrons start to merge with the positively charged lithium ions, and the lithium elements, now neutrally charged, move from one side of the battery to the other side. Once all the lithium elements move, the battery is now fully charged. 
An electronic control system is the brain orchestrating the operation of the energy storage system. It controls when the batteries need to charge, when the loads need the energy from the batteries, and the operation of the thermal management system. This control system also interacts with devices outside the energy storage system to coordinate the operation. 
An inverter is where the electricity produced by the batteries is converted from direct current (DC) to alternating current (AC). Most of our homes and offices are wired for AC, and the utility grid carries electricity in AC. With the help of the inverter, the electricity provided by the batteries can be used to power loads.
The thermal management system manages the temperature of the overall system and prevents the heat generated through the chemical reactions within the batteries to be harmful for the system operations. 
No. #4: Where will I see stationary energy storage solutions?
Economic feasibility is one of the key drivers of where stationary storage solutions will be adopted more rapidly. A high local price of electricity, low resiliency of existing power infrastructure and criticality of business operations all play a role in this, yet two types of customers likely leverage energy storage solutions ahead of others.
Utilities, power producers and grid operators: Already an area where an increasing amount of installed capacity exists. Energy storage solutions address a range of customer challenges including intermittent renewables, peak demand and short outages.
Commercial buildings: Within this large group, energy storage solutions will likely become more common for businesses where the cost of energy is significant, or the continuity of operations is extremely critical. 
Another use case for stationary energy solution systems is to provide an uninterrupted supply of power in the event of an outage, while backup power generators are starting up. This is where the immediate dispatch capability of these solutions comes into play; in reacting to loads that have significant voltage and frequency fluctuation, for which some generating assets aren't capable of reacting to without causing interruptions.
Cummins involvement in stationary energy storage systems
Cummins Inc. is a leading provider of diesel and natural gas power generators, digital solutions and control systems; and has recently developed Tactical Energy Storage Systems (TESS). The TESS provides an integrated power solution when used in a tactical microgrid to increase resilience, improve power quality and provide silent power. 
Microgrids and fuel cells  to energy storage devices, our energy future includes a diverse set of technologies and fuels, and Cummins is committed to innovating and delivering a variety of solutions to meet these diverse needs of customers. 
Sign up below for Energy IQ to periodically receive relevant insights and trends about energy markets. To learn more about the distributed generation solutions Cummins offers, visit our webpage.
Think your friends and colleagues would like this content? Share on LinkedIn and Facebook.

References: 
1 International Energy Agency. (Nov 2019). World Energy Outlook 2019 [PDF file]. Retrieved from https://www.iea.org/