How businesses can be a force for good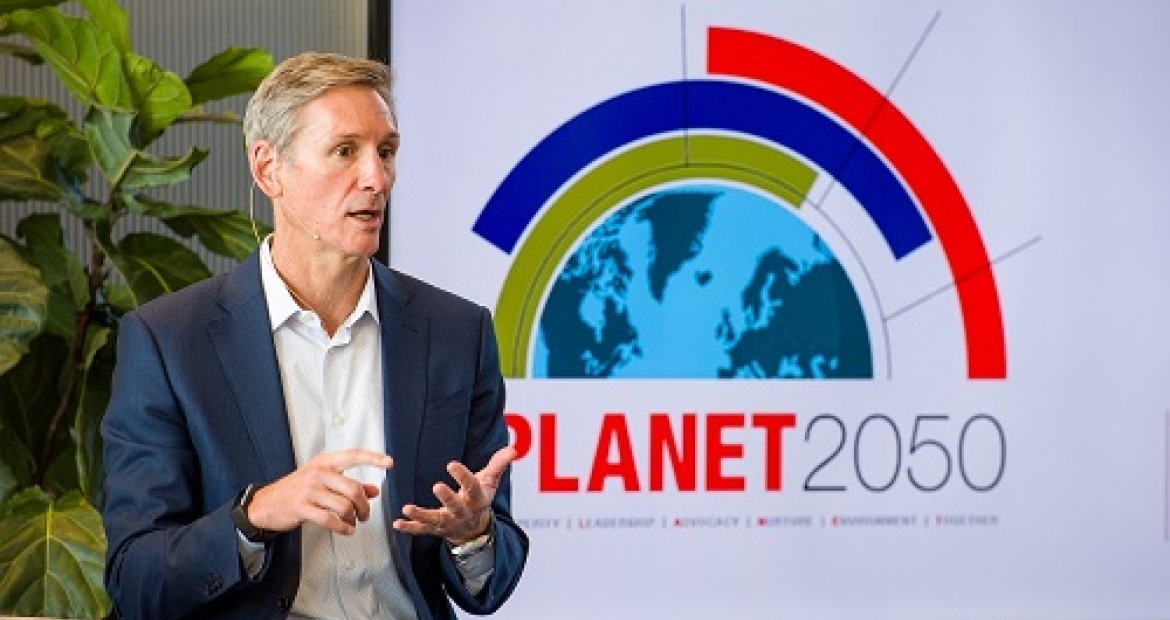 Raised by a single mother caring for two boys, Cummins Chairman and CEO Tom Linebarger says he probably would not be leading a Fortune 500 company today without the government help his family received to lift them out of poverty.
"I'm a beneficiary," he told an audience earlier this month, recalling his mother's struggle after her divorce, as she cared for her family, worked and went back to school.  "I stand here before you because of a social safety net."
Linebarger said the free enterprise system in the United States has produced the "most vibrant and successful economic system in the history of the world." But it cannot provide everything needed for a successful society, like the programs that helped his family. Speaking at Engage Indiana, a forum on "Business as a Force for Good," the Cummins CEO urged business leaders to help fill the gap.
It's an approach consistent with the Stakeholder Model, long embraced at Cummins, which calls for businesses to consider the needs of all of their stakeholders – employees, suppliers, communities, shareholders and more. It means engaging to help address their challenges, and supporting institutions that protect the air, water and land and that educate and safeguard the public.
"If you can serve all of these stakeholders well, over the long run you will serve each best," Linebarger said. "And it's the 'long run' that is the key." 
HOW BUSINESS BENEFITS
The Cummins CEO said at the Dec. 6 forum he believes in the free enterprise system to his core, and job creation is the most important thing a business can do to strengthen the social fabric. Linebarger, however, thinks businesses can and should do more, and he's concerned about what he sees in society today.
 "What is clear in our country is that people have been left behind," he said. "And enough people that we just can't carry on and say, 'it's all fine.' It's not right."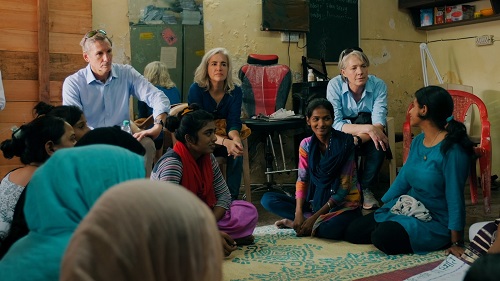 Linebarger said the country needs strong institutions to address these and other concerns, which is ultimately in the best interest of  businesses and shareholders, too.
He maintains a key point was missed by many observers earlier this year when the Business Roundtable, an association of chief executive officers in the U.S., issued a revised Statement on the Purpose of a Corporation. Previous versions endorsed shareholder primacy. Many commentators believed the new version committed corporations to consider all stakeholders instead.
"We never thought we were giving up on shareholders to help other stakeholders," said Linebarger, who leads the Roundtable's International Engagement Committee.  "We are not apologizing for serving shareholders, nor are we saying we think it's a trade-off. In fact, our basic view is that we serve each of these stakeholders best by serving all. That's the fundamental truth in the statement."
It's a key tenet of the Stakeholder Model, which has been embraced at Cummins for nearly 50 years, going back to the leadership of J. Irwin Miller. Miller openly challenged those at the time who maintained a business should only focus on its bottom line.
Cummins celebrated its 100th anniversary this year, which Linebarger says is evidence that the model works.
"When you are planning for long term sustainability, to be a prosperous part of your community for 100 years, at one time in your history one of those stakeholders is going to be the key to your survival," he said at the forum sponsored by the Indianapolis Business Journal and the state of Indiana..
"In our case, each of those stakeholders has been the key to our survival many, many times," Linebarger told the business leaders at the forum. "But I promise you that one of them will be the difference between you making it and not making it."
THEORY INTO ACTION
Cummins has put the Stakeholder Model to work throughout its history. Here are just a few recent initiatives:
Cummins Powers Women, the company's $11 million program started in 2018 to advance equity for women and girls around the world.
PLANET 2050, Cummins' recently announced environmental sustainability strategy to address environmental challenges like climate change.
Cummins TEC: Technical Education for Communities, the company's initiative to train disadvantaged youth in employable technical skills and connect them to good jobs in their communities.
Not all actions, however, are easy or fun. Cummins recently announced it would be reducing its workforce by 2,000 positions – about 3% of its workforce – to address challenging economic times. 
Linebarger said workforce reductions are "the toughest decision I have to make." They run counter to the most basic way business can be a force for good: create jobs.  
"But I want to be clear with you that I do that, I make those tough decisions, because I believe I have an obligation to my stakeholders to provide a  sustainable, growing institution for another 100 years."
Linebarger is hopeful that eventually, once the company is on firm financial footing, Cummins will be able to create more jobs, create power technologies that won't impact the world's carbon footprint, and help more people.
"We have some important problems to solve," he said.