Electrochemistry is for everyone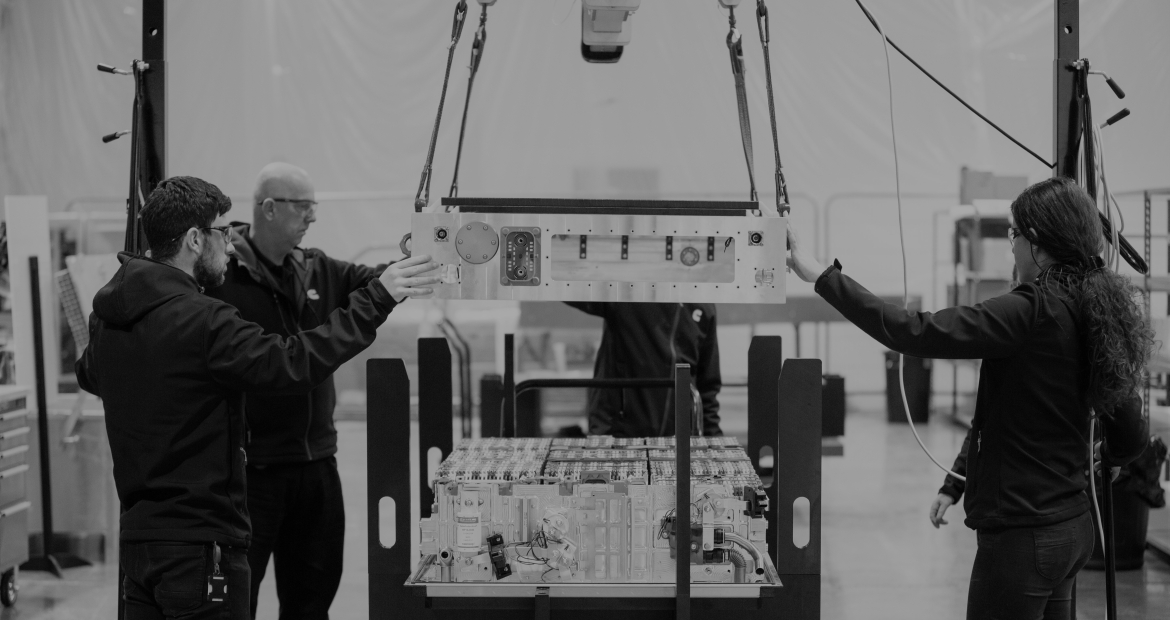 Let's talk about electrochemistry.
It may not be rocket science, but it can sound pretty intimidating. Electrochemistry is the lifeblood of so much technology we use and depend on every day. Everything from a blood glucose sensor to water contamination detectors and even the galvanization of steel are brought to you by electrochemistry. Electrochemical reactions power everything that runs on a battery, too — whether it's your smartphone or an electric vehicle.
Lithium-ion technology for electric vehicle batteries we use now were first developed from rechargeable batteries used in personal electronics. They've since evolved on a major scale and are now able to power huge machines, like on- and off-highway vehicles. 
If you're interested in or involved in electrification, or just curious about why your everyday technology works, it's important to understand how batteries work through electrochemistry.
Isn't it ionic?
Battery packs that power large-scale technology are made up of individual battery cells. Every cell stores energy through chemicals. Each cell has two opposite terminals: the anode and the cathode. Surrounding the two terminals is the electrolyte: a conductive liquid that facilitates the flow of ions between the anode and the cathode.
For context, we'll take a look at the science behind a lithium-ion battery. Most electric vehicles are powered by lithium-ion batteries. A lithium-ion battery stores positively charged lithium ions, in either the anode or cathode, depending on its charged state. When a lithium-ion battery is fully charged, it has most of its lithium ions stored in the (negative) anode.
To create electricity, the electrolyte helps positively charged lithium ions move from the anode to the cathode and electrons flow in the reverse direction through an external circuit. This produces electricity when the lithium ions interact with the terminals in a chemical reaction called a reduction-oxidation (redox) reaction. In a redox reaction, one atom gives up an electron and the other atom accepts it. 
The terminals are separated by a separator, which is made of a non-conductive polymer that is ionically conductive to allow Li-ions to pass through but is electrically insulative to prevent electrical short-circuits.
We've got the power.
So, now we have electrical energy. But how do we harness it to power our phones, computers, vehicles and more?
First, the terminals are connected to an outside electron conductor, allowing electrons to flow from the anode to the cathode. Remember, this electron movement is electricity. The electricity passing through the conductor can then be intercepted and used to do many things. For example, in an electric motor, the motor is connected to the outside conductor, sitting between the anode and the cathode. The electricity powers the motor, and the electrons return to the cathode, completing the circuit.
The potential difference between a cell's positive and negative ends (terminals) is also known as voltage. We also look at current, which the rate at which electrons flow through the circuit. The larger the voltage, and the greater the current, the more power the battery can deliver. Oftentimes, a larger device such as a car or truck, will use a battery with high voltage and high current to deliver the power to drive the wheels. With enough batteries, we can use electrochemistry to harness electricity needed to power devices of all shapes and sizes, from remote controls, to large off-highway excavators.
Electrified power is a promising solution for a number of challenges in transportation. Fully-electric vehicles produce zero tailpipe emissions, creating cleaner air and a healthier environment. Electric vehicles also require less maintenance and can be equipped with advanced telematics and reporting capabilities. In its current state, electrified power has proven to be a promising solution for urban transit, delivery vehicles, passenger cars and more.
Thanks to advancements in battery technology, Cummins is making strides in the expansion of its electrified power offerings, which stand to benefit customers and the environment. By continuing to provide a world that's always on with diverse power solutions such as electrified power, the company is helping create cleaner and more efficient roads, cities and systems — all thanks to the power of electrochemistry.