Cummins leader promotes the power of choice to address climate change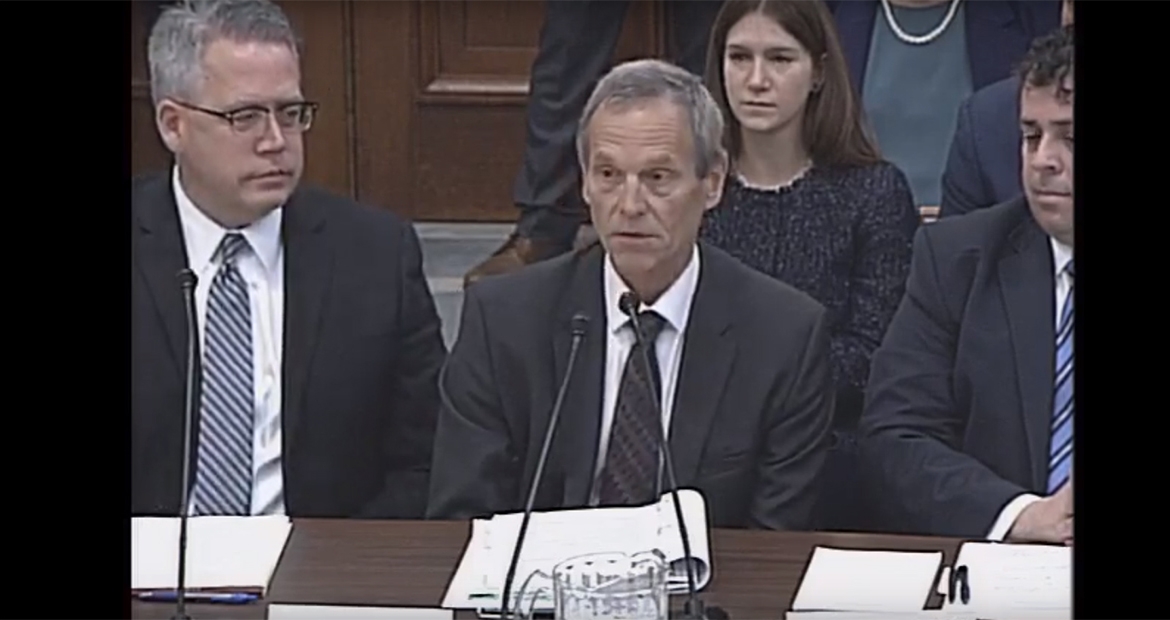 The Cummins leader for research and technology urged U.S. lawmakers today (Oct. 23, 2019) to preserve the power of choice in heavy duty powertrains so customers can select the best technology for them to address challenges like climate change.
Dr. Wayne Eckerle told the House Energy and Commerce Subcommittee on Environment and Climate Change in Washington, D.C., that there is no one size fits all solution for heavy duty transportation. Policies establishing national standards while maintaining technical flexibility are the best way to promote the innovation needed to ultimately reach net-zero emissions.
"Cummins is committed to investing in an energy diverse future where our customers have a broad portfolio of power options – a future that includes clean diesel, natural gas, electrified power, fuel cell technology and alternative fuels – so they can choose what works best for them," Eckerle told the subcommittee in prepared testimony.
FLEXIBILITY IS KEY
All of those technologies can play important roles in reducing greenhouse gases (GHGs), the principal cause of climate change. For example, the nearly 5 million diesel trucks using advanced diesel fuel, the latest engine technology and modern emissions control, have avoided the production of more than 26 million metric tons of nitrogen oxides (NOx) and 59 million metric tons of carbon dioxide (CO2) over the past decade.
NOx is a key contributor to smog and CO2 is pivotal to GHGs. Cummins believes internal combustion engines will be around for some time, especially for long haul trucking, as the infrastructure develops for carbon neutral technology such as electrified power and fuel cells. The company is working to make the engines cleaner, and more efficient.
Watch the testimony
"We remain committed to making our internal combustion engines as fuel efficient as possible," said Eckerle, Vice President of Global Research and Technology at Cummins.
Eckerle said natural gas can also be a clean source of energy for customers using the latest technology, especially for those with access to renewable natural gas from sources such as landfills.
"Biogas can provide a clean, easily controlled source of renewable energy from organic waste materials, replacing fossil fuels with a sustainable carbon neutral fuel option," he told the committee.
EMBRACING NEW TECHNOLOGIES
Cummins has long been a leader in engines fueled by diesel and natural gas. It is quickly becoming the leader in electrified power and fuel cell technology, building on its own expertise through several recent acquisitions.
The company, for example, has greatly expanded its technical capability with battery-electric technology, offering electrified powertrains for school and transit bus applications as well as work trucks in 2019.
In addition, Cummins is the largest provider of Proton Exchange Membrane (PEM) fuel-cell powered locomotives in the world. PEM fuel cells generate electricity through a chemical reaction of hydrogen and oxygen.
"The heavy-duty vehicle industry is undergoing significant change and Cummins is leading the way," Eckerle said.
But he cautioned that the company's work with new technologies will only be effective if the market adopts the technology.
"Cost and infrastructure readiness are the main barriers to adoption of low emission technologies for commercial vehicles," he told the subcommittee.
HOW GOVERNMENT CAN HELP
Eckerle said one thing the federal government can do toward the goal of carbon neutral heavy-duty transportation is encourage the development of infrastructure and affordable technology through public-private partnerships like the 21st Century Truck Partnership and cost-shared research and development projects like SuperTruck. 
Launched in 2010, SuperTruck has brought together major players in heavy duty transportation to work on experimental technologies making trucks more efficient, sharing costs with the U.S. Department of Energy. Many of the innovations are now included in engines on the market today.
Eckerle said the government can also establish nationwide emissions targets for product specific applications, noting that federal GHG standards for commercial vehicles will lower CO2 emissions by about 1.1 billion metric tons if fully implemented, saving vehicle owners $170 billion in fuel costs and reducing oil consumption by up to 2 billion barrels over the lifetime of the vehicles sold under the program.
"Policies should be free of technology-forcing mandates, ensuring manufacturers' ability to provide options that allow communities to make the best choices that will meet their performance and environmental needs," Eckerle said. "Successful policies should not be prescriptive but should instead focus on desired outcomes, allowing flexibility and innovation to meet goals."