Let it snow: Five states with noteworthy snowfall during winter 2018-2019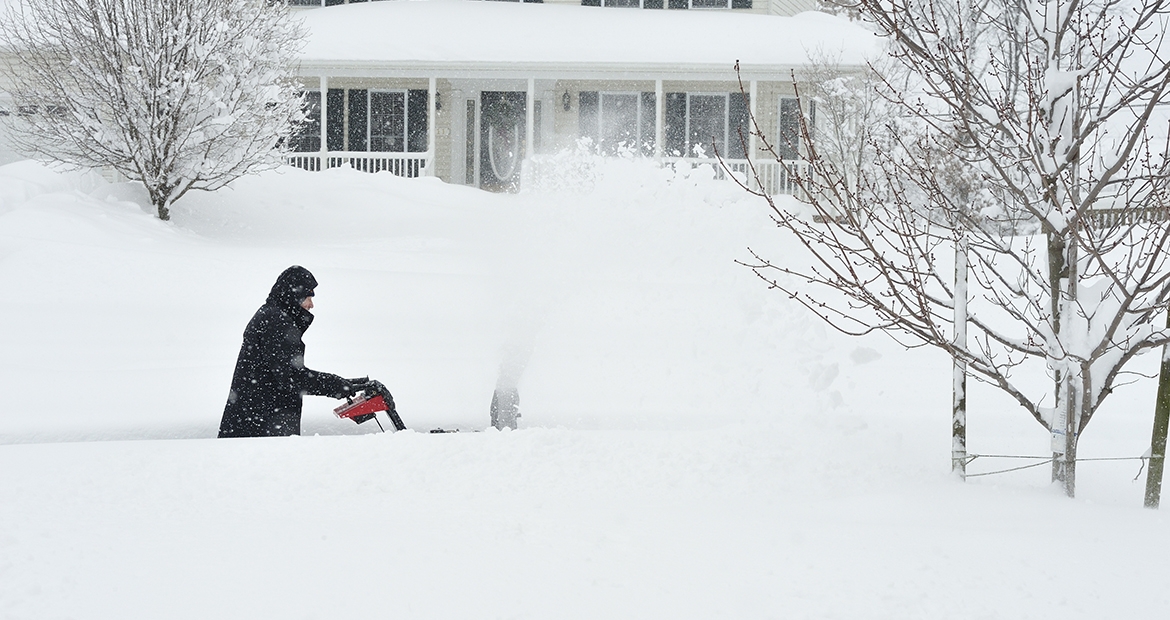 Old Man Winter has proven once again to be unpredictable and relentless. From the December storm that brought snow from Texas east to Virginia and the Carolinas to the late season April blizzard that dumped several feet of snow in the Mideast and Great Plains, the 2018-19 winter was one for the books.
While all 50 states - even Hawaii - get some measurable snow each year, five states experienced noteworthy snowfall in 2018-19 according to data from the National Oceanic and Atmospheric Administration:
Maine
It is not surprising to see Maine on this list since a few feet of snow typically fall in the state's larger cities like Portland and Bangor each year. Yet, Caribou was the snowiest city during the 2018-19 winter with over 160 inches of snow. While Caribou sees an average of 100 inches of snow each winter, 2018-19 was unusual snowy with an additional 55 inches blanketing the town. The "long, hard winter" began with almost 30 inches of snow falling in November and continued for the next record-setting 163 days with at least one inch of snow covering the ground! 
Michigan
While southeast Michigan saw below average snowfall during the 2018-19 winter, northern Michigan experienced more snow than usual with 222 inches falling in Marquette – 20 inches more than usual! Not to be outdone, more than 140 inches of snow blanked Sault Ste. Marie – 25 inches more than normal. The small town located on the northeastern end of Michigan's Upper Peninsula experienced it's snowiest February on record with 45.1 inches of snow. Even more brutal than the snow: the temperatures. The mercury was below freezing for all but a few hours in February. 
New York
Buffalo, Syracuse, Rochester, the list goes on and on when it comes to New York cities with noteworthy snowfall during the 2018-19 season. For the 12th consecutive winter, Buffalo saw over 100 inches of snow. With 118 inches of snow, this was Buffalo's second snowiest winter in the last decade. Winter Storms Harper, Indra and Jaden, along with lake-effect snow, contributed to close to 60 inches of snowfall in the second half of January alone! 75 miles east, Rochester saw just shy of 100 inches of snow, making this a surprisingly below-average winter in terms of snowfall. 
Alaska
On a typical mid-October day in Alaska, you'll see a high near 40 and a low in the upper 20s. It's no surprise that the first freeze and first snow typically occur around this time. October 2018, however, saw a much different story with highs in the 50s up to 60 on October 10! With winter off to a slow start, Juneau, Alaska's capital, had lower than average snowfall for the sixth winter in a row with over 40 inches of snow. Meanwhile, more than 60 inches of snow fell in Nome – over 35 inches fell in February alone, making it the town's snowiest February since 1920.
Minnesota
Ahead of winter 2018-19, The Old Farmer's Almanac predicted a warmer-than-normal winter for Minnesota – in stark contrast to the "teeth-chattering cold winter" the Farmer's Almanac predicted. So who was right??? Well, both were partially right. On October 14, snow fell the earliest it had in 9 years in the Twin Cities. Despite the early snow, temperatures were above average until late January with only 10 inches of snow falling. Old Man Winter paid an unexpected and lengthy visit in February, leaving a record 39 inches of snow on the ground. St. Paul, the state capital, ended winter with over 50 inches of snow. 
The season's first snow brings more joy and excitement than actual snowflakes. Whether you live somewhere that experiences 100+ inches a year like some of the cities we just discussed or you live somewhere with a milder winter, it's important to prepare you and your family for whatever Old Man Winter may bring, including the possibility of power outages resulting from snow and ice.
Preparedness is Key to Protecting Your Family and Home During a Winter Storm
Stock up on necessities such as bottled water and non-perishable food (like canned goods and granola bars) in the event you're snowed in.
Stretch your muscles before shoveling snow and take periodic breaks while shoveling to prevent overexertion and lower your risk of heart attack.
Keep a prep kit including blankets and sand in your vehicle in case if you get stranded in the snow.
Consider getting a whole house generator to ensure your home stays warm and cozy despite the freezing temperatures outside.
For more winter storm safety and preparedness tips, check out our 12 Winter Storm Season Prep Tips. And be sure to sign up for the Cummins Home Generators newsletter to get valuable resources to help your family weather the storm, safely and comfortably while saving money.