Cost of energy to resiliency: Three top-of-mind topics for health care facility professionals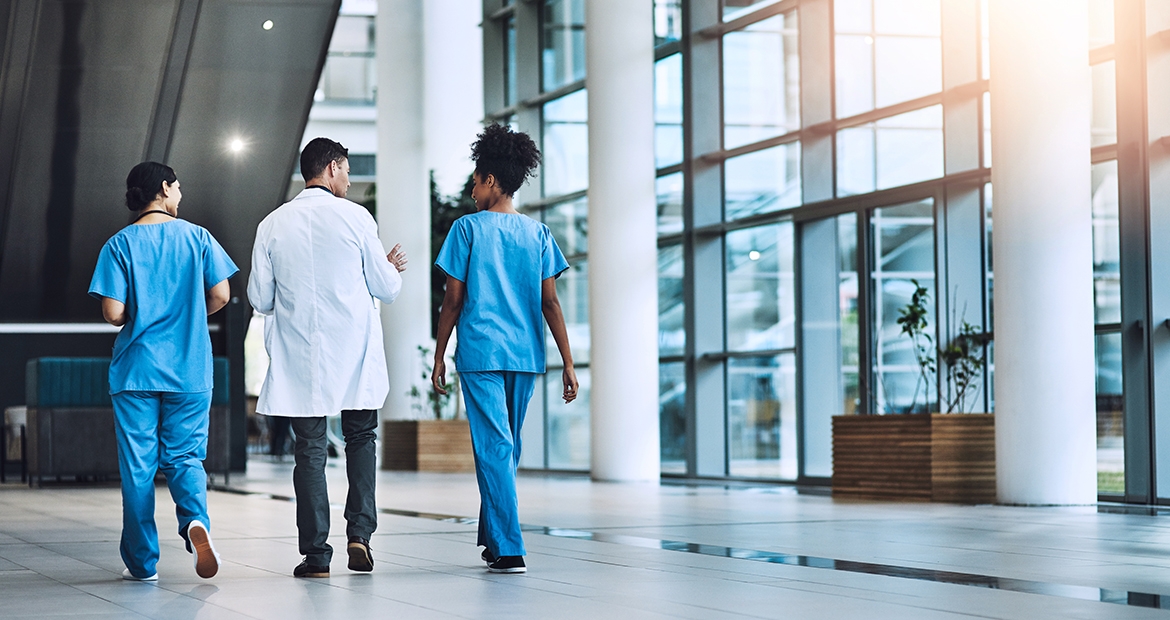 Most successful companies have a marketing, product or supply chain strategy, but there is one more important area to consider when wanting to maximize profit; an energy management strategy. Today, a well-planned energy management strategy can help health care organizations improve their financials. Moreover, making the right energy choices also help organizations improve the reliability of their operations and advance their sustainability efforts. 
Given the importance of energy in health care, let's cover three top of mind topics associated with energy for health care professionals. 
No. 1: Cost of energy continues to be a critical lever to deliver superior financials for health care facilities
Today's modern health care facilities are not only tech marvels, but intense users of energy. In fact, hospitals are identified as the type of building with the second highest energy use intensity (EUI) by Energy Star1. A median size hospital would use over 12 times more energy than an average size office building.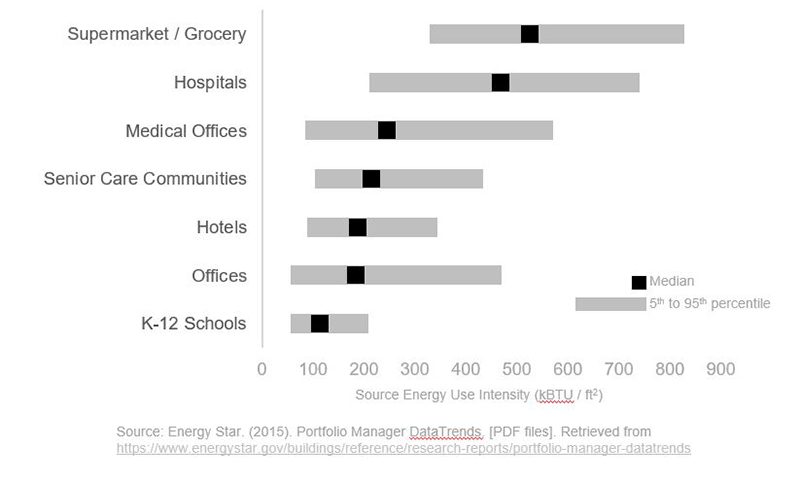 With this, it is no surprise the top two topics C-suite executives are most interested to learn about are cost control and expense reduction, according to Becker Hospital Review2. As this trend on cost control continues, health care facility leaders will increasingly be rewarded in their efforts to cut down energy costs. 
Typically, a health care facility acquires energy in the form of electricity from the power grid and separately burns natural gas to produce heat or steam. Purchasing electricity from the grid brings the advantage of convenience but at a significant cost for the health care facility. This cost is due to the inefficiencies in centrally producing the electricity and distributing it through large geographies.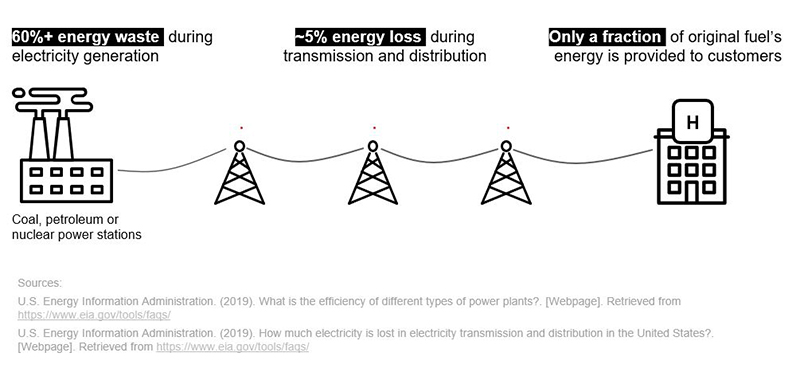 In comparison, on-site combined heat and power (CHP) applications can offer 70% to 90% efficiency while delivering electricity and heat to the facility. This heat and steam are commonly used for sterilizing medical instruments, keeping patients and staff at a comfortable temperature and maintaining facilities' humidity level. Some facilities, such as Royal Children's Hospital in Melbourne, Australia, also pursue tri-generation to further improve energy efficiency. Tri-generation systems produce cooling in addition to heating and electricity offered by CHP applications.
This increase in efficiency could translate into an energy savings up to 35% for the health care facility, depending upon size and facility structure. Health care facilities with access to natural gas can take advantage of CHP applications with lean-burn engine generators that use natural gas as the fuel to produce electricity, heat and steam. These systems could be as small as 300 kilowatts or as large as several megawatts. For instance, a Sydney hospital partnered with Cummins on a cogeneration plant providing 4 megawatts electric of base load power to improve energy efficiency and to meet emission targets.
No. 2: Health care facilities can improve financial performance and resiliency with emerging power system technologies such as microgrids
Did you know that average U.S. electricity customer disruption was over seven hours in 2017, almost doubling the average disruption in 20163? Take a look at how changing weather patterns impact our grid and cause more power outages. Most health care facilities are legally required to have emergency back-up power systems. These systems provide peace of mind and security for the facility and its patrons but are also costly assets that might sit idle for most of the time. 
Facility leaders that aim to have superior financial performance are leveraging microgrids to monetize their energy assets, including existing emergency back-up power systems. A microgrid is a local energy grid with control capability, which means it can disconnect from the traditional grid and operate autonomously4. Microgrids commonly feature advanced control systems and software to track electricity prices and usage at the facility, and they decide whether to buy electricity from the grid or to produce it on-site through the microgrid assets. In summary, micro-grids convert the existing on-site power generation systems into financial enablers for the facility leaders. 
Facility leaders can also leverage microgrids for resiliency purposes. Microgrids take the resiliency of traditional emergency back-up power systems to the next level by integrating additional energy assets to the existing back-up power system. These additional energy assets could be electricity sources, such as solar photovoltaics and CHP generators, storage assets such as batteries, and control systems and software. Integration of additional assets creates redundancy in electricity generation and increases the resiliency of the system. 
No. 3: Health care facility leaders leverage digitization of power systems to manage their facilities
There is substantial news coverage on penetration of digitization in health care with respect to patient experience. On the other hand, not everybody sees the impact of digitization in health care with respect to facility management. 
While building management systems (BMS) have been around for decades, today's BMS are ever more digitized as sub-systems ranging from heating and ventilation equipment to power systems being digitized. 
Digitization is also changing how health care facility professionals do their jobs; being more focused on preventative actions driven by rich analytics to avoid potential future issues. They are also increasingly partnering with vendors beyond a purchase transaction or service event. 
Let's take health care power systems as an example. Modern remote monitoring systems such as Cummins PowerCommand Cloud help facility teams reduce downtime by providing teams remote access to make decisions and act on them quickly. Moreover, facility teams can partner with a local Cummins distributor, which can handle routine issues remotely and mitigate potentially serious situations by scheduling proactive service calls based on the data they see. 
In summary, health care facility leaders focused on financial gains could explore CHP applications to cut their energy costs, and microgrids to monetize their on-site power generation assets. Facility leaders focused on resiliency should also learn more about health care microgrid applications. 
To learn more about trends in the health care industry follow Cummins on Facebook and connect on LinkedIn. To learn more about power solutions for the health care industry, visit our web page. To learn more about how Cummins is powering a world that's "Always On," visit our web page.
Think your friends and colleagues would like this content? Share on LinkedIn and Facebook.
References: 
1 EnergyStar Portfolio Manager Energy Use Benchmarking. [PDF file]. n.d. (2012, October). Retrieved August 18th, 2019 from https://www.energystar.gov/ 
2 Lazerow, R. (2018, July 11). What 146 C-suite executives told Advisory Board about their shift in priorities this year. Retrieved from https://www.beckershospitalreview.com/
3 n.d. (2019, July 31). Annual Electric Power Industry Report, Form EIA-861. Retrieved from https://www.eia.gov/ 
4 Lantero, A. (2014, June 17). How Microgrids Work. Retrieved from https://www.energy.gov/