Charging Infrastructure: Laying the Groundwork for the Future of Electrification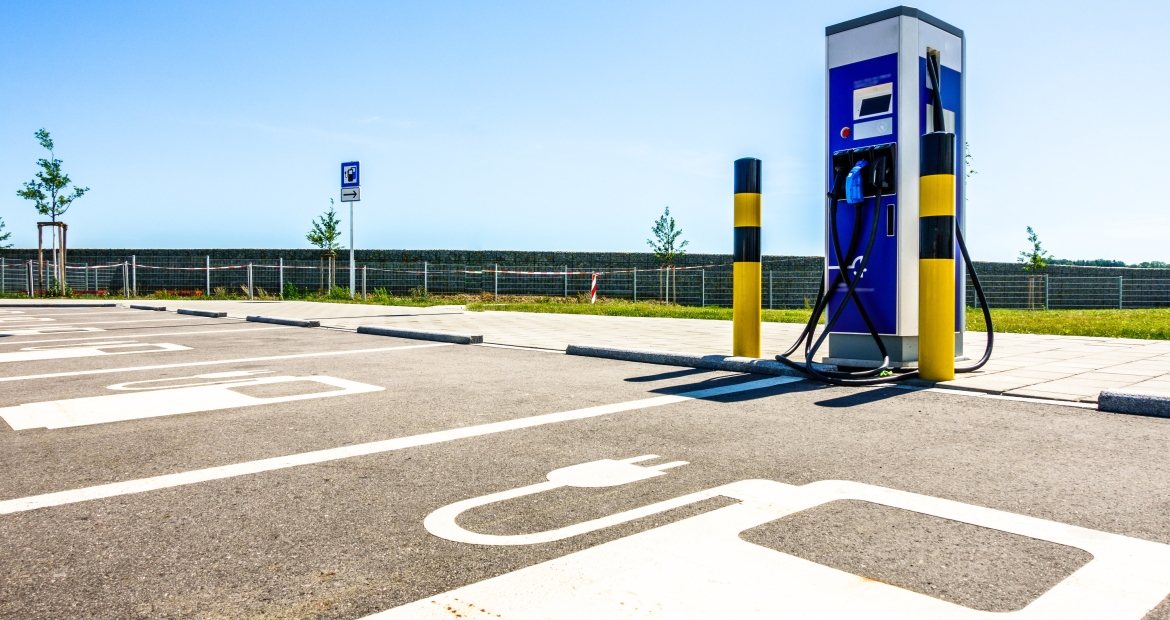 Power comes in many forms. For electric vehicles (EVs), it's electricity. It sounds simple enough but transitioning a fleet to electrified power takes careful planning and a number of considerations in terms of infrastructure.
It's easy to get excited about electrified transportation, but an EV ecosystem goes far beyond just placing an order for new vehicles and dropping a few chargers around town. Large-scale charging systems require robust infrastructure planning in tandem with your community or organization's overall electrification strategy.
Here are five considerations you should make during infrastructure planning, and how to navigate some of the many decisions you'll face along the way.
Feasibility
While an electrified transportation system is a powerful and effective solution for many cities around the world, fully electrified transit might not be the best choice for every community or every mission just yet.
Technology and infrastructure are advancing rapidly, but some localities may not yet have compatible grid power or electrical infrastructure to support large-scale EV adoption immediately. Even if the grid has enough power to support the electrification at the aggregate level, there can be local limitations and power may not be available at the location it is needed.
Similarly, the duty cycle of the mission can provide additional challenges. Consider conducting a feasibility study to see what the limitations will be, if any, should your town, city, or organization pursue electrified transportation. It can be helpful to get a third-party reality check to make sure your electrified ambitions are achievable with your community's resources.
Even if there are challenges on the path of large-scale electrification, you'll likely be able to start making infrastructure improvements and create a long-term plan to get your community to where it needs to be to support electrified transportation with some of the following considerations. 
Hardware
One of the first considerations in building out an electrified transportation system is your charging infrastructure — the nuts and bolts delivering power to your EV fleet. This includes the substation, power box, and charging unit. There are a lot of options currently out in the market, and a trusted advisor can help you navigate the many choices you'll have for chargers and other hardware needed.
By examining your fleet, your city's layout, existing infrastructure, and power availability, you'll begin the process of deciding what chargers work best for your electrification strategy. But it goes beyond just selecting what chargers to buy — you'll need to determine where they'll be located, whether vehicles should charge fast or slow, what time vehicles will be charged, and more.
All of these decisions must be taken into consideration when selecting your fleet of EVs as well. Because of the complicated nature of planning, it's helpful to bring on a full-service partner with experience strategizing all elements of your electrification journey — from chargers to vehicles and beyond.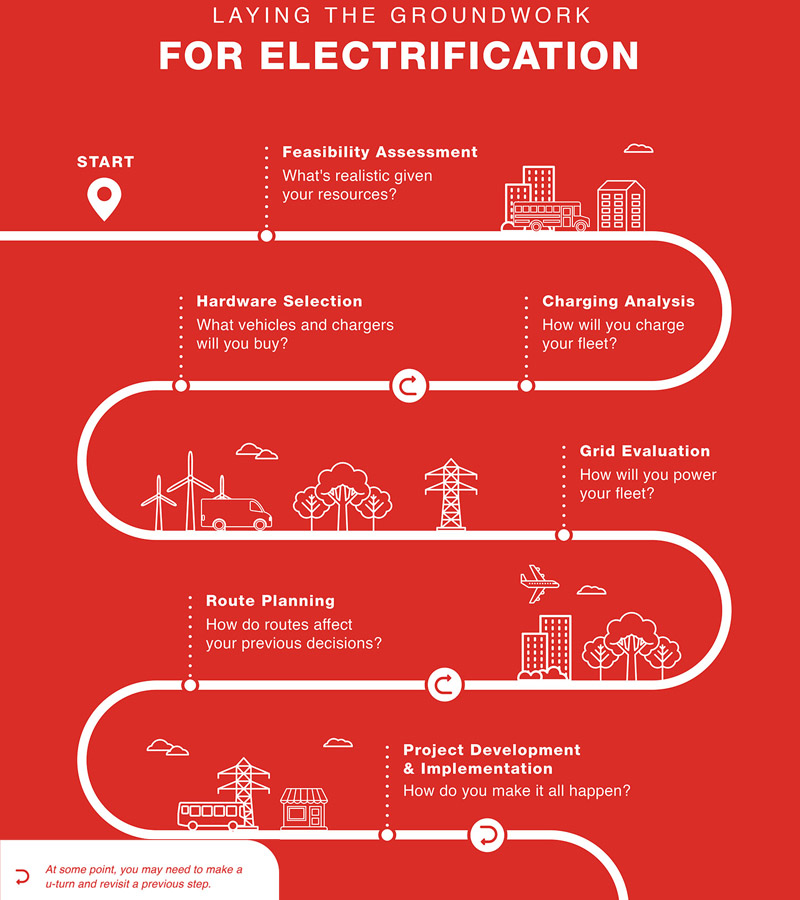 Routes
Route planning is another key aspect of infrastructure consideration for adopting an electric fleet. Not only do you need to decide if and where chargers will be placed along routes (as opposed to only in a charging depot), but where your electric vehicles will drive.
Though EV range is rapidly improving, transit authorities and city planners must accommodate for the potentially limited range of EVs compared to that of vehicles powered by an internal combustion engine (ICE). But this can rapidly become a chicken-and-the-egg situation: Should you purchase your fleet based on your route requirements, or should you adjust your route requirements based on your chosen vehicles?
Oftentimes, it's a bit of both. That's why route planning can be so complicated, and often requires an outside expert familiar with many vehicle models and their performance. It's important to select a trusted manufacturer with a proven history of reliability, so your fleet can perform at its projected range and keep planned routes on track.
Grid power
A locality's grid power puts the E in EV. To power an electric fleet, you need sufficient and reliable electricity. When planning your electrification infrastructure, evaluate the grid power and determine what kind of chargers and the quantity of EVs they can support — and when and where. The grid power your fleet will need will depend on the size of the battery in the vehicle, the energy requirement for the next day's mission, and the available time for the charging event. 
Charging times can have a major impact on the overall cost of charging and will influence infrastructure design route planning as well. It may work best to charge your entire fleet overnight in a depot, or your grid power may better support staggered charging throughout the day, either in a depot or on route. Additionally, alternative charging strategies such as the use of microgrids can help reduce the amount of grid power required, and therefore the cost — though they also come with higher initial costs. 
Strategic planning
One of the most complicated aspects of planning for the transition to electrified power is that many of these decisions must happen in tandem with one another. Electrification isn't a linear process, and it's important to find a trusted partner well versed in all areas of consideration, as planning and implementation both are lengthy investments in terms of time and finances.
Cummins is working to explore electrification advisory services in the near future, so we can meet the growing needs of those interested in exploring electrification. From feasibility to planning, and all the way to purchasing and installing chargers, we're looking forward to helping our customers and communities navigate all aspects of the journey to electrification.
As a supplier of diverse powertrain systems, Cummins looks forward to helping customers best plan for a future that includes electrified power. Over the past 100 years, we've partnered with customers around the world to find the power solutions that work for them.