Five key questions about the sustainability of electric vehicle batteries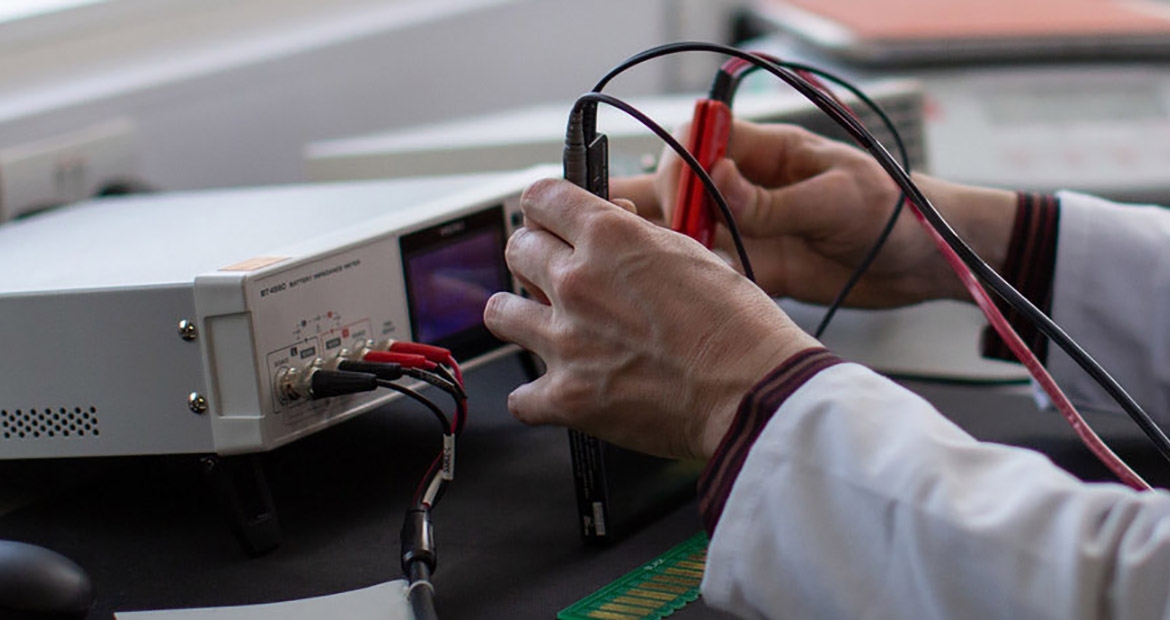 You have questions about electric vehicle batteries, we have answers.
As demand for both commercial and private electric vehicles grow, so too will the need to develop sustainable solutions for dealing with the lithium-ion batteries they use.
Here are five key questions to consider.
What are the options when electric vehicle batteries reach the end of their useful life?
A: As things stand today - and as seen in the infographic below - there are three basic options: dispose, recycle, or reuse. Recycling lithium, however, can be tricky. It is a highly reactive element. Recycling plants capable of handling lithium-ion batteries are in the early stages of development.
With the negative environmental implications of disposal, reuse is quickly becoming the most viable option from both an environmental and economic standpoint. 
A new term is developing for this option: second-life batteries.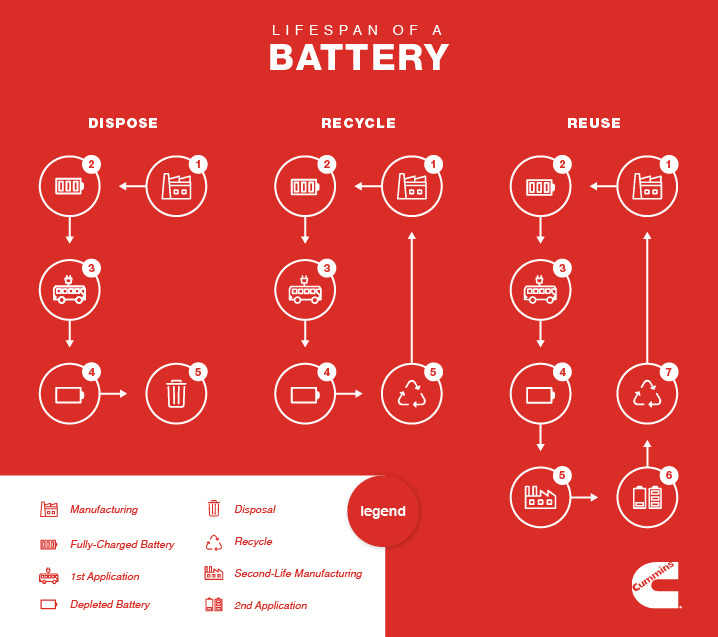 What are second-life batteries?
A: Lithium-ion batteries in electric vehicle applications operate under extremely demanding conditions and will eventually degrade to a point where their total usable capacity and other performance requirements no longer meet the standards placed upon them. 
While no longer enough for use in electric vehicles, these batteries still contain a lot of energy. They may contain 70% to 80% of their initial capacity, which means there's still a lot of energy that could be used in other ways. 
Second-life batteries are electric vehicle batteries that have been repurposed, or given a second-life, for use in another less demanding application such as stationary energy storage. 
Why are second-life battery solutions important for electric vehicle manufacturers?
A: Fortunately, there's a little time as the electronic vehicle industry ramps up. But as the metaphorical stockpile of partially used batteries continues to grow, manufacturers will be expected to have solutions in place that are both environmentally and economically sustainable. 
Second-life batteries are an environmentally responsible solution because they extract additional usable energy that would otherwise go to waste. This solution also delays the recycling process, allowing procedures to be developed and improved. 
Second-life batteries are an economically sustainable solution because they create an entirely new revenue stream for manufacturers. When their batteries are no longer suitable for use in an electric vehicle, manufacturers can remanufacture them to suit less-demanding applications, then resell them. This additional link in the automotive value chain is expected to be worth billions of dollars within the next few decades. 
What does this look like in the real world? 
A: The most common application for second-life batteries is stationary energy storage. This is because the application demands relatively low current and energy density from the battery pack compared to the automotive applications they were initially designed for. 
Stationary energy storage is important because it allows energy to be captured for future use. As the world continues to prioritize the shift to renewable and diversified energy sources, the ability to store energy can make those sources more robust and less dependent on traditional energy sources to fill any voids in the grid. 
So, what could this look like long-term and at scale? Over the next few decades, the amount of second-life batteries in use as stationary energy storage will result in the ability to store several terawatt-hours of energy.
What's Cummins doing to help?
A: Cummins recently announced a multi-year partnership with the University of California San Diego, and its battery validation lab to analyze viable business and technical approaches to effectively reuse and repurpose electric vehicle batteries.
Under the agreement, the college will perform accelerated testing, real-world application testing, and develop an outdoor second-life demonstration system comprised of Cummins' Goodwood battery modules. The batteries, once fully developed, will be used in both school and transit buses. 
The collaboration will enable Cummins to acquire valuable data on the aging of its battery modules, test integration solutions for second-life battery systems, and validate stationary energy storage system performance under energy storage applications for the grid.
This collaboration marks one of the first testing programs devoted exclusively to the testing of commercial batteries for second-life battery applications. 
Cummins is determined to work with the electronic vehicle manufacturers who use its products to ensure lithium batteries can be handled in both environmentally and economically sustainable ways.