From Virtual Visits to Value-Based Healthcare: Trends Transforming The Health Care Industry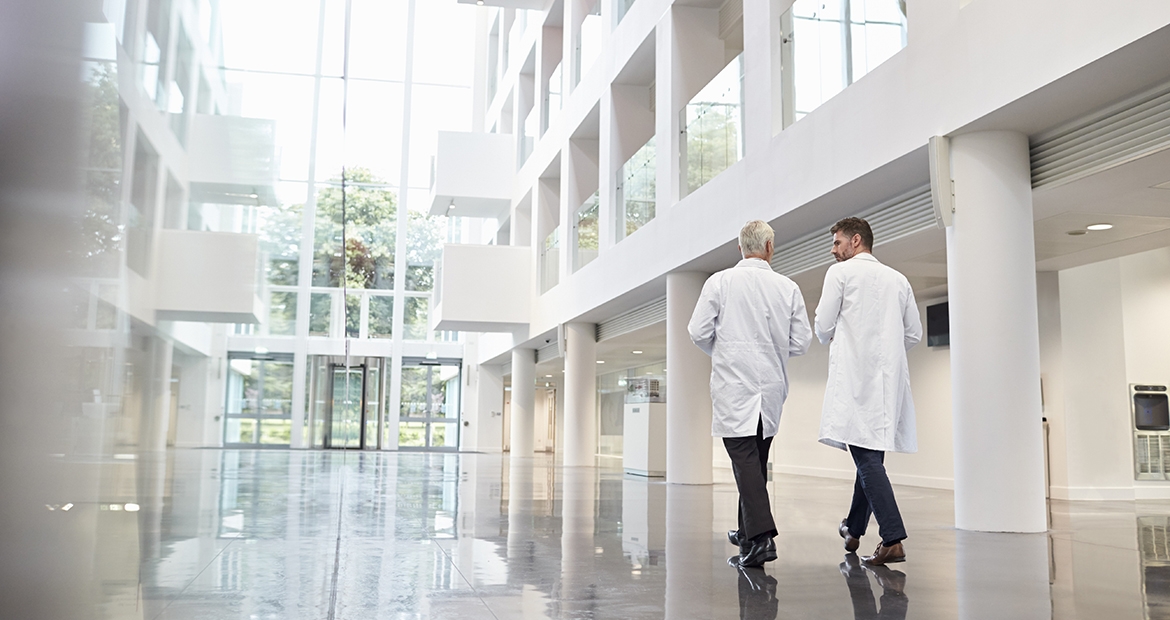 You might have spotted a new urgent care building on your way home or seen a new connected gadget during your last physician's visit; just two examples of how our health care experience is evolving. 
At Cummins, we spend a lot of time listening to our customers in the health care industry, where our power solutions help to keep health care facilities around the globe Always On. Through these interactions, we have identified four trends transforming the health care industry that are contributing to these changes.
Trend No. 1: Consumers access health care differently and expect more
If you had a cold or migraine, there was a time where you accessed health care through a single path: Call to schedule an appointment. Go to a clinic or hospital. See a doctor in-person. Receive a paper with your test results and medication.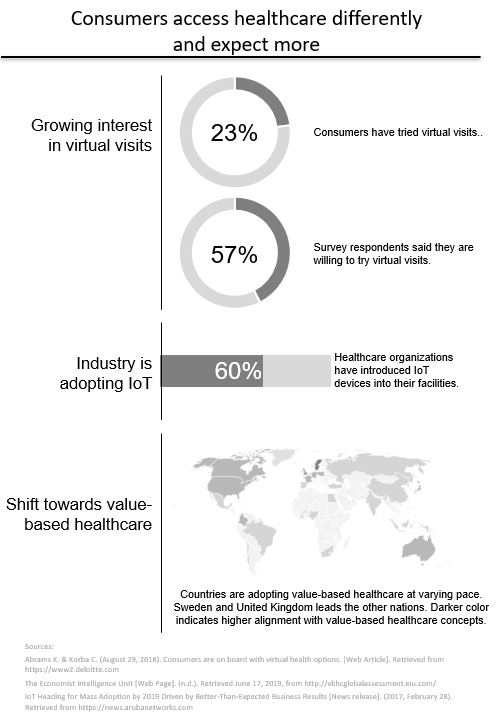 Today, the way we access health care is evolving with the advances in technology. Here are three ways we access healthcare differently and expect more. 
Virtual Visits: Consumers are increasingly accessing healthcare services through virtual visits. You can have a face-to-face video chat with a doctor or nurse in minutes instead of going to acute care. For consumers, this means ease of access to care services at a more reasonable cost. For the health care industry, this means increased focus in educating the workforce to provide the right level of virtual service and building the needed infrastructure.
Internet of Things (IoT): Connected and smart devices are a part of our daily lives, and health care is no exception. While most of us use fitness trackers and nutrition apps, these are just the tip of the growing IoT applications in health care. Our article on "Experiencing a Connected Hospital" takes a closer look at IoT applications within hospitals. For the health care industry, this means increased investments to build the physical infrastructure that can keep this IoT ecosystem powered and connected at all times. 
Value-Based Health Care (VBHC): More nations and health care systems experiment with VBHC in addition to the current fee-for-service model1. Unlike the fee-for-service model, where systems and physicians get paid based on procedures and services delivered, VBHC focuses on patient outcomes to determine payments across systems. The expected benefit of VBHC is improved care at a lower cost for patients and the health care industry. 
Trend No. 2: Demand for health care increases, but with varying pace and evolving infrastructure profile
There is no doubt the combination of an aging population and a growing number of people seeking health care access increases the demand for services. However, there are two more insightful trends: geographical variation in health care demand and evolving composition of the health care infrastructure.
Geographic variation in health care demand: Demand for health care varies geographically and is driven by factors such as proportion of seniors in each geography.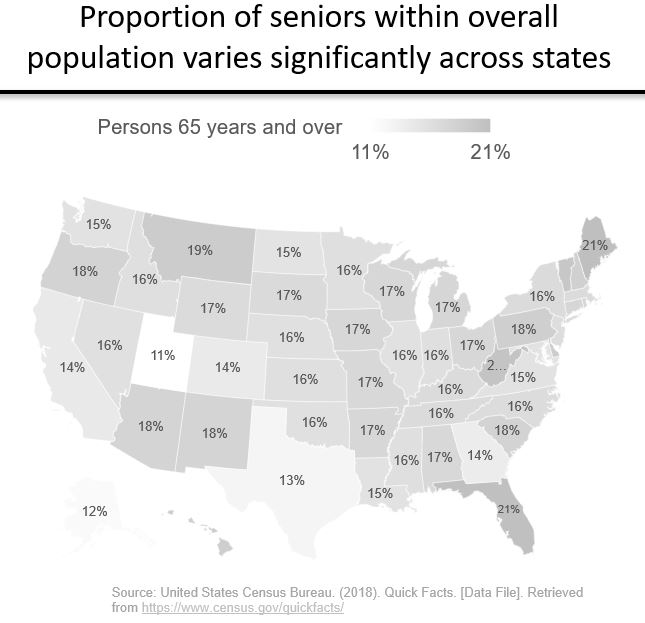 "As the health care infrastructure expands at varying paces across geographies, we expect health care companies to tailor their facilities per local needs to be the market leaders. At Cummins, we design our power systems to be tailorable for the unique needs of health care facilities," said Colette Weiser, Healthcare Initiative Leader at Cummins. 
Evolving composition of infrastructure: The increased demand in health care doesn't translate to building more of everything we have today. The composition of health care facilities is also expected to change. For instance, investments to urgent care clinics, ambulatory facilities and medical office buildings are forecasted to increase faster than investments to other health care facilities in North America2. The article '3 Ways Our Health Care Infrastructure Will Be Different in the Next Decade' takes a closer look at this topic. 
Trend No. 3: Health care providers are transforming themselves to stay relevant and financially sound
Players in health care make bold moves and investments through mergers, acquisitions and partnerships to best position themselves in this changing landscape. In fact, seven of the 25 largest merger and acquisition deals in the last 10 years were in the health care industry and ranged from life sciences to pharmaceuticals3. Let's focus on two aspects of this transformation across providers.  
Vertical integration: Companies in the industry pursue vertical integration to expand their control within the health care ecosystem and to reduce their costs4. The $69 billion merger between CVS Health and Aetna was a recent example of vertical integration, and it brought together a retail pharmacy chain and a health care insurance provider.  
Hub and Spoke Model: Increased presence of the hub and spoke system in the health care delivery infrastructure is another outcome of increased merger and acquisition activity. This is partially fueled by larger systems acquiring smaller systems as the economics of staying profitable get more challenging for smaller systems. This makes smaller systems acquisition targets for larger systems. This trend results in larger health care systems with facilities that are increasingly spread across geographies. 
Trend No. 4: Regulations aim to improve the quality of care, data security and infrastructure reliability
While health care is a highly regulated industry, it gets further regulated across different dimensions. Some of these new regulations complement the trends above. For instance, the increasing focus on value-based health care drives regulations focused on how payments are made to health care providers. The increasing use of IoT devices drives regulations focused on cybersecurity. The changing weather patterns put increasing strain on our electricity infrastructure, driving regulations focused on back-up power system requirements within health care facilities. 
"We expect the evolution within health care companies and changes in how consumers access health care to transform the industry," said Alex Savelli, Executive Director of Power Generation at Cummins. "This transformation would lead to better care at a lower price for consumers. At Cummins, we contribute towards the 'better care at a lower price' objective with our continuous focus on building reliable power systems for the health care industry fit for the local market requirements and supported by a world class service and support network."
To learn more about trends in the health care industry follow Cummins on Facebook and connect on LinkedIn. To learn more about power solutions for the health care industry, visit our web page. To learn more about how Cummins is powering a world that's "Always On," visit our web page.
Think your friends and colleagues would like this content? Share on LinkedIn and Facebook.
References: 
1 The Economist Intelligence Unit [Web Page]. (n.d.). Retrieved June 17, 2019, from http://vbhcglobalassessment.eiu.com/ 
2 Avis E. & Morgan J. (2019). 2019 Hospital Construction Survey [Web Post]. Retrieved from https://www.hfmmagazine.com/
3 List of largest mergers and acquisitions. (n.d.). In Wikipedia. Retrieved June 17, 2019, from https://en.wikipedia.org/wiki/List_of_largest_mergers_and_acquisitions#2010s
4 Insights & Implications from the J.P. Morgan Healthcare Conference. [PDF File]. (2018). Retrieved from https://am.jpmorgan.com/