Machine of the Month: Global Unmanned Spray System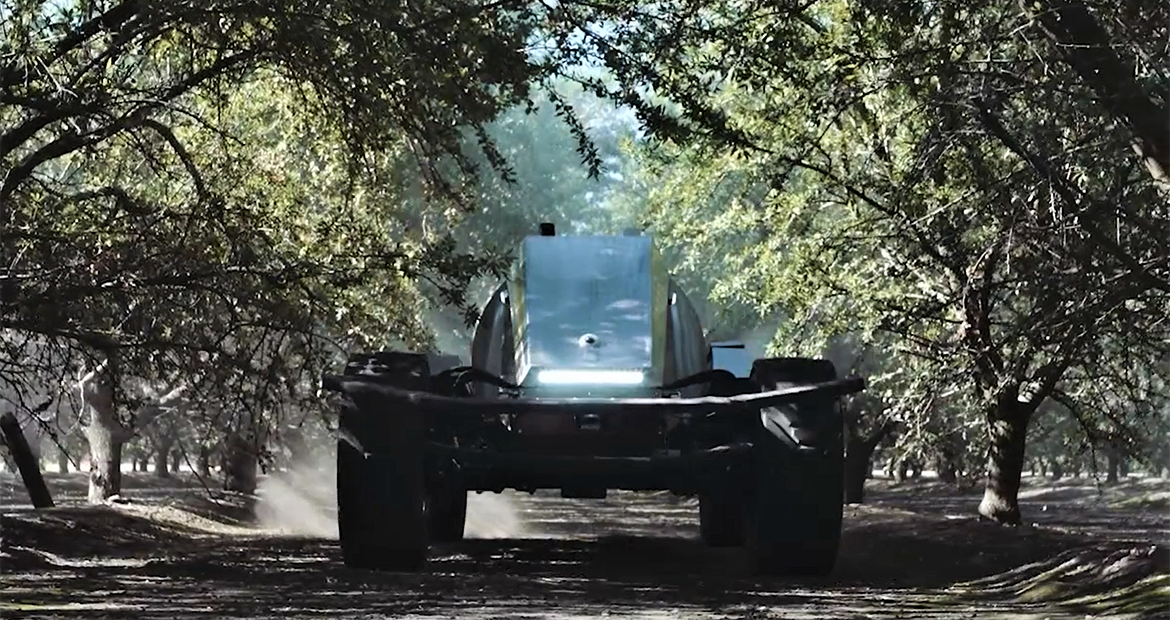 Faced with labor challenges; along with requirements to improve efficiency and lower costs for their producer customers, Crinklaw Farm Services began work on the Global Unmanned Spray System (GUSS) in 2014. According to Gary Thompson, Marketing Director GUSS Automation, LLC "GUSS's whole design philosophy is based around innovation, efficiency and performance – building a machine that can spray row after row, day after day."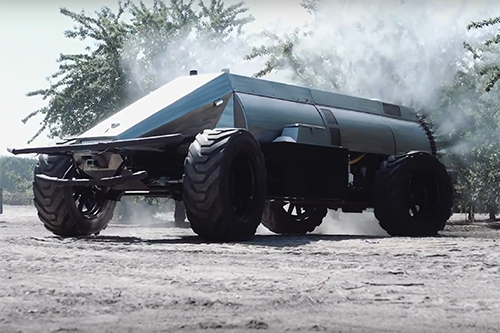 Designing a machine to fulfil that philosophy presented some unusual challenges. GUSS needed to operate easily within row widths around 20-22ft. while being low enough to fit under an orchard canopy. It must also be able to operate in conditions that include steep terrain or muddy ground. To accomplish this, Crinklaw equipped GUSS with a 17- ft. turning radius, four-wheel steer, and four-wheel drive, allowing it to tackle the toughest terrain and turn seamlessly from one row to another.  
Many other features were incorporated to achieve safe and consistent autonomous operation, including a stainless steel outer body for longevity against sprayed material, as well as an angled front-end so low hanging fruit and branches can slide up and over the machine.  In addition, a variety of state of the art sensors support the on-board GPS, while a laser constantly scans the ground in front of the machine for objects. A touch sensitive bumper works in conjunction with a live camera that is continuously streamed to the monitoring vehicle for optimal safe operation. 
Reliability and durability were key to Crinklaw when they chose the Cummins 173 hp QSB 6.7 to power GUSS. "We wanted a strong engine for GUSS, a product that's extremely reliable and one that we didn't have to worry about. The very nature of an autonomous vehicle like GUSS means the guidance system is state of the art technology, therefore we wanted everything else outside of that system to be as tried and proven as possible," said Thompson.​