Cummins' 'Gateway' to Shrinking its Environmental Footprint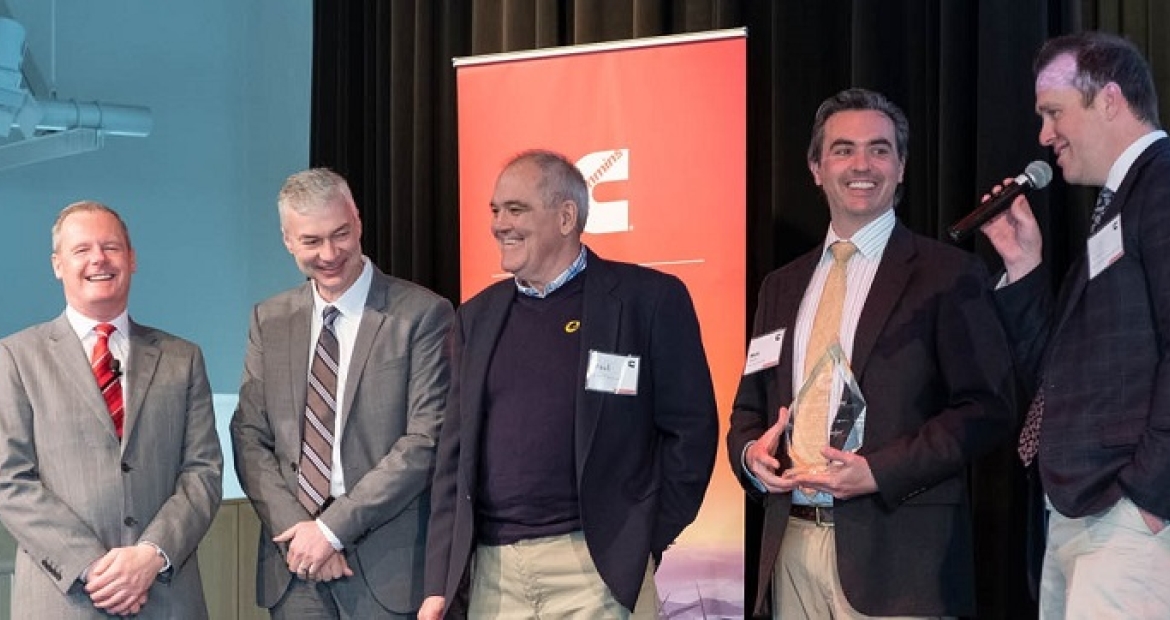 Reid Crandall knew he had just five minutes to make his case and five minutes for questions to explain to a panel of 10 judges why Cummins needs a system that enhances industrial cooling towers by reducing water and energy usage.
It was just enough time, however, for Crandall and the BBC Pump and Equipment Co. Inc. of Indianapolis, Indiana, to take home top-honors at the first Cummins U.S. Innovation Gateway in Columbus, Indiana, earlier this week.
"I've never been a part of something quite like this," said Crandall, Commercial/Industrial Sales Engineer at BBC. "I've worked with a lot of companies, but not many are trying to solve problems they don't even know they have yet."
EVERYONE'S A WINNER
There was no time for day-dreaming at the fast paced competition, which is something like those reality television shows where entrepreneurs pitch their best ideas in just a few minutes to a panel of business luminaries, hoping one will invest in them.
Only in this case, businesses and entrepreneurs pitched their ideas to help Cummins meet its environmental goals around water, waste, and energy. It's also different in that all nine finalists in the Gateway competition could possibly end up working with Cummins to test their ideas.
"Everyone's a winner in their own right," said Denis Ford, International Sourcing Leader, who served as the master of ceremonies for the event. "There are no 'last places.'"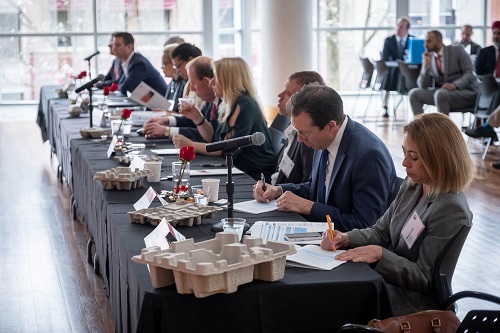 Ford played a key role in the successful development and implementation of the Gateway concept in the United Kingdom, which sourcing leaders now hope to take to other Cummins' locations around the world. Columbus was the first stop on that journey.
In the weeks leading up to the competition, Cummins received 66 proposals from companies large and small to reduce the water and energy it uses and the waste it produces. Those were narrowed down to the nine finalists who got a chance to make their 10-minute pitch in person April 8 at the Gateway's Finalist Day.
SOME OF THE IDEAS
The ideas that made it all the way to the finals included re-purposing carbon-containing waste into sustainable energy and chemicals, employing reverse osmosis to reuse the most challenging industrial waste water, and applying advanced analytics to connect building and manufacturing systems to business results.
The latter idea was submitted by a company called Building Clarity and SAS, which won runner-up honors in the competition.
The judges included five Cummins leaders, as well as sustainability experts from Purdue University, Indiana University and representatives from the U.S. Department of Energy and the Mid-States Minority Supplier Development Council.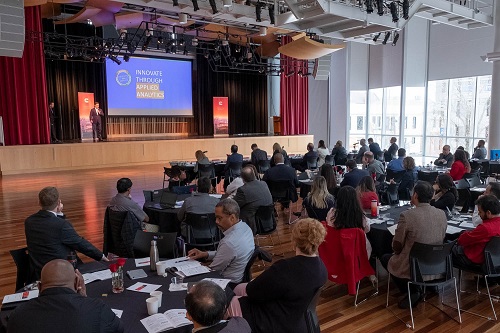 Marcela Navarro, CEO of Project X Global, an international effort to shift industries to more sustainable sourcing, also served as a judge. She worked with Ford's team to develop the Gateway concept and said after the competition she believes similar events would work at Cummins locations around the world.
"We are committed to action," she said.
Brian Mormino, Cummins' Executive Director of Worldwide Environmental Strategy and Compliance, said the event produces the kind of innovative ideas and partnerships the company needs to fulfill its mission of "Making people's lives better by powering a more prosperous world."
"Prosperity," he said, "requires a healthy planet."
THE FINALISTS
Here's a brief look at  the nine finalists at the Cummins U.S. Innovation Gateway:
Automotive Insight: Proposed using a nano -fluid called Tool-X as a super lubricant for industrial uses, extending the life of cutting devices. 
BBC Pump and Equipment Co., Inc.: Proposed enhancing cooling tower operations to reduce water and energy usage.
Building Clarity and SAS: Proposed applying advanced analytics to connect building and manufacturing systems to business results.
CrossTek: Proposed using a robust reverse osmosis solution for reusing the most challenging industrial waste water.
enVerde LLC: Proposed re-purposing waste containing carbon into clean, sustainable energy and chemicals.
EPS – Engineered Packaging Systems: Proposed using recycled pulp to reduce packaging material. 
Immersion4:  Proposed using a specialized fluid for computer cooling that can be done without water or greenhouse gas emissions.
RPG Energy Group: Proposed the installation of floating solar arrays to take advantage of under-utilized space to create power.
TORO Sustainable HVAC: Proposed a new business model where cooling is sold as a service, eliminating the first cost of purchase for heating, ventilation and air conditioning equipment.
THE JUDGES
Here are the judges at the Cummins U.S. Innovation Gateway:
Morgan Andreae, Executive Director of the Cummins Growth Office
Mark Dhennin, Cummins' Director – Energy & Environment
Jim Gruwell, Executive Director – Strategic Purchasing at Cummins
Helena Hutton, Cummins' Director – Global Diversity Procurement
Laura Jones, GIS Facilities Functional Excellence Manager at Cummins
Eli Levine, Advanced Manufacturing Office Leader – U.S. Department of Energy 
Carolyn Mosby – President and CEO of the Mid-States Minority Supplier Development Council
Marcela Navarro, CEO and Co-Founder of Project X Global
Dr. John W. Sutherland, Professional and Fehsenfeld Family Head of Environmental and Ecological Engineering at Purdue University
Jason Whitney, Indiana University Research and Technology Corporation Manager of Strategic Partnerships