Cummins Celebrates Global Remanufacturing Day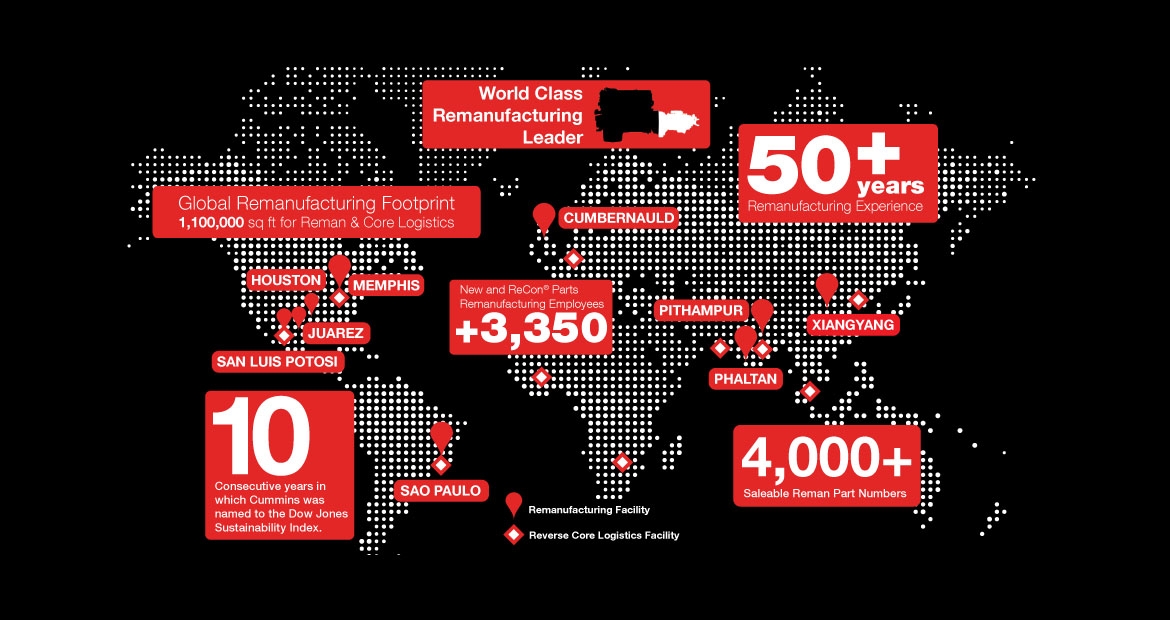 April 11 is Global Remanufacturing Day and Cummins Inc. is honored to celebrate our global remanufacturing operations on this and every day.
Cummins' focus on global remanufacturing stands as one of the company's true differentiators and key sustainability practices worldwide. With over 50 years of remanufacturing experience, more than 3,350 employees and eight manufacturing facilities across the globe, Cummins is a world-class leader in this space – and proud of this distinction.
"If you think about what our organization actually does, it's really quite incredible," said Rob Enright, Cummins General Manager, New and ReCon® Parts. "Every day, we give new life to Cummins products and keep them running for our customers. It's just one of the many ways we drive dependability at Cummins."
Cummins' New and ReCon Parts (NRP) organization specializes in remanufacturing previously sold, used and worn parts and engines – specifically for Cummins short block, long block, heavy-duty L10, M, N and ISX/QSX, as well as midrange B, C and ISL/QSL engine platforms. Cummins has been perfecting the remanufacturing process for decades; and the factory processes, advanced tools and quality systems return remanufactured parts and engines to meet or exceed original performance specifications.
New Cummins engines are also built with remanufacturing in mind, enabling them to have a long and increasingly fuel-efficient life. Up to 85 percent of an engine can be remanufactured, and Cummins engines are built to be remanufactured up to three times. 
"Global Remanufacturing Day is a day we celebrate the people who make our remanufacturing efforts possible at Cummins," said Lourdes (Lulu) Lopez, Cummins' Director of NRP Global Manufacturing Operations. "Remanufacturing is a fun, yet tricky business at Cummins, and our people bring the expertise, passion and excellence needed to make Cummins a worldwide leader in this space."
Not only does remanufacturing keep our products in the market longer, it keeps them out of landfills longer too. Remanufacturing also requires far less energy and natural resources to extend life than to build new products. Additionally, remanufacturing helps Cummins deliver on its sustainability promises in the following ways:
85 percent less energy is required to produce a remanufactured engine
400 million pounds of Greenhouse Gases (GHG) are avoided
77 million pounds of material is reclaimed
67 percent of common assemblies, such as turbos, fuel systems, pumps, etc. are remanufactured
Cummins' remanufacturing process consists of seven key steps which are highlighted at cummins.com/parts/recon. First, the old part (core) is accepted, allowing the customer to receive money back for exchanging a worn-out engine or part. Next, the product is disassembled, ready for the third stage of cleaning. Once any debris is removed from the part, it is inspected and restored to full specification. The part is then tested to ensure standard compliance before being finally reintroduced into the field.
In 2018, Cummins NRP remanufactured approximately 18,700 engines, over 134,000 turbochargers, 141,000 pumps and 637,000 injectors, not to mention thousands of additional remanufactured parts. This success wouldn't have been possible without the talent and dedication from Cummins' global NRP workforce.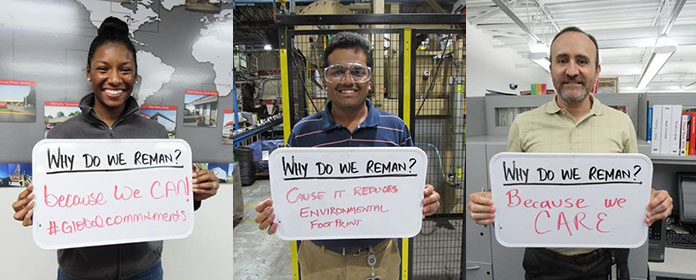 Reman Spotlight: San Luis Potosí, Mexico 
The new Heavy-Duty ReCon engine assembly line at Cummins' NRP San Luis Potosí, Mexico plant is a great example of innovative and dependable processes. There, they remanufacture 26,000 engines per year for short blocks, long blocks and L10, ISM/QSM and ISX/QSX engine platforms, all on one single assembly line. The palletized conveyor concept provides high flexibility to manage very complex products and mixed engine model production and includes both automatic and semi-automatic equipment. The customized capabilities of the automatic and semi-automatic equipment bring high quality controls and the latest manufacturing techniques.
Cummins is proud to be a member of Reman Day's sponsoring organization, the Remanufacturing Industries Council (RIC). The RIC is a strategic alliance of businesses and academic institutions that works across industry sectors to support the entire remanufacturing industry through a combination of collaboration, education, advocacy and research.