Cummins Careers Culture Series - Volume 3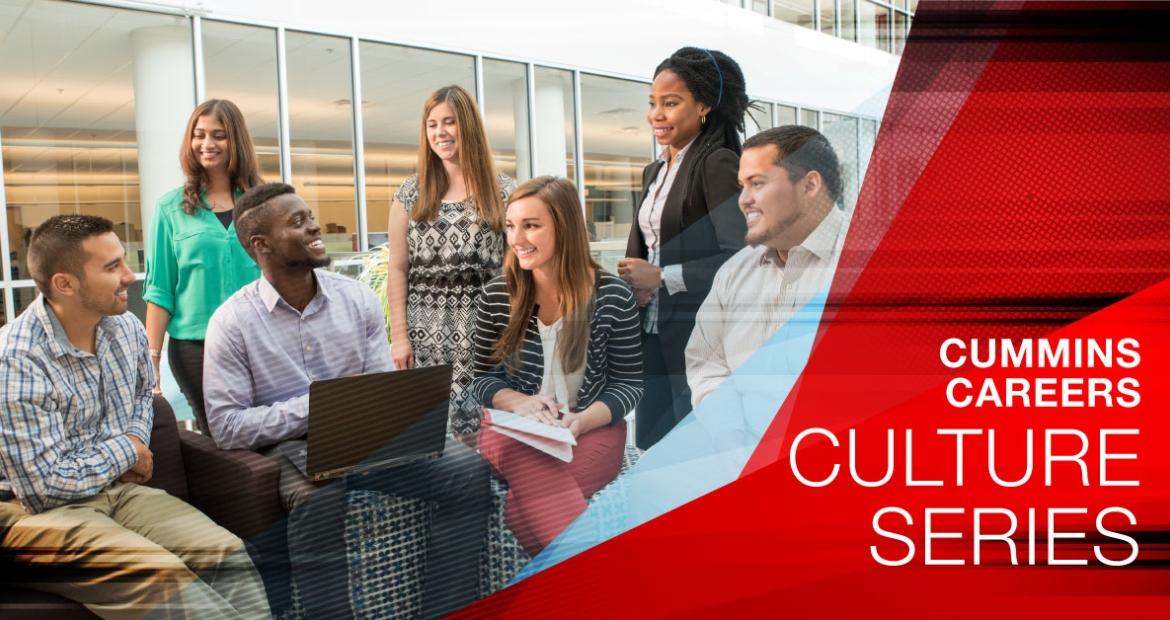 Cummins sponsors over 100 Employee Resource Groups that help create the right environment for success at Cummins by promoting diversity, inclusion, and lending their unique perspectives to identify opportunities that can enhance our business success.
These groups are open to all employees and are organized around dimensions of diversity such as race, ethnicity, country of birth, gender, sexual orientation, as well as broader themes such as individuals with disabilities, veterans, and new employees. The groups also focus on providing important cultural and business environment information to ensure Cummins' success.
This interview is part of a series of one-on-ones with members of our Women's Resource Group, located in Southern Indiana. Chrysta is a VPI Program Leader based out of Cummins' Corporate Headquarters in Columbus, Indiana (US).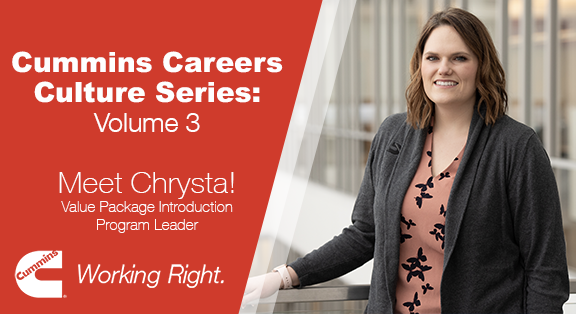 Q:          How did you discover Cummins and ultimately begin your career here?
A:          I have always been told I have a thought process & interest in different aspects of life that would make me a great engineer. Around my freshmen year of college, I did a tour of Ball Aerospace, and I think that sealed my fate. I found everything about designing, manufacturing, and deploying something like a space satellite so fascinating. When in line at a career fair to talk to Ball, Cummins caught my eye. I went to talk to the recruiter and immediately felt like it would be the right environment for me. It was more than the technology that captured my interest; as I listened to the recruiter, I could tell how Cummins valued not only technology & innovation but its employees as well. My first internship within Cummins Fuel Systems further solidified this. Cummins invested so much time and energy in me as an intern with training, events, and networking. It really spoke volumes to me. The longer I worked here, the more I found that their values, goals, and environment were a good fit for me.
 
Q:          Elaborate on how Cummins has affected your career.
A:           In one word: tremendously. As I mentioned before, I was always told I would be a great engineer. I always aspired to be a great one, but my career opportunities multiplied when I listened to the mentors and managers in my life. They saw potential in me to be something more, which is how I ended up in a program leader role. One of the best things about Cummins is mobility – regardless of past roles or experience, you have opportunities. Where you came from before doesn't define your career here. Diversity in all areas is what is important at Cummins. No career path is "right." You can come here as an engineer and retire as an engineer, or you can come as an engineer and retire as an HR manager, finance guru, or Business Segment director. My mentors really helped me see that I could use my engineering problem-solving skills to expand my horizons and develop my full potential.

"One of the best things about Cummins is mobility - regardless of past roles or experience, you have opportunities."
 
Q:          How do Cummins' values align with your own? How are you given the opportunity to live your values at work?
A:          As I mentioned above, one of the primary reasons I chose Cummins was (and still is) its core values. Diversity & Inclusion are important to me both in searching for a company to work for as well as in my day to day life. Not only am I a woman in a male-dominated field, but I also strongly value different backgrounds, perspectives, and ways of thinking. I think it's important to learn about your teammates and what makes them who they are in order to work better as a team. This is something you see every day at Cummins. Different people from all walks of life, all over the globe, all with a different story to tell working together, learning from one another, and respecting one another.
Caring and Integrity were also major values of Cummins that aligned with my own values. I have always wanted to execute anything I do with integrity and caring intent. Cummins' Every Employee Every Community program is a prime example of how Cummins lives those values. I love the chance to give back to my community driven by the company I work for.
Q:          Are you involved with any Employee Resource Groups? How have those groups empowered you at Cummins?
A:           I am a member of the Women's Employee Resource Group. One of my core values is giving back to my community and the Women's Employee Resource Group has allowed me to plug into STEM, an area I am passionate about because of my engineering background. Through the committee I'm a member of, we have been able to plan and provide offsite activities for student ages 5-14 to engage in STEM. I have been able to assist branding with insight into new recruiting materials and work with women in our community who are trying to re-enter the workforce. It's a fulfilling and empowering feeling to make that difference and see the change one group can make.
 
Q:          What makes you proud to work at Cummins?
A:          I was beyond proud when the new Parental Leave policy was announced last year. Not only is this such a great policy for new parents, but it's so inclusive of men, women, and even covers adoption. It truly highlights how Cummins is willing to support its employees in every circumstance and do what is right. Who wouldn't be proud to work for a company willing to make strides like this towards inclusion?
 
Q:          How has Cummins allowed you to live your values at work?
A:           The core values of the company (Integrity, Diversity & Inclusion, Caring, Excellence and Teamwork) resonate heavily with me and the way I approach my career.  These are core values that allow us to become an industry leader and develop the best solutions for our customers. These values are reinforced each day in every interaction with coworkers, team members, stakeholders, suppliers, and customers.  
 
Q:          How do you balance your personal life and professional life at Cummins? 
A:          Caring. Cummins cares and that means we care about you and what is going on in your life. Do you have to show up and do your job? Yes absolutely! But, because of the caring mentality, I can balance my outside obligations much more easily. When I need to leave early because of my dog's vet appointment, my manager is understanding the same as when my co-worker must leave because her son is in the regional finals for wrestling. When managers instill trust in their employees and allow them to do their work, while still allowing them the flexibility to be there for the people and things in their life that matter the most, that truly exemplifies the meaning of caring.
 
Q:          What about your role at Cummins sparks passion for you?
A:           My current role as a program leader is very customer driven. How I am delivering to our customers has an impact on how they see Cummins as a whole. I must deliver on time and with integrity. This drives me to be a better employee and person as I strive for that level of excellence. It's also pushed me to pursue other ways I can better myself such as enhancing my leadership and coaching skills, as well as learning more about parts of the company I wouldn't have been interested in before as an engineer, such as purchasing or finance.
 
Q:          How has Cummins made you more passionate about technology and innovation?
A:          I was originally drawn to the technology & innovation of Cummins. I think I always saw the potential I could have at Cummins because of the level of innovation they strive for. The biggest difference for me is how my passion for technology has shifted because of my experience here at Cummins. Initially, I would have told you as an engineer impact innovation every day by coming up with new ways to test and measure our new components within Fuel Systems. Now that I'm in a role that is less technical than my previous roles, I can see how we all drive innovation and technology at Cummins. 
"You don't have to be an engineer to make a difference in what we're delivering to our customers. It takes a team of all kinds to deliver the technology we do every day."
Learn more about how our employees make a difference and how you could make an impact at Cummins by visiting careers.cummins.com, and follow us on Facebook, Twitter, LinkedIn, and Instagram.