PowerCommand® Controlled Power System From Cummins Delivers Safe and Critical Protection to Pakistani Poultry Feed Industry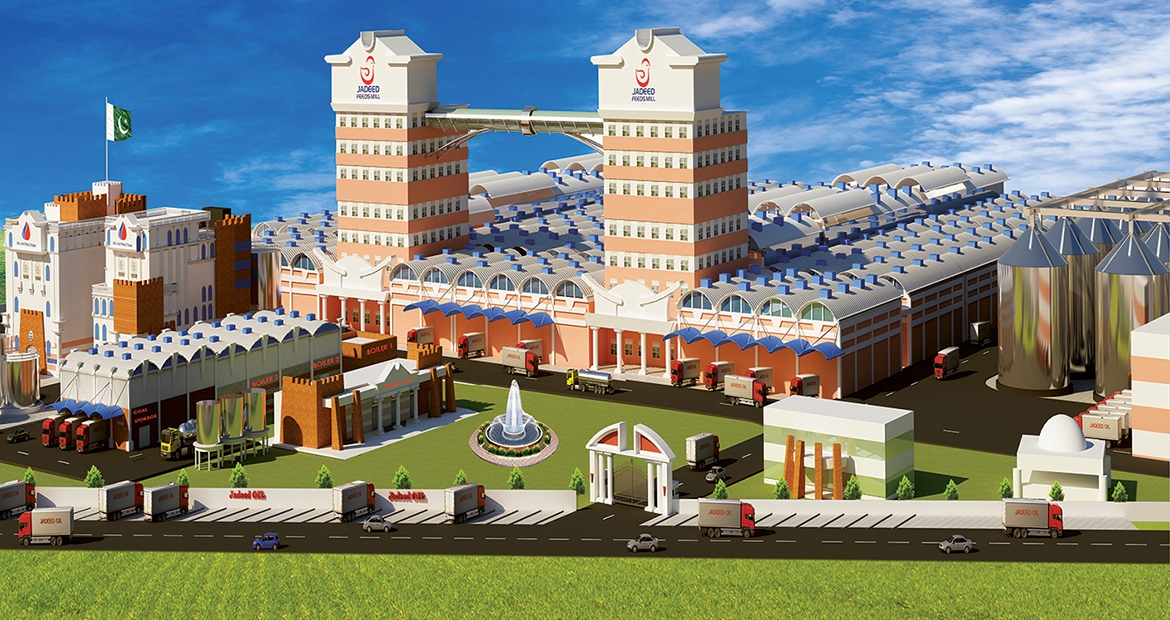 To meet the food and nutrition demands of a rapidly growing population, the Pakistani poultry industry has also expanded immensely, peaking early in the 21st century. It has now reached maturity with about a dozen sizeable players, which are turned toward international markets such as the Middle East and Africa. 
Jadeed Feeds Industries (Pvt.) Ltd. was incorporated in 2008, and its feed mill in Khanewal is a flagship project of Jadeed Group of Companies as Asia's largest feed mill unit. The feed mill caters to the demand of poultry feed across southern Pakistan. Better availability of feed is essential to the viability of the poultry business, especially for small farmers, and keeps costs low for consumers. 
Located in Khanewal, a major city and railway junction in central Punjab province, the site benefits from its central location in the supply chain and with Karachi, where imported goods are shipped. Situated on 30 acres, a recent expansion to the plant has doubled capacity to 120 tons per hour. The ISO-certified plant is equipped with the latest technology and is fully automated. 
As the plant operations are very critical, the site cannot afford a power outage for even a few minutes. Therefore, a reliable backup supply of electricity is essential in case of utility failure. As a regular customer for the last 10 years with Cummins generators operating at other locations, Jadeed approached Cummins to purchase a backup power system for the Khanewal plant with the objectives of reliability, technical support and less inventory maintenance.
Orient Energy Systems Pvt Ltd (OES), Cummins authorized distributor in Pakistan, provided the entire system, comprised of seven Cummins generators (2 x C1675D5, 2 x C1400D5, 1 x C500D5E and 2 x C220D5) along with Cummins PowerCommand® PCC 3.3 generator set control, for seamless integration and operation. The power system provides 6,000 kVA of standby power. 
Special consideration was taken for air intake cleaning and air filtering to optimize performance in dusty conditions, and custom foundation pads were constructed considering static and dynamic loads of the generator sets running in parallel. Cummins' global manufacturing and distribution footprint allowed OES to meet the customer's delivery requirement on a short time line.
In the poultry industry, cost and safety are often the top concerns, explained M. Omar Farooq Khan, OES Sales Executive. OES demonstrated to the customer that Cummins offers the best total cost of ownership: maximizing capital expenditures and fuel efficiency, and more power availability due to greater fault protection and less altitude and temperature deration. The PCC3.3 control has built-in safety features, including an overcurrent protection and fault current regulating feature called AmpSentry, which is UL listed as a protective relay.  
In this way, OES develops and supports solutions for greener and cheaper electricity for customers like Jadeed Feeds Industries. Alongside OES' strong customer service, Cummins is committed to product reliability, availability of power, and investment in new technologies to continuously improve the way we power the future and our customers' success.
For more information on Cummins standby power systems, visit cummins.com.