Twister: Tornado Preparedness is No Game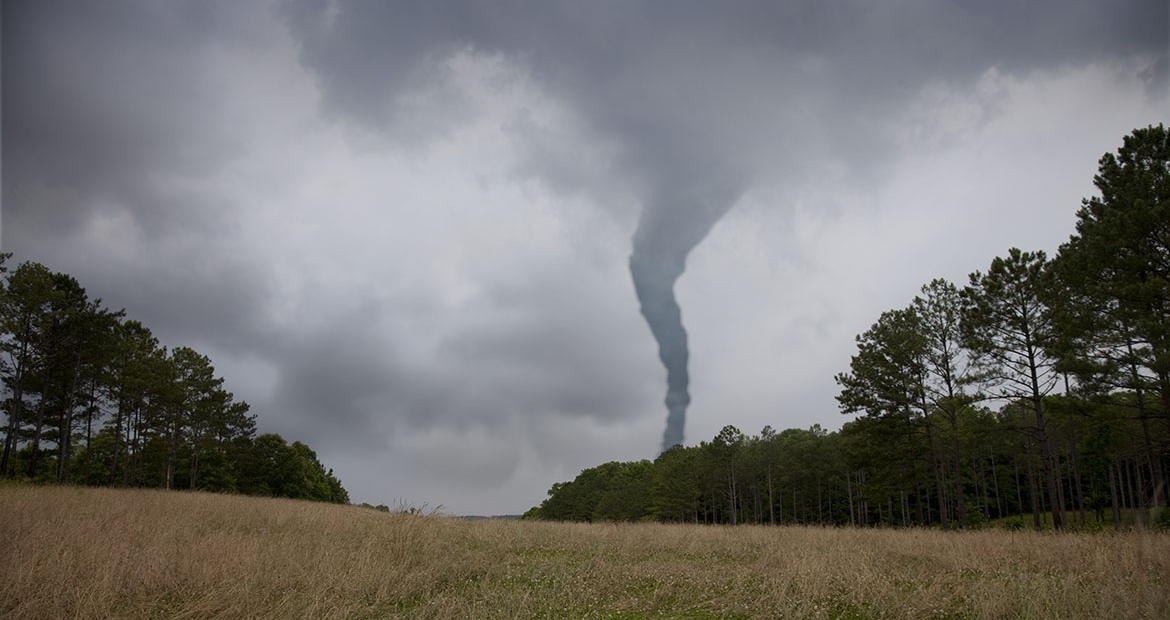 On March 8, 2019, a rare and violent EF4 tornado touched down in Lee County, Alabama, killing 23 people, making it the deadliest tornado since 2013.
That was not the only tornado to touch down that day; there were reports of dozens of tornados touching down across the Southeast. While conditions ideal for tornado formation were forecast 24 hours earlier, residents of Lee County weren't warned of an imminent threat until an hour before destruction was reported. 
Tornadoes can occur in all 50 U.S. states year-round, with peak tornado season running from spring through early summer.  In the spring, the clash of air masses creates a "weather battleground." This happens when cold, dry air from Canada clashes with warm, moist air from the Gulf of Mexico. A frontal boundary divides the two air masses and acts as a focal point for thunderstorms. With the right ingredients, some storms become severe. When these storms have enough rotation, tornadoes can form. While a tornado as destructive as the one in Lee County is rare, it's quick escalation from threat to disaster highlights the importance of having a tornado preparedness plan in place. 
First and foremost, identify your tornado safe room. The safest place you can be during a tornado is a tornado shelter or basement. If those are not available, go to the lowest level of your building and take shelter in an interior room without windows. Put as many walls between you and the outside as possible. If you live in a mobile home, locate a sturdy building ahead of time. If you work or live in a high-rise building, get to the lowest level possible and seek shelter in an interior room or hallway.  Here are some additional steps to take to ensure you, your family and your pets are prepared for a tornado.
Have a plan for all members of your family, including seniors, children, those with special needs and pets.
Store a portable disaster kit with essentials such as water and non-perishable food in your safe room.
Identify a family meeting place in the event you are separated.
Know the difference between a tornado watch and a tornado warning. A watch means the potential exists for a tornado and you should be prepared to take shelter, while a warning means a tornado is occurring or is expected to develop, and to take shelter immediately.
Know where the safe room(s) and/or hallway(s) are at work and school.
Keep leashes and carriers nearby so you can take your pets to your safe room.
To avoid being left without power following a storm, consider a home standby generator.
If you're caught outside or driving…  
Pull over as soon as you safely can do so. If possible, park away from trees or anything else that could become flying debris. 
If there is a sturdy building nearby and you have time to safely get to shelter, seek shelter immediately.
If there is no shelter nearby, use your best judgment – you may either get out of the vehicle, lay flat on your stomach in a nearby ditch (away from anything that could become flying debris) and cover your head with your hands OR stay in your vehicle, get down as low as possible below the windows and dashboard and cover your head with your hands.
Remember, tornadoes are unpredictable, so please leave storm chasing to trained professionals. Don't gamble with Mother Nature just to get a great photograph or video to post on social media.
Being prepared means knowing what to do before, during and after a tornado. To stay safe in the aftermath of a tornado…
Stay aware and get the latest updates from a NOAA Weather Radio, the Emergency Alert System and local authorities/media.
Use caution after a disaster. Wear sturdy shoes, long pants, work gloves and eye protection, if available.
If there is a lot of debris, use a mask or cover your mouth with a cloth or T-shirt to avoid breathing in smoke, dust and other harmful air particles.
Do not walk or drive through floodwaters.
Do not touch or try to move downed power or utility lines.
Do not enter damaged buildings unless you know they are safe.
If you are properly trained, provide first aid to those in need until paramedics arrive.
Text or use social media to contact loved ones rather than attempting a phone call. Phone systems may be down or busy after a disaster, so please save phone calls for emergencies.
If your property was damaged, contact your insurance company and be aware of insurance scammers.
To learn more, visit www.HomeGenerators.Cummins.com and follow @CherylNelsonTV.