Cummins' Kits for the Homeless Arrive at Precisely the Right Time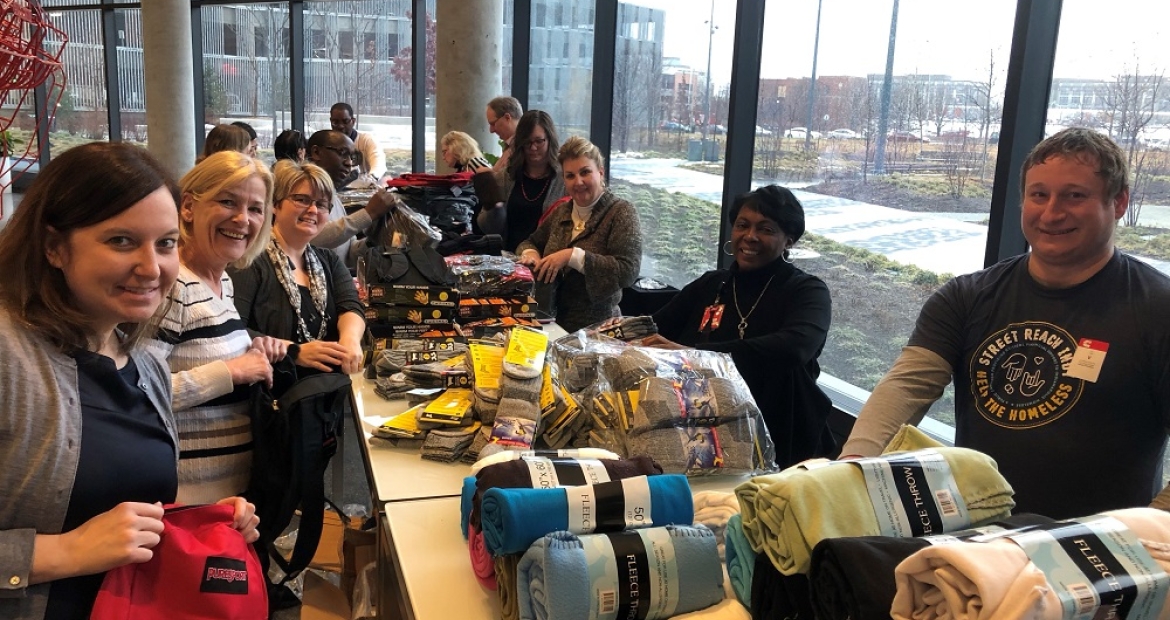 The record cold sweeping across the U.S. Midwest last week was just a little more bearable for the homeless in Indianapolis thanks to Cummins volunteers who assembled winter clothing kits for people without shelter.
Fifteen volunteers organized by the Social Justice Sub-Committee of the company's Indianapolis Community Involvement Team (CIT) assembled 260 winter survival kits on Jan. 23 at Cummins' Distribution Business Headquarters. The kits were for the Coalition for Homelessness Intervention and Prevention (CHIP) to distribute during the Indianapolis group's annual Point-in-Time (PIT) count.
The PIT teams went out from 7 p.m. to 11 p.m. on Jan. 30, counting people without shelter and distributing the winter kits. The low for that day was -11 (Fahrenheit) below zero with wind chills dipping into the -30 to -50 range.
"The winter kits that Cummins assembled were of critical importance to those who were found without shelter," said Chelsea Haring-Cozzi, Executive Director of CHIP. "Our outreach teams will continue to distribute the backpacks beyond the PIT count to those in need. We are so appreciative of Cummins' contribution to this effort."
The U.S. Department of Housing and Urban Development has mandated PIT counts since 2005. CHIP has been carrying out the HUD initiative in Indianapolis since 2006. HUD requires the count take place between Jan. 22 and 31. CHIP officials knew it would be cold when it set the date for the count earlier this year for Jan. 30, but of course nobody counted on historic low temperatures.
 
Each kit included a backpack, hat, gloves, socks, a blanket and hand warmer. Haring-Cozzi explained to volunteers during the packing of the kits that they could mean survival for individuals without shelter in extreme cold. 
"Our team had partnered with the coalition before to help address the needs of homeless individuals in our community," said Joe Hockstra, leader of the Indianapolis CIT's Social Justice Sub-Committee.  "We were very happy to help fund and assemble the winter clothing kits CHIP is distributing – especially in the sub-zero temperatures Indianapolis experienced last week."
One of the objectives of the sub-committee is to improve the quality of life for those in need. The CIT puts a special focus on the near east side of Indianapolis, where some of the city's poorest residents live. The Distribution Business Headquarters is on the east side of downtown, just a few blocks from one of the city's main homeless shelters.
"It's hard to think about people being without shelter especially when it gets as cold as it did last week," said Travis Meek, Senior Counsel at Cummins and the leader of the CIT.  "I'm proud Joe and his team partnered with an outstanding group like CHIP to help make a difference in the lives of our city's most vulnerable population."