Cummins Careers Culture Series - Volume 2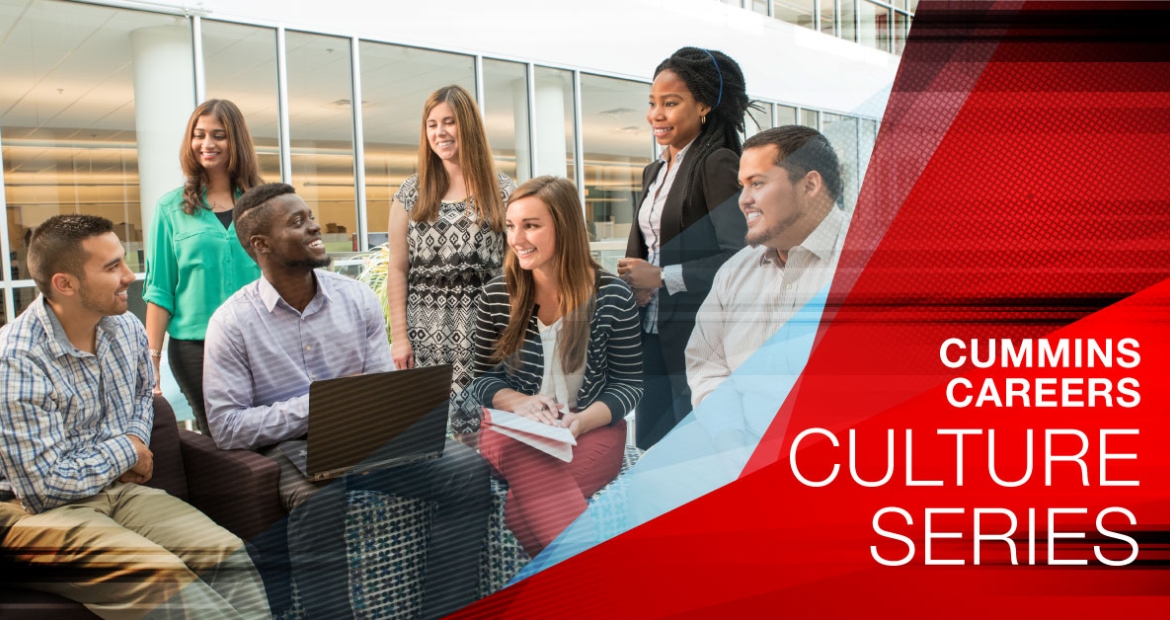 Cummins sponsors over 100 Employee Resource groups that help create the right environment for success at Cummins by promoting diversity, inclusion, and lending their unique perspectives to identify opportunities that can enhance our business success.
These groups are open to all employees and are organized around dimensions of diversity such as race, ethnicity, country of birth, gender, sexual orientation, as well as broader themes such as individuals with disabilities, veterans, and new employees. The groups also focus on providing important cultural and business environment information to ensure Cummins' success.
This interview is the second in a series of one-on-ones with members of our Women's Resource Group, located in Southern Indiana. Bilwa is a Senior Product Validation Engineer based out of Cummins' Corporate Headquarters in Columbus, Indiana (US).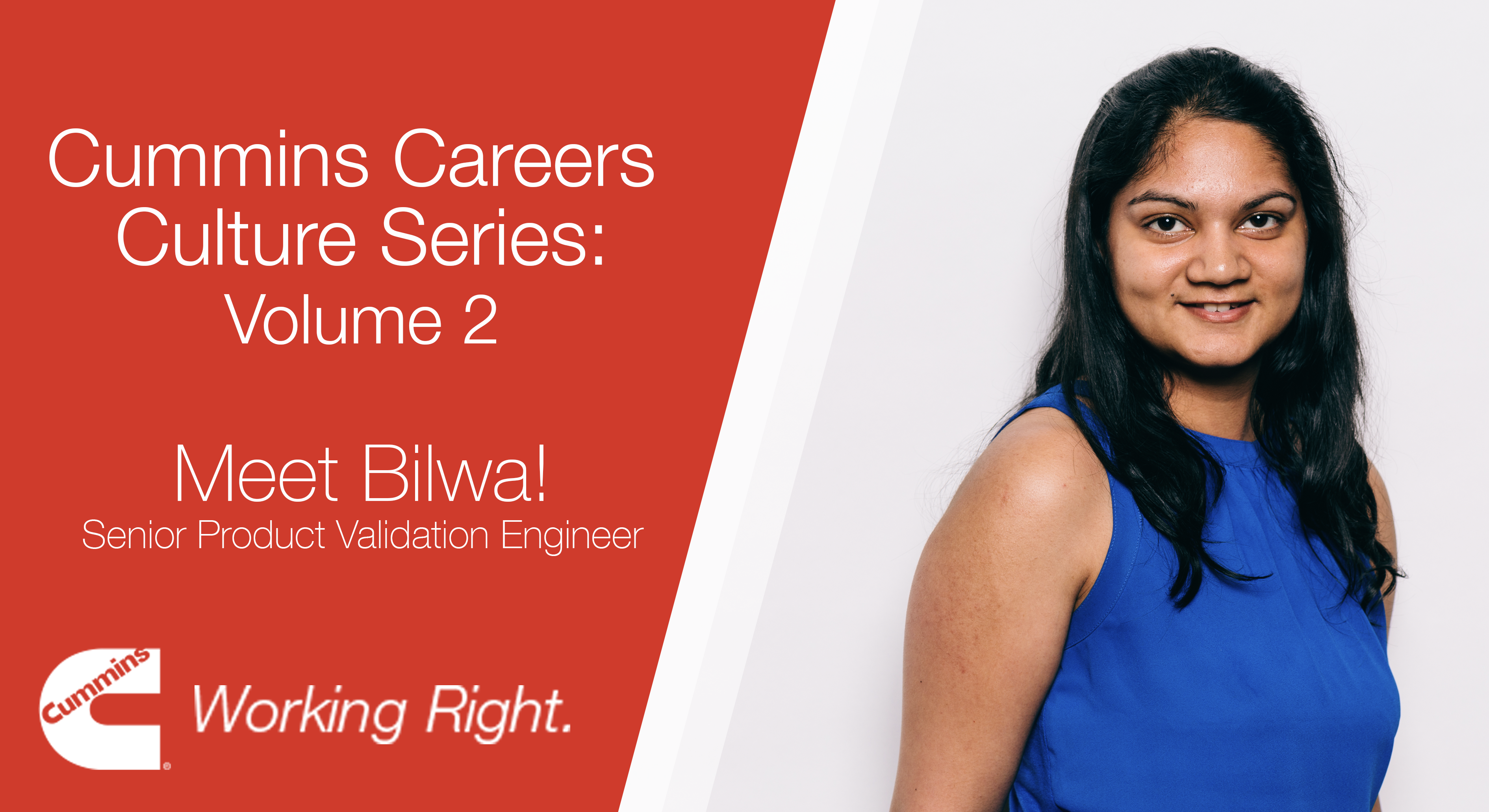 Q:          How did you discover Cummins and ultimately begin your career here?
A:           My dad was a mechanical engineer at Cummins for over 17 years. Growing up, I witnessed firsthand how Cummins fosters an environment of innovation and technological leadership. I was inspired by Cummins and its ability to constantly push the envelope to develop an unmatched portfolio of products that were environmentally friendly, cost-effective, and were leaders in every market and every application. As a hands-on person, I envisioned a career in engineering to develop the next generation of products to advance our society & its technology.  Cummins was a natural fit for my career goals. With encouragement from my dad, I started at Cummins as an intern over 5 years ago, and now am involved in developing the latest engine technologies to power the next generation of transportation systems.
 
Q:          Elaborate on how Cummins has affected your career.
A:           Cummins provides the opportunity to advance my career through a variety of educational and professional development activities. Having tremendous interdisciplinary talent at the company has provided an opportunity to work with leaders in a variety of different fields of science and engineering. I find this has broadened my exposure to new ideas and given me a chance to learn new skills at an accelerated pace compared to similar roles at other companies. This is critical for fostering a successful career as an engineer, and I'm thankful for mentors that constantly aid in my development and exposure to the current state-of-the-art technology. 
Q:          How have you experienced Cummins' core values in your experiences with the company?
A:           The support and mentorship that I receive from my peers have been tremendous for my own personal and professional development. The highly dynamic and supportive environment at Cummins brings out the best in people and allows employees to reach their full potential.   The mentors and peers that I worked with every day have imparted tremendous knowledge and exposed me to ideas and innovative ways of achieving goals.
Q:          Are you involved with any Employee Resource Groups? How have those groups empowered you at Cummins?
A:           I am involved with the Women's Employee Resource Group, Cross-Country mentoring program, and the Cummins-Purdue mentoring program at Cummins. Cummins provides excellent platforms to connect with people across the company, both regionally and globally. We share the same values, motivate one another and contribute on various projects towards a common goal. I've received substantial support from these groups, which has enabled me to maintain a healthy work-life balance and ensures outstanding productivity in the workplace.
Q:          How have you experienced diversity, inclusion, and belonging in your role at Cummins?
A:           One key way that inclusivity is fostered and encouraged is through the creation of an environment that allows for a diversity of ideas and approaches to a particular task or project.  This enables us to expand our horizons for tackling difficult technical problems and come up with the best solutions for our customers. I have witnessed firsthand how ideas from different people and their diverse backgrounds can be used to develop the best possible solutions for many technical problems.
Q:          How has Cummins allowed you to live your values at work?
A:           The core values of the company; Integrity, Diversity & Inclusion, Caring, Excellence and Teamwork resonate heavily with the way I approach my career.  These are core values that allow us to become industry leaders and develop the best solutions for our customers. Cummins is continually reinforcing its core values on a constant basis by emphasizing these values in every interaction with colleagues and team members, stakeholders, suppliers, and customers.  
Q:          How do you balance your personal life and professional life through Cummins? Discuss how
you make it work.
A:           Cummins has great mentors and leaders that provide tremendous support professionally through their vast knowledge and experience in the industry. This has personally allowed me to achieve balance by easily getting the support and experience I need at work. The culture at Cummins of diversity and inclusion also allows me to function effectively across cross-functional teams. On a personal level, the leaders in my team are deeply involved in setting professional goals and project plans in order for employees to have a healthy balance between company objectives and personal life.
Q:          What about your role at Cummins sparks passion for you?
A:           My role at Cummins is very challenging; I work to develop the future of engine technology and deliver the best results for our customers. I realize that my work at Cummins has a much larger impact on society and the environment globally. Cummins brand recognition is highly reputable worldwide and I'm proud to be a part of the Cummins family that delivers the best products and leading technology year after year.
Q:          How has Cummins made you more passionate about technology and innovation?
A:           Cummins engines are recognized globally, and we've been a pioneer in delivering best in class products worldwide since the beginning of the industry. This has a pronounced impact on me and has made me more passionate about contributing by delivering innovative and environmentally friendly technologies.
Interested in learning more about life at Cummins or how you can make an impact? Check out

careers.cummins.com

, and check us out on 

Facebook

, 

Twitter

, 

LinkedIn

, and 

Instagram

.