In the Path of the Storm, They Stayed to Make a Difference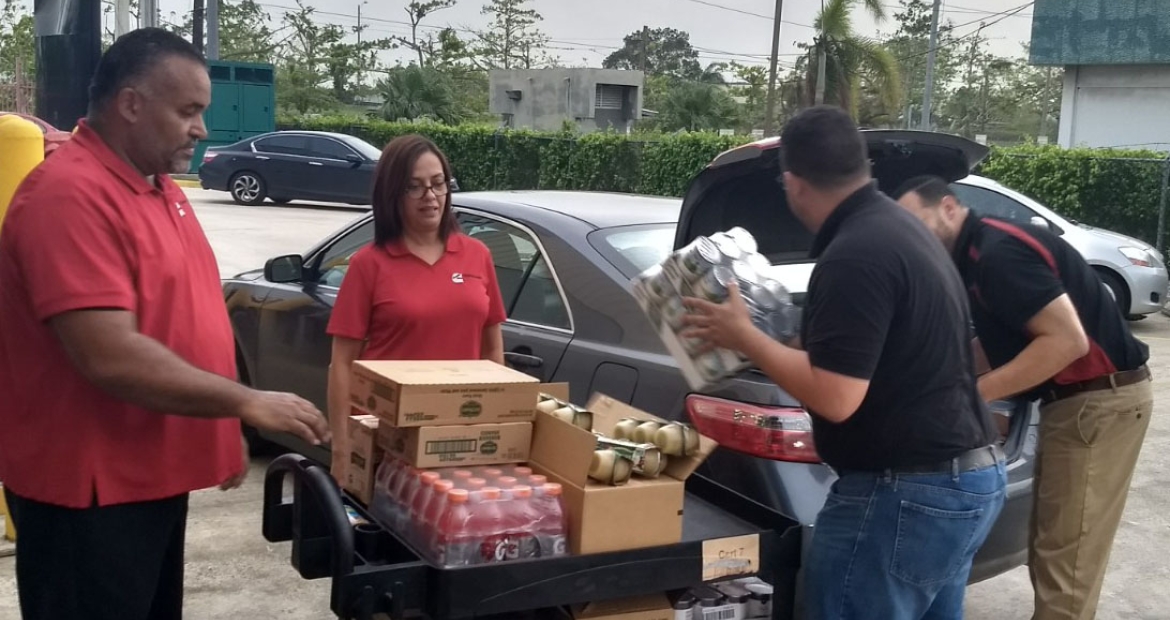 As Hurricane Maria approached Puerto Rico, Cummins Sales Representatives Ricardo Diaz and Rafael Mitchell, as well as Regional Business Manager Daniel Ortiz, quickly realized this was going to be a storm unlike any they had seen before.
They knew there would be much to do once the hurricane passed. So, while many residents left the island if they could, Diaz, Mitchell and Ortiz stayed behind along with every employee at the Cummins branch in Cataño, Puerto Rico. Less than a week after the storm hit Sept. 20, 2017, everyone was back at the branch, helping customers and those in need get back on their collective feet.
"Cummins is more than just a provider of equipment, we help our communities," Diaz said. "It really shows that we live by our values, and that we are part of the community."
RISING TO THE CHALLENGE
The hurricane left more than 3 million residents without power and destroyed most of the island's electrical grid. For almost nine months, much of the U.S. territory was dependent on new and existing generators for power if they had power at all. Some residents are still without electricity today due to the fragility of the grid.
"The first four weeks were critical," Ortiz recalled. "Everyone, including us, were making the impossible happen."
The Cummins team transported products to key installations such as hospitals and shelters across Puerto Rico. The branch shared its supplies and expertise with groups desperately in need of help, regardless of whether they were Cummins customers.
But maybe the most important effort Cummins employees undertook was at one of the main utility generating stations near the branch. Even though the station uses steam turbines and boilers to generate power, a Cummins technician and his supervisor played a key role in getting electricity flowing from the station into the island's largest city, San Juan. That, in turn, got electricity to one of Puerto Rico's largest hospitals and the water utility, too.
Company technicians were on site 24/7 looking after generators at the Convention Center, home to both the Federal Emergency Management Agency's headquarters as well as Puerto Rico's largest shelter. Technicians were also on duty at all ports on the island where power was critical to keep perishable food donations safe. 
 "The first four weeks were the worst," Diaz said. "The scarcity of products at supermarkets, six-hour lines for gas and diesel and the tense moments while people were in those lines were a real challenge and very stressful situations. 
"But Puerto Ricans really came through with empathy to each other, acceptance, adaptation and reliance during those difficult times," he said.
AWARD WINNERS PRAISE TEAM APPROACH
Ortiz said every member of the Cummins team was working long hours so the branch tried to create spaces where employees could get an occasional break before heading back out.
The team put cots out in the branch, which already included a washer, dryer and refrigerator that became critical features after the storm. The team also rented an apartment nearby to provide some additional space for breaks. Cummins delivered water, food and Wi-Fi routers to get the branch open and keep the team nourished for those long hours. 
Diaz and Mitchell were recently honored with Cummins Legendary Sales Awards for their actions and performance during the storm. But they are quick to say the response to Hurricane Maria was a total team effort.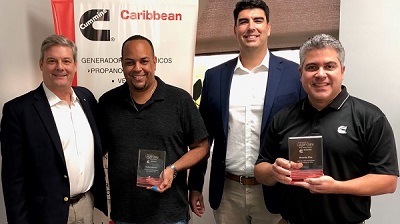 For example, Nabil Contreras, Caribbean Commercial Sales Director, worked tirelessly from the mainland United States to get equipment and support into Puerto Rico. The entire Cummins Caribbean team worked with the network of Cummins Sales and Service North America branches to prepare for the storm, assess its aftermath and plan for recovery.
The company's Crisis Action Management Program helped ensure the branch had needed supplies, and many Cummins Sales and Service regions sent their own technicians to the island to help.
 "There are so many great stories behind-the-scenes from customers and employees that would make all of us working at Cummins proud," Diaz said.
 By working together, Cummins employees kept desperately needed power Always On. 
Includes reporting by Kaitlin Hiquet and Asia Jernigan.