Linebarger Calls for Pragmatic Approach to China Trade Standoff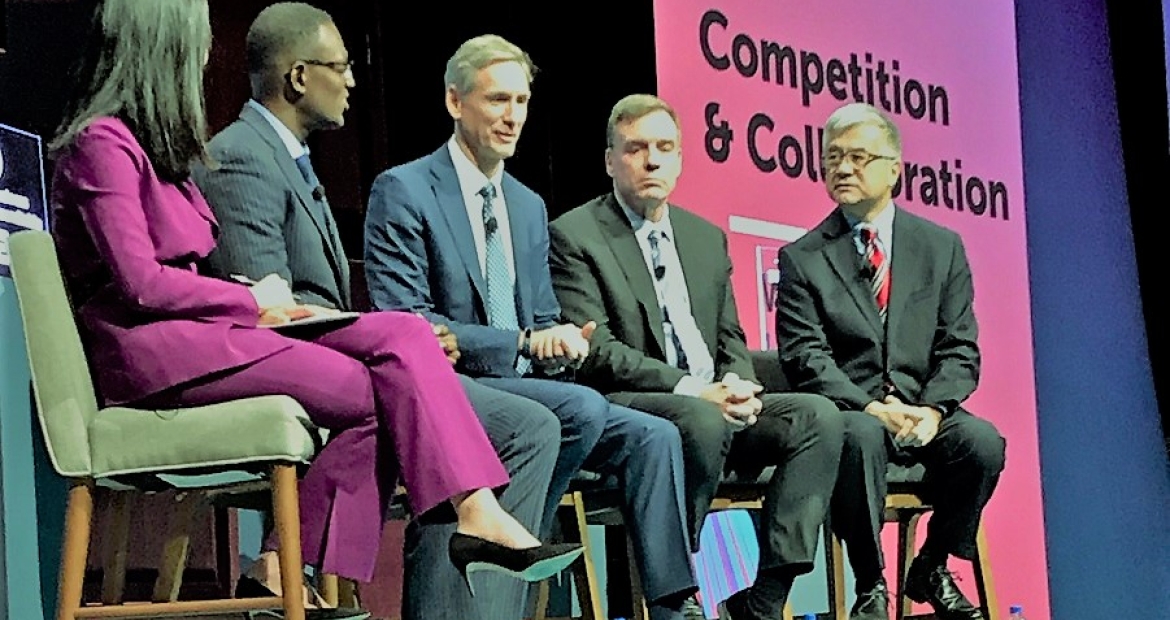 Cummins Chairman and CEO Tom Linebarger said this week he hopes U.S. negotiators will take a pragmatic approach that focuses on market access during the 90-day suspension of the trade war between the U.S. and China.
"We should be thinking about pragmatic market access," Linebarger said at a summit Thursday on innovation sponsored by the Business Roundtable, a group of CEOs from America's largest companies who believe business leaders have a responsibility to help build an economic future in the U.S. 
"…What are our goals in the near term, this 90-day term? What can we do to increase practical market access for American businesses in China and what can we get them to practically stop doing that's just unfair practices like stealing IP (intellectual property) etc.?"
Linebarger said starting with a single issue like market access can build momentum toward solving other issues that currently have the two economic superpowers at odds.
 "I think as soon as we are into negotiation and engagement, the chances for win-win solutions go up," said the Cummins CEO, who has been an outspoken advocate for free trade and a critic of retaliatory tactics such as tariffs.
TRADE IS A JOB PRODUCER
Linebarger maintains Cummins is an example of how trade can be a job producer not a job killer. Trade has been the single largest contributor to Cummins' growth over the past 15 years. As the company has grown globally, it has invested and added jobs in communities with Cummins plants such as Columbus, Indiana; Jamestown, New York; Rocky Mount, North Carolina and other American communities. 
Linebarger was part of a panel on "Competition and Collaboration with China for Leadership in Innovation" at the event in Washington, D.C. Other members included U.S. Sen. Mark Warner, D-Virginia; Gary Locke, former U.S. Ambassador to China under President Obama and the current governor of the state of Washington, and Dean Garfield, president and CEO of ITI, a technology company.
The summit invited business leaders and government officials of both parties, including Ivanka Trump, the president's daughter, who participated in a panel on the "Future of Work in an Era of Automation and Artificial Intelligence."
Linebarger agreed with his panel that issues like the forced sharing of intellectual property, patent infringement, counterfeiting and the stealing of proprietary technology are huge problems for U.S. companies that create an unlevel playing field for doing business in China.
Panelists said these practices may have been understandable when China was an emerging economy but not now that it is the second largest economy in the world.
CHINA'S IMPORTANT ROLE
Linebarger, however, also said Cummins would not be the company it is today were it not for the role China has played in innovation at Cummins and the company's overall growth. The size of the market alone makes it critical to Cummins. Of the 1.3 million engines the company produces annually, about 500,000 are sold in China.
Other panelists suggested the U.S. should consider adopting some of the trade practices China employs for Chinese companies that want to do business in the United States. 
But Linebarger said it's important for the U.S. to maintain its free market principles, which he argued are critical to innovation and can't be duplicated by a planned economy dictated by the state.
"Just because everything is so centrally planned and subsidized doesn't necessarily mean a win for China," Linebarger said, looking at the electric vehicle market. He maintains companies can start to chase subsidies under such a system rather than work toward a vehicle that meets the demands of customers.
"They aren't at the edge of competition," he said. "They don't feel the knife every day. …We may not win but if we do we are going to be lean and mean and tough."