I am a Collaborative Robot. I am Manufacturing.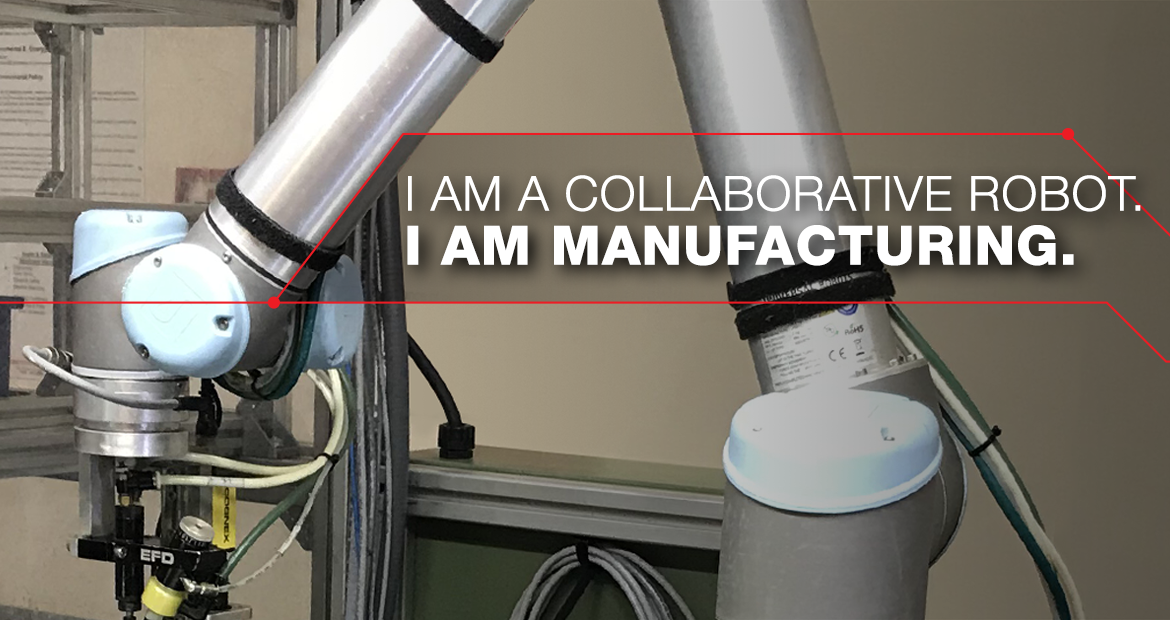 Advancements in technology, the internet of things and the power of big data are driving innovation across all industries – and the manufacturing industry is no different. This next wave of technological advancement in manufacturing is being dubbed Industry 4.0.
From more powerful, secure networks and universal connectivity, to advanced technologies and enterprise-wide data hubs, manufacturing's technological future has many facets and possibilities. Today, we're seeing examples of technological advancements within Cummins' 90-plus Manufacturing plants across the globe. 
One example is the Collaborative Robot.
What is a collaborative robot (Cobot for short)?
Simply put, a Cobot is a robot built to safely work with and around people. They're meant to enhance the work of humans, working side-by-side with operators to perform low-risk tasks, which is a paradigm shift for the industry.
While Cobots were first designed in the 1990s, they didn't become an industry option until just a few years ago. The primary difference between a robot and Cobot, aside from scale, are built-in sensing systems that provide Cobots the ability to monitor a path and determine, within milliseconds, if it needs to stop due to an obstruction in its path. Traditional robots are tasked with heavy duty jobs and are locked in a secure area away from humans.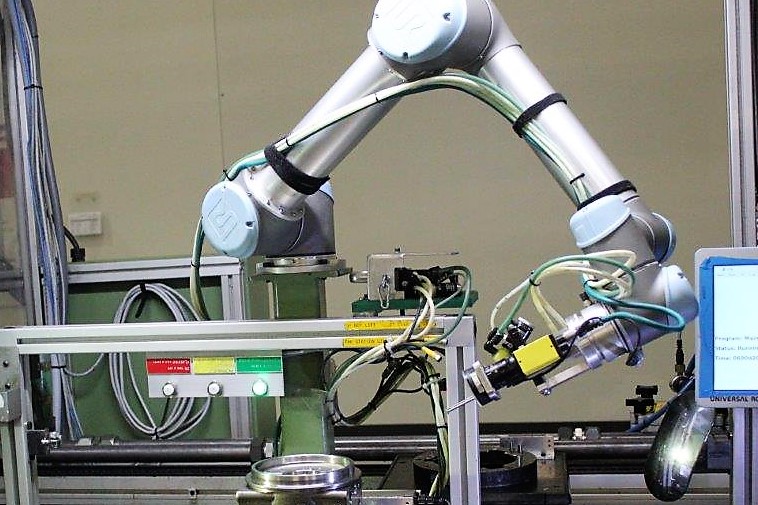 Why cobots?
There are many advantages to using Cobots today:
While Cobots do not replace humans, they can take over dull or repetitive tasks that would often pose ergonomic risks to operators, such as uncomfortable wrist or shoulder rotations, and allow for easier quality and process control.
Cobots can eliminate the required safety perimeter and safely share workspace with operators, resulting in a safer work environment and efficiencies in plant design. (Safety protocols will still exist.)
Cobots are typically less expensive, due to built-in safety features, and result in a lower total cost of ownership.
Cobots are easier to program, and allow for hands-on programming and operator involvement
Where does Cummins use Cobots today?
Cummins has two active Cobot applications, one at the Charleston Turbo Plant (CTP) in Charleston, South Carolina, and one at the Darlington Engine Plant (DEP) in Darlington, U.K. Cummins Filtration and Cummins Emission Solutions are also developing new applications utilizing Cobot technology and plan to have Cobots active within their facilities by early 2019.
The CTP Cobot, dispenses a retaining compound and has operated for more than two years without any safety or downtime issues. This application allows operators to perform quality and process inspections within the same operating space as the Cobot and has solved many concerns including safety, ergonomics, quality and downtime issues. 
 
The DEP Cobot was installed in early 2018 and has a 2D barcode reader that scans and extracts fuel injection trim codes. This application has solved many quality issues, as the scans must be completed in a sequential order for successful programming.