Course Completion: Redesigned Application Engineering Training Concludes with High Marks in Romania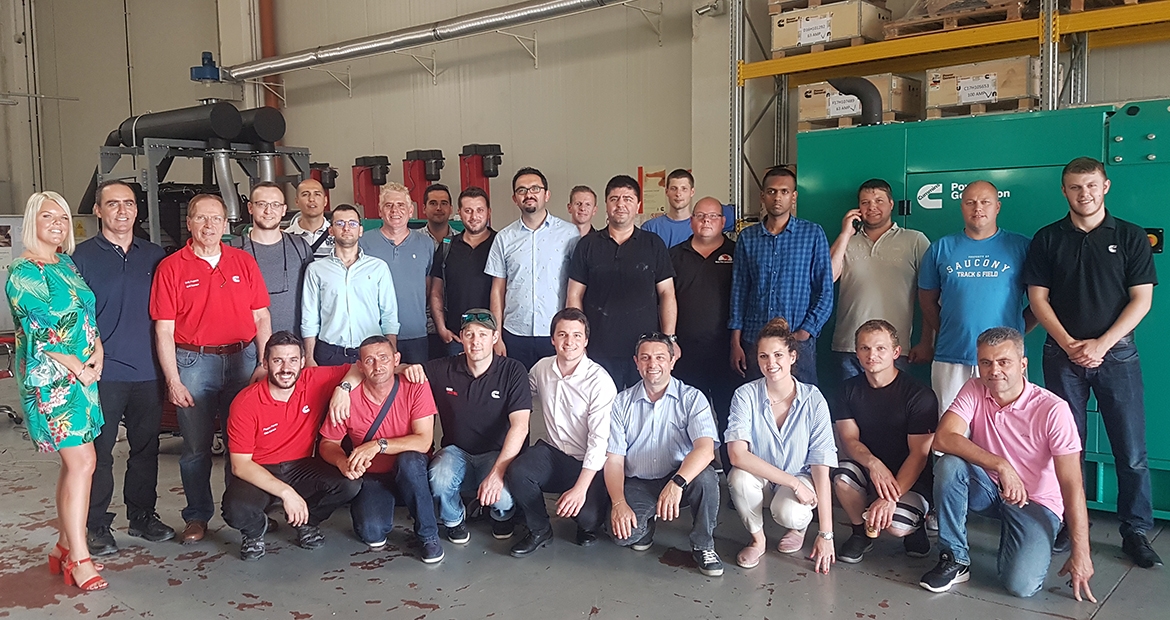 The first edition of Cummins' redesigned Application Engineering Training program has concluded, with Part III – Electrical Design delivered by the Europe Sales Application Engineering team (SAE) in Bucharest, Romania from 18-21 June 2018. Part I – Product Selection and Part II – Mechanical Design were held in 2017 in the Netherlands and UK, respectively.
In total, 23 Cummins European distributors and dealers attended the course. In Part III, the training focused on different aspects of electrical design when installing generator sets. A number of technical topics were covered, as well as a range of applications and challenges that engineers face in their day-to-day work. On the last day of the course, before the final exam, attendees had an onsite visit to Cummins Romania, where they completed four exercises on the shop floor: Power Transfer Control (PTC) application, remote networking system setup, wiring inputs/outputs on the control panel and performance of a full transient load test on a generator set.
In 2017, the SAE Europe team restructured the training after extensive review and feedback from European distributors, turning it into a three-part series instead of one single training event. The new training format provides a comprehensive study on the technical aspects of selection and installation of diesel and generating sets and related sub-systems. Divided into three different parts, it aims to provide engineers, from varied backgrounds or responsibilities, with the necessary skills and tools to leverage sales, select and install power systems. At the same time, this course also promotes a networking opportunity for Cummins distributors and dealers, and encourages the discussion and exchange of experiences among application engineers from different locations.
The interest shown on the new course was high and the overall feedback from the attendees was extremely positive. Six participants completed the full three-part series and received their course diplomas.
For more information on future events, visit https://power.cummins.com/application-engineering-training or contact the Cummins SAE Europe team at [email protected].