Meet Mukesh Oswal - Shop Operations Lead, Kothrud Engine Plant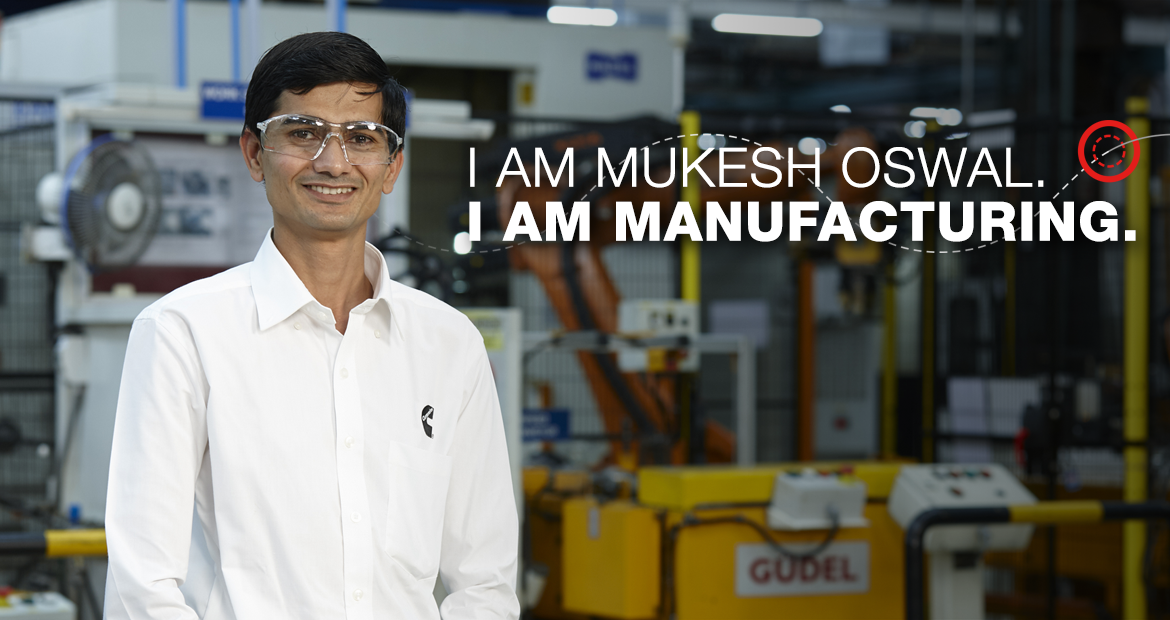 Mukesh Oswal, Shop Operations Lead at Kothrud Engine Plant, has 15 years experience in Manufacturing. We recently sat down with Mukesh to ask about his career at Cummins. Here's what he had to say.
Role: Shop Operations Lead
Location: Kothrud Engine Plant (KEP), Pune, India, Power Systems Business Unit
Years of Service: 13 Years at Cummins, 15 Years in Manufacturing
Education: Bachelor's Degree in Production Engineering, North Maharashtra University, India; Master's Degree in Industrial Engineering, Visvesvaraya National Institute of Technology, Nagpur, India; Post Graduate Executive Management Programme, S. P. Jain Business School, Mumbai, India.
Career Journey: Project Management (new plant setup), Industrial Engineer, Industrial Engineering Team Leader, Operation Excellence Leader, Head Manufacturing Engineering, Shop Operation Lead
Q: What attracted you to Manufacturing as a career choice?
"I have been inquisitive and a technology enthusiast since childhood. I had always envisioned my drawings and scribbles taking shape and form. During my Engineering Degree course, it was a dream come true when in summer training I got an opportunity to witness and work for two weeks with an engine component manufacturing setup. This was the birth of my association with manufacturing.
"My desire to learn and apply more forced me to complete my master's degree in Industrial Engineering where, again, I got an opportunity to be associated with Cummins. It is here that I realized manufacturing is more than just assembling the different parts together – it meant following processes, understanding material flows, layouts and synchronization, the machines, their efficiencies and their limitations all put together in the hands of skilled and knowledgeable operators who put their heart and soul into producing engineering splendors!
"I had found my passion and love in manufacturing. This passion still drives me to innovate and fuels my innate desire to discover more new things in manufacturing."
Q: Is Manufacturing at Cummins exciting for you? If so, why?
"Yes, the manufacturing space at Cummins is very exciting for me. Each day it brings different, unpredictable challenges, which keeps me active and engaged. At the end of the day, when I look over my daily engagement and involvement, it generates a lot of satisfaction for me. This adds confidence for making the next day even better.
Manufacturing also provides me with an excellent opportunity to demonstrate and hone on my leadership skills, like meeting customers and their expectations while ensuring business deliverables, developing mid-term and long-term strategies, challenging capabilities of cross-functional teams and aligning complex teams toward a common and shared objective.
"I see the company is continuously investing in leadership development within manufacturing. For example, I was selected among many nominations in India ABO for a reach training course named Visionary Leaders for Manufacturing (VLFM) program, conducted jointly by Japan International Corporation Agency (JICA) and Confederation of Indian Industry (CII)."
 
Q: There are many misconceptions or ideas about what it's like to work in a plant. What is the plant environment like for you? 
"Sometimes I hear that people feel the plant environment is not very opulent for growth. My views are quite opposite to this due to what I have witnessed in my last 15 years of association with manufacturing plants and teams. Opportunities and avenues for growth in Manufacturing are available in abundance. All it takes is sheer hard work, persistence and a little faith. Just don't get distracted by the diversions available; there are ample growth opportunities for those to thrive to stay in manufacturing." 
Q: What advice would you give to someone either in school or just out of school who is wanting to get into manufacturing today?
"Manufacturing is an excellent space in which to start your career, especially for someone who is willing to apply school/college learnings to applications quickly. It provides you with ample ground to innovative new ideas and improvise old ones. The diverse manufacturing spectrum at Cummins provides one with a conducive learning environment for beginners having different skill sets.