The Cummins X15 Engine is Winning Friends and Influencing an Industry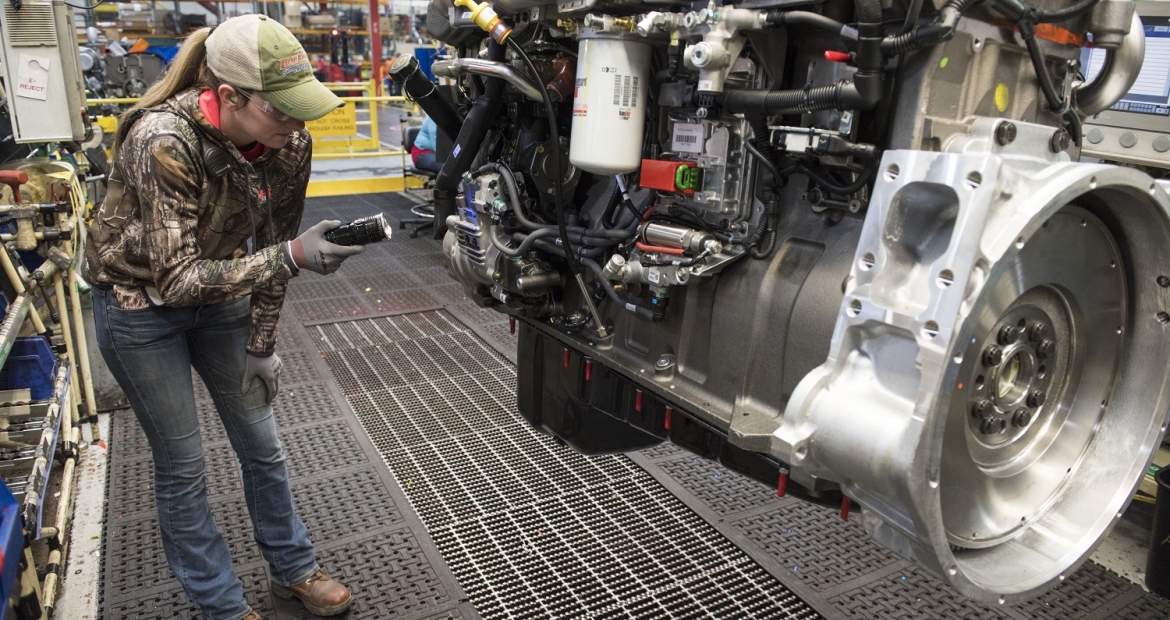 The Cummins X15™ engine is off to an exceptional start since it went into full production last year, expanding the company's industry leading market share for Class 8 heavy duty engines and winning praise for its durability and fuel economy.
The engine has won design awards, been embraced by truck makers and last month Cummins introduced a version for commercial marine segments.
"Cummins has always been a technology leader, helping us to meet new emission standards whether we're operating in California or across the nation," said John Savage, Executive Vice President of Savage Services, a transportation, logistics and materials handling corporation that participated in the early testing of the X15.  "When it comes to reliability, Cummins is progressive. They don't sit back on their laurels."
KEY QUALITIES
The X15 is today the best-selling engine for Class 8 trucks, the large trucks commonly seen on interstate highways in the U.S. Cummins supplied more diesel engines for that class than any other engine maker in 2017. Thanks largely to the X15, the company saw its market share increase from 35 percent in 2016 to 38 percent in 2017, according to WardsAuto.com.
Available in performance and efficiency configurations, the engine's popularity stems from three key attributes: reliability, lower maintenance costs and fuel economy. Reliability was enhanced by a design that simplified some systems, backed by more than 10 million miles of testing. Total cost of ownership has been reduced by as much as 40 percent compared to a 2010 ISX15 engine. And the fuel economy numbers are particularly striking.
Compared to corresponding 2016 models, the X15 Efficiency Series has seen a 2 to 3 percent gain in fuel economy for the 400 to 450 horsepower (hp) range and up to a 12 percent increase for 485 to 500 hp ratings. Measured against comparable 2012 engines, it gets as much as a 20 percent bump in fuel economy.
That saves operators money and also translates into greenhouse gas (GHG) savings at a time many heavy duty fleets are trying to do their part to achieve climate-related goals. The X15 Efficiency Series reduces GHGs beyond the U.S. environmental standards established in 2017.
NEW DEVELOPMENTS
In just the past few months the engine has seen several new developments:
• In May, Cummins and Navistar announced the X15 was being paired with the Endurant transmission in Navistar's International LoneStar and LT Series trucks. The first product of the new Eaton Cummins joint venture, Endurant weighs up to 105 pounds less than comparable automated manual transmissions, enabling smoother shifting and improved fuel economy.
• In June, Cummins announced a version of the X15 that uses the engine platform proven in heavy duty truck markets for marine segments. Designed to withstand long, continuous duty operation, the marine version meets Environmental Protection Agency Tier 3 and International Maritime Organization Tier II emissions standards. It utilizes the latest Cummins fuel system product to achieve an efficient fuel burn for clean emissions and optimized fuel economy.
A FAMILIAR TUNE
It looks like Cummins will stay atop the heavy duty market for a while. When the X15 was first introduced in July of 2016, it was unveiled along with the company's new X12™ engine, the lightest heavy-duty engine in North America going into full production this year for vocational and coach duty.
The X12 was named to Heavy-Duty Trucking magazine's 2018 Top 20 Products list for its innovation. That's the same honor the X15 won in 2017.