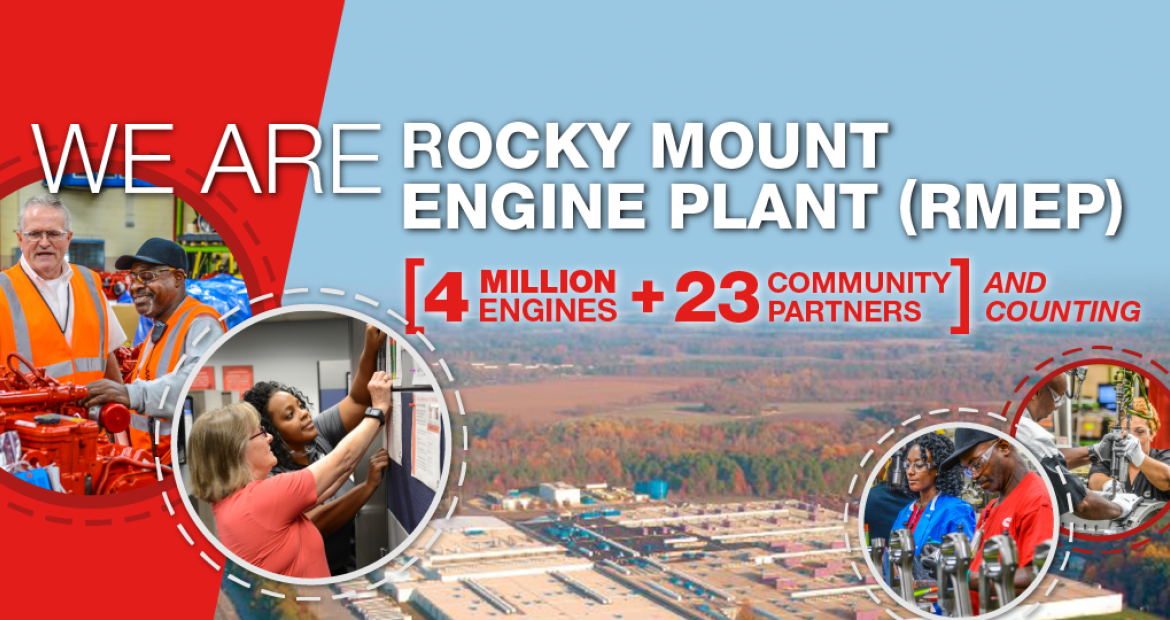 Rocky Mount Engine Plant was established in 1979 and has since produced over 4 million engines. We took a deeper dive to learn more about our North Carolina plant. Learn more:
Plant Location: Whitakers, North Carolina
Year opened: 1981 (the first engine was produced and shipped in 1983)
Plant size: 1.2 million square feet
Business Unit: Engine Business Unit
Plant manager: John Judd
Employee count: 1,800
Products: On-highway (automotive) and off-highway diesel engines (65-600 brake horsepower)
Customers: RMEP has more than 530 customers, including: Daimler, Freightliner, Navistar, Blue Bird, Komatsu, Kenworth, Peterbilt, New Flyer and International.
Product applications (including, but not limited to): 
On-highway – semi cabs, pick-up trucks, school and public buses, RVs, fire trucks
Off-highway – marine, military vehicles, construction equipment
Technologies: Computer integrated machining, new engineering technology center, introduction of marine engines and alternative fuels
RMEP RECENT HIGHLIGHTS
In March 2017, RMEP celebrated the build of its 4 millionth engine.
April 2018 was the highest monthly production in its history.
Forecasting shows 2018 will be the highest engine and components demand ever.
Projected investments will top $23 million in capital throughout 2018.
RMEP is a top three employer in the area and projected to fill more than 400 additional jobs over the next 10 years.
A RICH HISTORY
1979    RMEP was originally established in 1979 as a joint venture between JI Case and Cummins Engine Company and was named Consolidated Diesel Company (CDC). 
1983    The first engine was produced at CDC for North America and European markets.
1993    CDC added 11 megawatts of on-site generating power using Cummins/Onan technology. The 1 millionth engine was produced at CDC in June.
1996    CDC introduced the 4-valve head technology to improve emissions.
2001    The 2 millionth engine was produced at CDC in October.
2008    After 25 years, Cummins purchased the full share of CDC and was renamed Rocky Mount Engine Plant (RMEP). 
2010    The 3 millionth engine was produced at RMEP in June.
2013    Marine engine assembly moved to RMEP.
2017    The 4 millionth engine was produced at RMEP in March.
2018    April was the highest production month in RMEP's history.

COMMUNITY INVOLVEMENT
10 education partners in surrounding districts, including community colleges, public school systems, libraries and community partners
Recorded more than 20,000 EEEC hours with education and community partners over the last 2 years (with more than 70 percent employee participation)
Established The Strategic Twin Counties Education Partnership (STEP) to improve the educational opportunities for students from early childhood to career readiness.
10 equality of opportunity partners and three environmental partners
2017 United Way campaign raised $503,448 after a Cummins Foundation match for the local agency branch
CAREER OPPORTUNITIES 
Technological advances in manufacturing and the increase in demand make RMEP and Cummins Manufacturing an exciting place to work. RMEP offers career opportunities in a number of fields, including: 
Manufacturing Operations
Quality Roles and Analytics
Industrial Technology
Material Handling
Engineering (multiple disciplines)
Supply Chain – Planning and Logistics
Information Technology
Administrative Services
Finance Technicians
Future Cummins Leaders