Meet Lulu Lopez - Director of New and ReCon Parts Global Manufacturing Operation, San Luis Potosi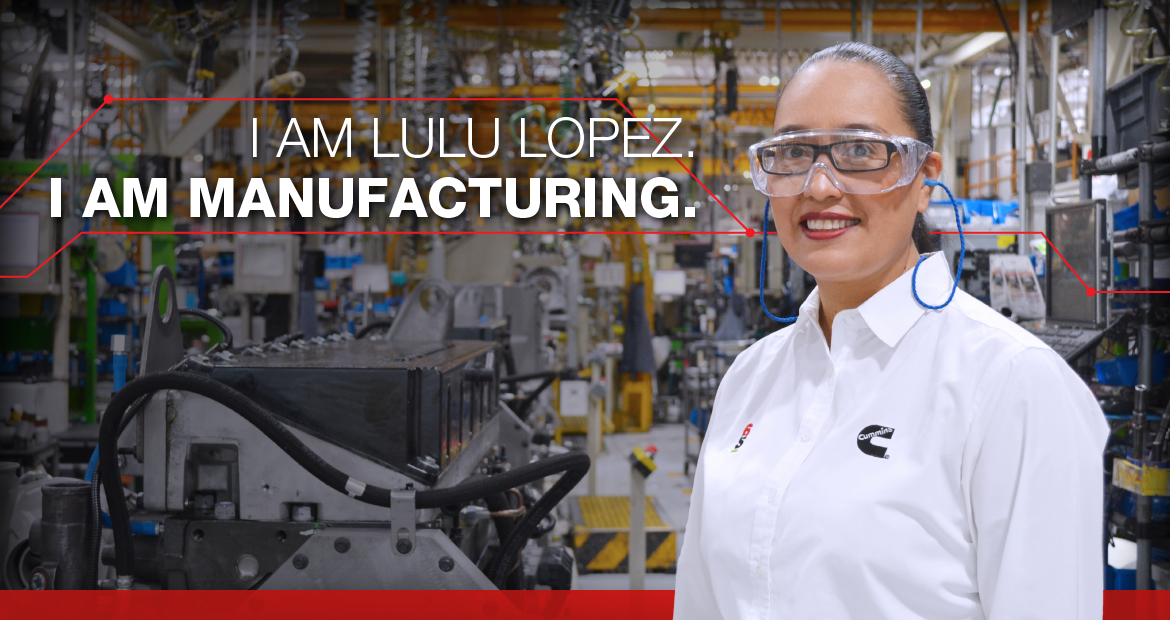 Lulu Lopez, Director of New and ReCon Parts Global Manufacturing Operations, has 23 years experience in Manufacturing. We recently sat down with Lulu to ask about her career at Cummins. Here's what she had to say. 
Role: Director of New and ReCon Parts Global Manufacturing Operations
Location: San Luis Potosí, Mexico
Years of Service: 12 years at Cummins, 23 years in Manufacturing
Education: Bachelor's Degree in Industrial and Systems Engineering, Instituto Tecnológico y de Estudios Superiores de Monterrey, San Luis Potosí, México; Master's Degree in Administration, Universidad Autónoma de San Luis Potosí, San Luis Potosí, México
Cummins Career Journey: Quality and Manufacturing Manager, Plant Manager, Director of Global Manufacturing Engineering & Strategy, Director of New and ReCon Parts Global Manufacturing Operations
Q: How has your career journey progressed at Cummins?

"I joined Cummins Generator Technologies in San Luis Potosí, México, as a Quality and Manufacturing Manager in 2006. However, as soon as I joined Cummins, I also had to take on manager responsibilities in Supplier Quality, Operations Excellence (lean manufacturing) and, for several years, Product Engineering. I was then given the opportunity to become a Plant Manager for Cummins Generator Technologies in 2010, also in San Luis Potosí, and enjoyed that role for 4.5 years. 
"In November 2014, I joined New and ReCon Parts in Columbus, IN, as the Director of Global Manufacturing Engineering and Strategy. I then returned to San Luis Potosí to run the New and ReCon Parts site in April 2016 and was able to run this site for 2 years. Currently, I am transitioning into the Director of Global Manufacturing Operations role for New and ReCon Parts and very happy and enthusiastic for this great next step in my professional career."
Q: What attracted you to Manufacturing as a career? 

"I like it a lot! I really enjoy the teamwork and cross-functional efforts used to build products that help our customers be successful in operating their own businesses. I find developing people and interacting with different functions within Manufacturing fascinating. We drive continuous improvement every day to be more efficient, cost competitive and the best option for our customers, and that's a great feeling."
Q: Why have you chosen to remain dedicated to Manufacturing? In other words, what's kept you going? 

"Within Manufacturing, we have different functions that are very exciting in areas of engineering, technology and innovation. All of these functions are focused on the definition, development, implementation, validation, control, operation and continuous improvement of the processes that build the products we sell every day."
Q: Is Manufacturing at Cummins exciting for you? 

"Yes, working in a Manufacturing site is a diverse environment – we have a variety of functions and people with different professional backgrounds, capabilities and skills working together every day. Collaborating as a team makes it exciting, as all functions align to the same objectives and challenge each other to be excellent each and every day."
Q: In your eyes, what would you list as your top 2-3 achievements in your career at Cummins?  

"Becoming a plant manager was very much a key achievement in my professional career. That role really exposed me to being a business owner, lead cross-functional efforts and represents the Cummins leadership in the community. 
"Also, for more than 5 years, I aspired to be in my current role, which I just entered into a few weeks ago. This opportunity will allow me to influence the global operations of a complete business and allow me the opportunity to lead a vast and diverse team experiencing different challenges due to the conditions of the markets and regions."
Q: Which one of Cummins' core values resonates with you most and why? 

"All corporate values are great framework, and for me it is very critical to live all of them in my role as a leader. However, if I have to select one that resonates with me most, it would be Caring."
"By caring about our people, our environment, our customers and our community; being inclusive; following the regulations and laws that dictate our company practices; and knowing the impact of my decisions, I am better able to contribute to powering a most prosperous world."
Q: Cummins is a global company, and you bring global perspective. What does being a global company mean to you?

"For me, it is very simple. We should be able to support our customers with the right solution for their needs across the globe, and that support should come from people who work in the optimal regions and processes and who live out our values each and every day."
Q: What advice would you give to someone who is wanting to get into Manufacturing today?

"Take the challenge, and join our team. We have varying career paths, different functions and very exciting positions that will provide you the opportunity to develop yourself and gain vast capabilities and skills that will help you continue your professional development within Manufacturing or other roles within the Global Supply Chain."
I Am Manufacturing is a recurring campaign featuring the people and teams who make up Cummins Manufacturing.