Meet Anna Dibble - Plant Manager, Jamestown Engine Plant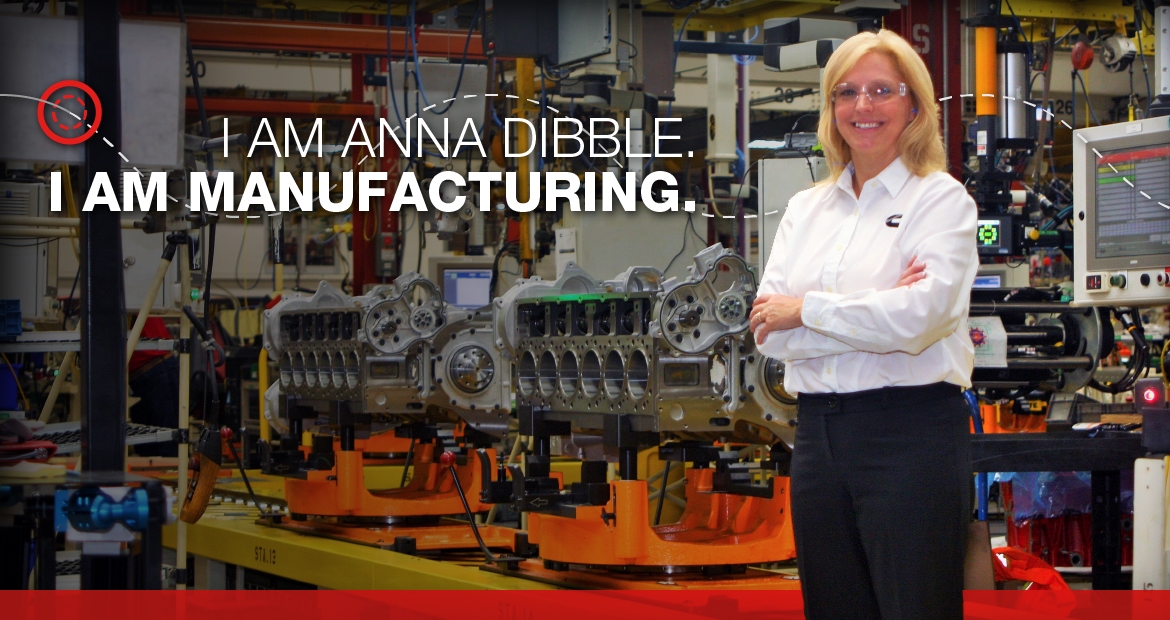 Anna Dibble, Plant Manager at Cummins' Jamestown Engine Plant, has an impressive 26 years of service at Cummins. We recently sat down with Anna to ask about her career at Cummins. Here's what she had to say. 
Role: Plant Manager, Jamestown Engine Plant (JEP)
Years of Service at Cummins: 26 years at JEP
Education: Bachelor's Degree in Operations Management, Penn State University; Master's Degree in Manufacturing Management & Engineering, General Motors Institute of Technology; MBA, Gannon University
Career Journey: Quality Engineering, Product Engineering, Six Sigma Black Belt and Leader, Operations, Engine Business Unit Manufacturing Quality, Plant Management
Q: What attracted you to Manufacturing as a career?
"When I got hired at Cummins as a summer hire, I really enjoyed seeing how a large plant functioned – how all of the teams worked collaboratively together to make the product and how diverse the career opportunities were. I went back to college and changed my major from Accounting to Operations Management, with the desire to work in a manufacturing plant after graduation. I didn't realize at the time that I would spend my career at the same plant that got me interested in manufacturing in the first place."
Q: Have you ever had any other job outside of Manufacturing? 
"I have always been based at JEP but have worked in many functions, including some that were EBU functions and not JEP-specific (Product Engineering, Six Sigma Black Belt/Master Black Belt, EBU Manufacturing Quality and Six Sigma Leader roles). The diversity of career opportunities within a large manufacturing plant, such as Quality (including Supplier Quality and Customer Quality) and Product Engineering (including test and labs, Six Sigma personnel, Finance, etc.) was an attractive feature for me. The Cummins and JEP environment also encourages cross-functional learning."
Q: Is Manufacturing at Cummins exciting for you?
"Absolutely. Each and every day is different and sometimes very unpredictable. The challenge to develop and follow a long-term strategy while also addressing short-term emergencies – and doing so in a way that is effective across significant changes in the demand cycle – requires a lot of innovation and cross-functional teamwork."
Q: What makes coming to work each day worth it?
The people. Although there are problems to solve and challenges day in and day out, I have the opportunity to work with some very talented, committed and passionate people that can rise to any occasion.
Q: In your eyes, what would you list as your top achievements during your career at Cummins? 
"The plant accomplishment that I am very proud to have been part of was the 2010 Downturn Planning team. The team worked with JEP and Cummins leaders to offer an employee retention program that helped us creatively absorb a 70 percent reduction in demand within one month with no permanent layoffs and introduce two new products at the same time."
Q: Which one of Cummins' core values resonates with you most and why? 
"I really don't believe the core values are as effective individually as they are together. But, if I had to choose one core value, I would pick integrity because it all starts there. Integrity is a sign of your character and is foundational to all of the other core values. In order to truly embrace diversity, care for others and their wellbeing, and promote and value teamwork, you must have integrity. By building trusting relationships where all voices are heard and valued, together you can deliver excellence."
Q: What is your advice to someone looking to pursue a career in Manufacturing?
"Manufacturing is exciting and challenging, and the industry offers many career opportunities for people with many different skill sets. Regardless of the role, I highly would encourage someone to try new things, be fearless and move out of their comfort zone."
I Am Manufacturing is a recurring campaign featuring the people and teams who make up Cummins Manufacturing.