Cummins Electronics and Fuel Systems China Celebrates its 10th Anniversary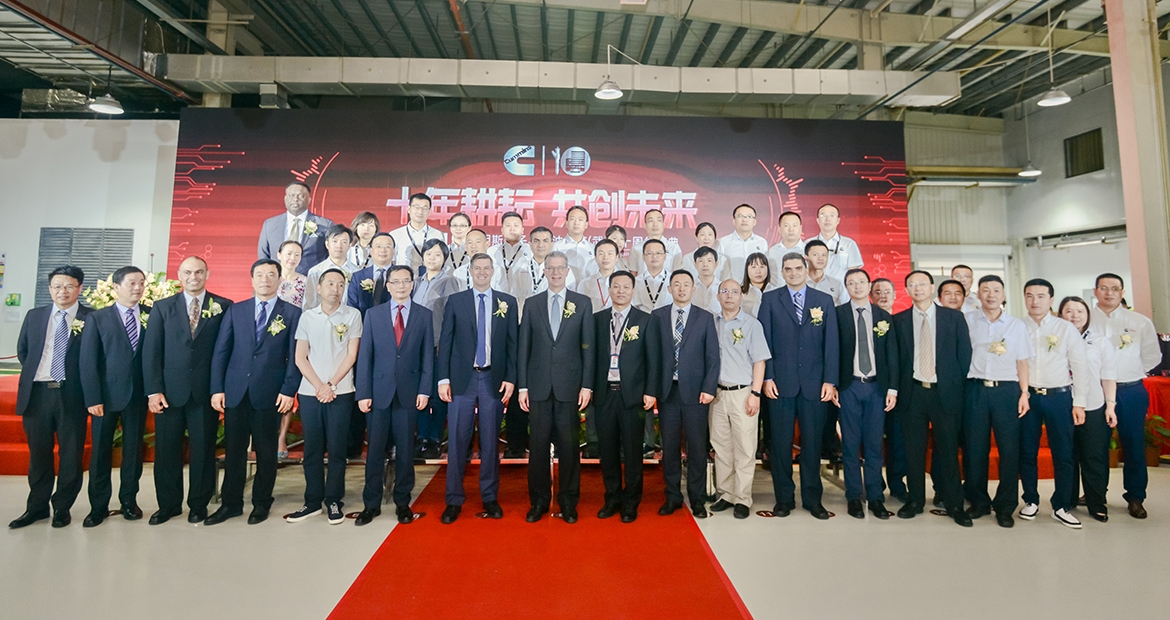 The anniversary was marked with a celebration attended by Cummins executives, employees, end-user customers, suppliers and industrial media. 
Cummins Electronics and Fuel Systems (CEFS) recently celebrated the 10th anniversary of its China operations with production of the 2 millionth fuel injector and 800,000th Electronic Control Unit (ECU) in its Wuhan plant. Several Cummins executives, including Rich Freeland, Cummins President and COO; Steve Chapman, Cummins Group VP, China and Russia; Cary Chenanda, General Manager of CEFS; and Chen Hua, General Manager of CBU China; joined with representatives of CEFS China's key OEM and end-user customers, suppliers, dealers, employees, and industrial media to witness the milestone.
Cummins Fuel Systems Wuhan was Cummins' first fuel systems production base outside North America and Europe, starting operations in 2008. The electronic business was created in 2012, and in 2017 it merged with the Fuel Systems business unit to form Electronics and Fuel Systems business in China. Putting technology development and customer knowledge as its first priority, the Wuhan Components plant has sought continuous improvement, delivering leading products and proven services to its customers. In 2017, CEFS China achieved $238 million in sales: 
During the event, Freeland expressed his appreciation to end-users, customers and partners for their strong support during the past 10 years, and set high expectations for CEFS' future development: 
We are innovating for our customers to power their success and, in turn, improve the communities in which we live and work. This is the formula for our success in the past, now, and also for the future. 
"As China implements more stringent standards on emissions and fuel consumption, Cummins Electronics and Fuel Systems is uniquely positioned to provide the right technology to improve fuel efficiency while meeting tougher emissions," Freeland added. 
The achievements of CEFS are only possible with the strong support and effective collaboration from all of its stakeholders, including Cummins engine joint ventures in China, its dealers, suppliers, end user customers, and its 500 employees. During the celebration, Cummins awarded its customers and end-users with 'best customer fleet' and 'business development' awards, as well as showing appreciation towards employees through presenting 10-year service awards.
According to Pei Zhengwei, general manager from Sanjiang Logistics Co., Ltd, fuel economy is a key component when choosing who to do business with.
"When making a purchasing order, we are very cautious," Zhengwei said. "A critical reason for us to continuously choose Cummins engines to power our fleet is due to the best-in-class Cummins XPI fuel systems proving the way in fuel economy." 
Celebrating a Production Milestone As Well As An Anniversary
It would only seem appropriate that as representatives from Cummins leaders, partners, dealers and customers looked on, the 2 millionth injector and the 800,000th Cummins Common Rail (CCR) ECU rolled off the production line.
As one of the six major products of CEFS, the Fuel Lubricated System was specially designed for the China market. The system covers the fuel pump, fuel rail and fuel injector, with a maximum pressure is 2000Bar, ideal for 10-14L diesel engines with emissions requirements for National V and VI standards and future fuel consumption regulations.
CEFS products are featured on engines including Foton, Cummins 11-12L diesel engine; Dongfeng Cummins, 8.3-13L diesel engine; Chongqing Cummins 14-50L high horsepower engine platforms; Xi'an, Cummins 11L engine; and Guangxi Cummins off-highway engine platforms. Cummins Component products are also exported to other markets in Asia, Latin-America and Europe. The electronic products offer the customers with electronic hardware, tools, basic software, software development process, platform and services etc. They are widely applied in Cummins engines, after-treatment systems, fuel systems, power assembly and gensets.
Apart from offering the dependable and advanced products, CEFS China has also continuously expanded its aftermarket network, enhancing its service capabilities and developing cost-effective maintenance plans to better satisfy the requests from end-users. Since the end of 2017, CEFS and DBU China have worked together to authorize 45 dedicated dealers with strong fuel system service capabilities.