Cummins Westport plays key role in LA's goal of a zero-emissions bus fleet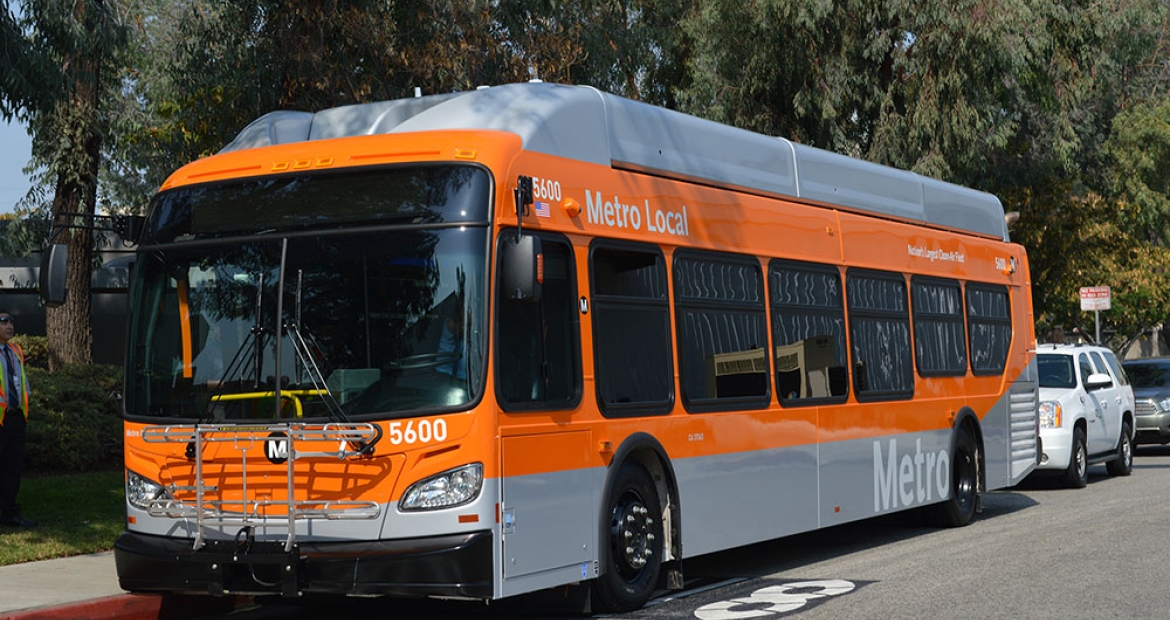 The Los Angeles County Metropolitan Transportation Authority (Metro) will soon begin an important step toward its goal of a zero-emissions bus fleet by 2030. Starting in early 2018, Metro will begin taking delivery of up to 395 Cummins Westport L9N natural gas engines.
The engine's exhaust emissions will be 90 percent lower than the current Environmental Protection Agency limit for NOx, a key contributor to smog. In addition, the transit system will test the use of Renewable Natural Gas (RNG), produced by landfills, water filtration plants, food waste and other sources – not extracted from the ground.
If all goes well, the majority of buses in the United States' third largest transit system, serving some 1.3 million passengers daily, could be using RNG within the next few years.
"Our 2018 product line demonstrates an important milestone in product development for Cummins Westport, creating a move to a zero emissions strategy for our customers and industry," said Rob Neitzke, President of Cummins Westport. "We're excited to be part of such an important project as this initiative in Los Angeles."
Metro will also study the use of electrification on two key commuter lines. While its leaders believe that may be the ultimate solution to reaching the system's 2030 goal, the combination of the new near zero natural gas engines and the use of a renewable fuel source will arguably get Metro closer to "true zero" than any other metropolitan transit system in the country.
"As we continue our transportation revolution, we must continue to make sustainable practices the norm," said Metro CEO Phillip A. Washington in a news release earlier this year announcing the 2030 goal. "We hope our move toward a zero emission fleet will inspire other transit agencies across the nation to consider this as a possibility."

Former "Mythbuster" Jamie Hyneman talks about the benefits of Renewable Natural Gas as a fuel source in a new video for Cummins. 
A NEW TWIST ON AN OLD DEBATE
Cummins Westport is a joint venture between Cummins and Westport Fuel Systems to produce 12 liter and smaller natural gas engines for North American markets. The new ISX12N and the L9N will be the lowest certified NOx emission engines available in North America in 2018. In addition to certifying 90 percent below the EPA's current NOx limits, the engines also certify well below the 2017 EPA greenhouse gas (GHG) emission requirements.
Metro awarded Cummins a $26.5 million contract this past June to begin supplying its new near-zero L9N engines, produced at Cummins' Rocky Mount Engine Plant in Rocky Mount, North Carolina (U.S.A.), for installation in its fleet to provide immediate air quality improvements.
In addition, Metro has established a one-year pilot program with Clean Energy Fuels, the leading provider of natural gas fuel for transportation in North America, to supply its Redeem™ brand of Renewable Natural Gas to one of the transit system's 11 Compressed Natural Gas (CNG) stations around Los Angeles County. It will provide fuel for approximately 200 CNG buses. Clean Energy Fuels says an additional option would allow it to provide RNG for four more years, serving all of the region's CNG buses.
The plan provides an interesting twist in the debate over alternative fuels. By now you've probably heard the arguments. Are the advantages of non-renewable natural gas outweighed by the methane released during the extraction process? If electricity comes from a coal-fired power plant, is it really zero emissions? Does the energy needed to produce bio fuels diminish their environmental benefits?
By using the natural gas produced in waste treatment and reduction efforts, advocates say RNG is a "carbon neutral" or "carbon negative" fuel. It makes use of something that would otherwise be released into the atmosphere causing harm. While critics question whether there's enough RNG available to make a significant difference, advocates maintain there's plenty of room for growth, especially in California.
The American Biogas Council, for example, estimates California, a leader in the production of RNG, has enough biogas to support roughly five times as many projects as it currently has, potentially producing enough electricity to power about 182,000 homes or fuel more than 435,000 vehicles while significantly reducing GHGs in the state.
THE CUMMINS STRATEGY
Cummins believes every customer's power needs and circumstances are a little bit different, so the company offers a broad portfolio of products that enable customers to choose what makes the most sense for them.
These include industry leading clean diesel engines and high-tech hybrids in addition to Cummins' and Cummins Westport's natural gas engines. And starting in 2019, Cummins will offer an all-electric powertrain for transit and delivery vehicles, maintaining electrification initially makes the most sense in buses and trucks operating in urban areas.
The company's goal is to provide the right technology at the right time and in the right place to fuel customer success.
"For those customers where natural gas makes sense, we offer the cleanest technology there is on the market today, with a proven service network to back it up," said Cummins Westport's Neitzke. "Our partnership with Metro is a great example. We want to help them achieve their goal of a cleaner environment for all the residents of Los Angeles."