Repower Profile: Jeep UACJ-6D
Once everything was in place, the Cummins R2.8 fired up on the first try and has been cruising down the road ever since. In fact, anyone curious about what it takes to install a R2.8 Turbo Diesel can check out the installation guide on our Repower page.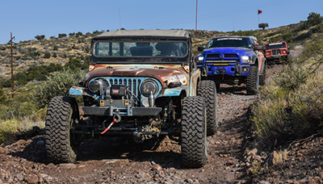 This patina'd Jeep has been everywhere from off-roading during Ultimate Adventure 2017 to the floor at the SEMA Show. During its numerous adventures, it has consistently averaged 22-23 mpg at highway speeds, which is especially impressive considering the beadlocks and 38-inch mud tires. Throughout its travels, this UACJ-6D has also been a beta vehicle for the R2.8 Turbo Diesel program. As a beta vehicle for the program, it has been subjected to harsh conditions that range from high altitude to high temperatures to ensure that Cummins delivers the best quality product to customers.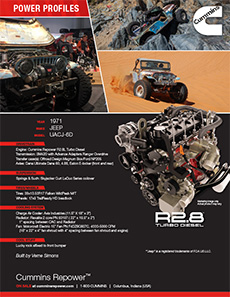 Click here to download your free poster with details about this build.
Vehicle Info
Year: 1971
Make: Jeep
Model: UACJ-6D
Drivetrain
Engine: Cummins R2.8 Turbo Diesel
Transmission: SM420 with Advance Adapters Ranger Overdrive
Transfer Case: Offroad Design Magnum Box/Ford NP205
Axles: Dana Ultimate Dana 60, 4.88, Eaton E-locker (front and rear)
Cooling Package
Charge Air Cooler: Axis Industries (11.5" X 18" x 3")
Radiator: Flexalite 2 core PN 60187 ( 22" x 18.5" x 2") - 1" spacing between CAC and Radiator
Fan: Motorcraft Electric 15" Fan PN F4DZ8C607C, 4000-5000 CFM (16" x 22" x 4" fan shroud with 4" spacing between fan shroud and engine)
Suspension
Springs & Such: Skyjacker Curt LeDuc Series coilover
Miscellaneous
Lucky rock affixed to front bumper
Built by Verne Simons