Repower Profile: Cummins Jeep Wrangler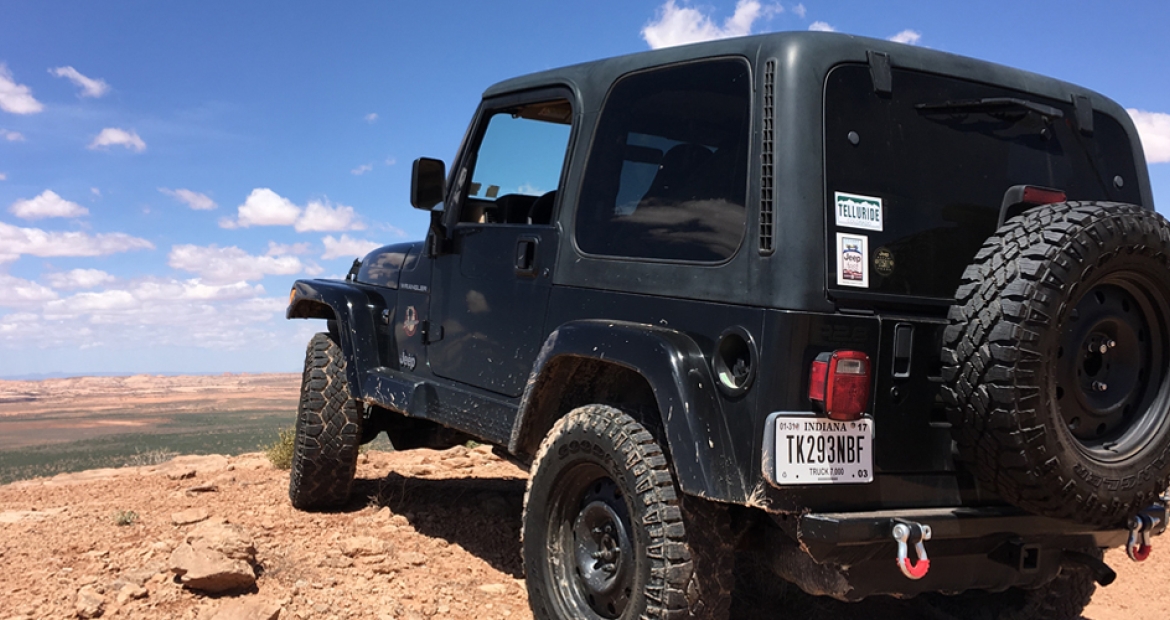 First in the line-up of "Repower Profiles" is our own Jeep Wrangler (TJ). This Wrangler started life as an ordinary Jeep, but with help of dedicated Cummins engineers and Axis Industries, it was the first test vehicle to have an R2.8 Turbo Diesel under the hood.
Cummins is excited to announce the launch of our "Repower Profile" series, featuring technical information and unique facts about vehicles repowered with the R2.8 Turbo Diesel.The maiden voyage for this Jeep was a six hour drive to Toledo, Ohio, for the first Toledo Jeep Fest. Since then, this Jeep has had more than 20,000 trouble free miles added to the odometer and continues to be both a fan and employee favorite, as it makes the rounds on engineering and marketing trips.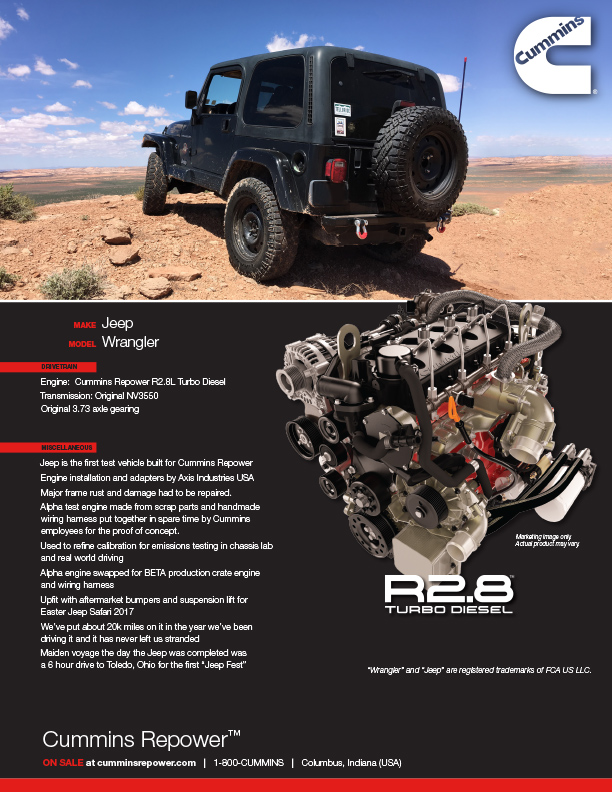 Click here to download your free poster with details about this build.
Vehicle Info
Year: 2000 (emissions exempted test vehicle)
Make: Jeep
Model:  Wrangler TJ - Sahara
Drivetrain
Engine: Cummins Repower R2.8L Turbo Diesel
Motor Mounts: Axis Industries USA
Transmission: original equipment NV3550 five-speed manual
Transmission Adapter: Axis Industries USA 4.0L adapter
Transfer case(s): original equipment NP231
Front axle/differential: original equipment Dana 30, 3.73:1 gears
Rear axle/differential: original equipment Dana 35, 3.73:1 gears
Cooling Package
Radiator: Stock TJ 4.0L radiator
Fan: Spal 16" electric with shroud
Charge Air Cooler: Axis Industries USA
Suspension
Front: 2-in-lift Tera Flex springs/shocks, WJ lower control arms
Rear: 2-in-lift Tera Flex springs/shocks
Steering: Original Equipment
Tires/Wheels
Tires: 31x10.50R17 Goodyear Duratrac
Wheels: 17x7 10-hole steel wheels (2005 Dodge Magnum)
Miscellaneous
Lighting: Original Equipment
Armor: ProComp front and rear bumpers
Hood: Daystar hood latches
Fuel Tank: Original Equipment with Axis Industries USA fuel pump bypass
Cool Stuff
Not moving the location of the factory transmission allows for stock driveshafts to be retained. No suspension lift required to install the engine.