Cummins ensures uninterrupted power at McDonald's 250th outlet in South Africa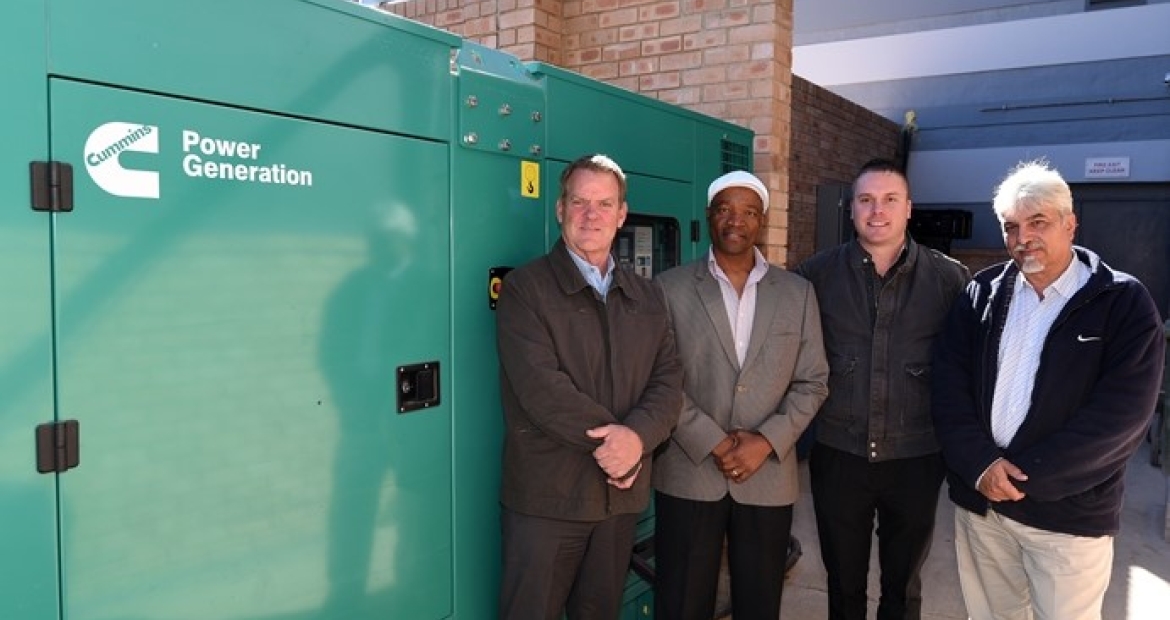 The new residential Springs Mall, home to some 170 carefully selected shops aimed at great service, convenience and enjoyment, was completed in 2017, with McDonald's being an anchor tenant. Situated in a very busy area, with access just off the N17 highway, and located on the corner of Wit and Jan Smuts Roads in Casseldale, Springs Mall is a popular shopping and edutainment destination. Fast foods are in ready supply to ensure mall patrons have a wide variety of convenient cuisine to suit all palettes. The notable fast-food franchise McDonald's is a fashionable and favored outlet that supplies their customers with the famous Big Mac and chips, amongst many other items on the menu. Inherent to the nature of fast foods, and the brand's credible and enviable reputation for being a true "fast food", franchisee Mr Moyanga needed to ensure that his patrons do not have to wait longer than the acceptable times for their meals should a power outage occur and, consequently, required stable and reliable secondary backup power in the mall thereby ensuring customer service would not be compromised.
As part of Mr Moyanga's commitment to the McDonald's brand and its commercial success in South Africa, he approached Cummins for an independent source of emergency power to ensure the parent company's international stringent controls are met and customers can enjoy their fast food experience in his eating establishment should a power outage occur.
McDonald's is situated inside the mall, with a steady stream of feet passing its doors. It enjoys substantial space in a trendy store location, with world-class facilities and a state-of-the-art kitchen. Due to the design of the establishment, it was required that the Cummins technical expertise manage the installation team to ensure that the generator fitted into a tight space, neatly positioned to ensure maximum operational efficiency and productivity at minimal fuel consumption and noise levels. Maintenance training was also provided to our customer in order to equip his team to care for the generator.
When it came to identifying a reliable, suitable and quality-driven product, Cummins was selected as the provider of choice as multi-McDonald's franchise owner Mr Moyanga was previously impressed by the exceptional power solutions and excellent customer service demonstrated by Cummins after installing our equipment in his other stores. Cummins' ability to provide quality products that improve fuel efficiency and have a high reliability, coupled with solid technical support, resulted in the contract being awarded to Cummins South Africa.
Michael de Wet, Cummins Sales Manager, says, "Our customer required a reliable, noiseless power solution that would not create disturbances in the shop or mall. The energy solution needed to serve as a dependable source of backup emergency power to the mall's backup power source. The Cummins C150 D5S generator set with 150 kVA amp installed provides a silent source of standby power, allowing the store to operate at 100%, supplying a constant source of backup power to ensure customers are happy and fulfilled. The key to McDonald's is consistent service and quality that consumers have come to expect. Having a power failure detracts from this brand promise and thus backup power is critical to the customer experience at Mc Donald's. This is the 250th McDonald's outlet in South Africa and Cummins is very proud to have been selected to supply its backup power system."
Furthermore, it was required that the automatic changeover occur seamlessly. "The Cummins changeover is automatic and the system monitors the utility supply constantly, so should a power disruption occur, our equipment automatically kicks in and a steady stream of power will be supplied seamlessly. Once the utility power is restored, the Cummins generator set automatically changes back to utility supply and the generator set switches off. The Power of One™ ensures maximum efficiencies," de Wet explains.
And the result? "Based on the reliable and dependable Cummins power solutions, our McDonald's franchises can support the needs of our customers and we can be rest assured that the freshness of our food will not be compromised in the event of a power outage. The excellent service and support from Cummins puts our mind at ease that our choice of supplier is spot on," Mr Moyanga concludes.
For more information about integrated standby power solutions, visit power.cummins.com.