New application engineering training unveiled in Netherlands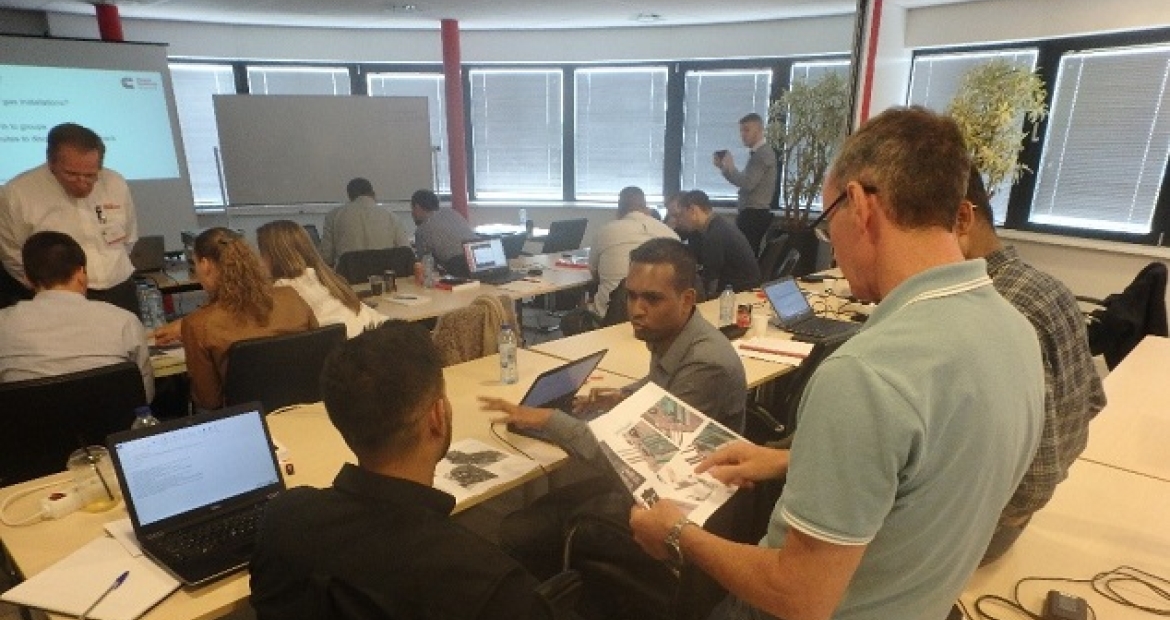 The Sales Application Engineering Europe and Russia team delivered the first edition of the new application engineering training. Held across four days from the 15th to 18th of May 2017, the training took place at Cummins Holland facilities in Dordrecht, Netherlands, and counted with the presence of 17 Cummins distributors and dealers from across Europe.
The objective of application engineering training is to provide a comprehensive study on the technical aspects of selection and installation of diesel and gas generator sets and related sub-systems. This new training was a result of many months of work, taking into consideration feedback and requirements of Cummins distributors across Europe.
Unlike its predecessor it is divided into three different parts and aims to provide engineers, from varied backgrounds or responsibilities, with the necessary skills and tools to leverage sales, select and install Cummins products. At the same time this course also encourages the discussion and exchange of experiences of application engineers from different locations.
Part I Product Selection is targeted at both technical sales and application engineers. Product Selection training dives into rating selection, project requirements and characteristics for different applications such as mission-critical, telecom, rental, rail, nuclear, oil and gas, marine, combined heat and power, grid support and black-start applications. Fuel types, location considerations such as operation in harsh environments, codes and standards, emissions regulations, load impact and transient performance are all discussed.
Part II Mechanical Design and Part III Electrical Design focus on all the mechanical and electrical considerations required for project design and implementation. Due to the purely technical nature of these courses they are mainly targeted to engineers looking to develop and improve their skills and knowledge in these fields.
"The first event was a success with great feedback received from attendees," said Cummins Project Application Engineer Pedro Ponte. "It reflects the hard work put in place for this training and reinforces the commitment from the SAE team to support to our distributors across Europe."
The team is now looking forward to deliver Part II Mechanical Design of the training that will take place in November at Cummins Daventry. The Part III Electrical Design date is to be defined, but will follow in 2018.
We offer numerous training courses for our customers as well as for Cummins distributors. Training for engineers, operators and technicians is available on site at your plant or office, at our distributor locations worldwide, or at our factory training centers in the United States, United Kingdom and Singapore. For more information, visit http://power.cummins.com/training.
Participant feedback
"The recent AE training in Dordrecht was a fantastic opportunity for Cummins distributors to gain a clear understanding of the detailed work that the SAE team have to deal with on a day-to-day basis. The training was in-depth and informative, and it ensured the students were imparted with information that will help them in their application engineering work. The content of the material was easy to follow with instructor-led presentations and continuous hands-on case studies to ensure all students were on track. The final day was given over to a final exam and case studies to include all aspects of generator set selection, including a live exercise of the GenSize tool."
"I really enjoyed the four days training with the Cummins SAE team. This will improve the way I work, focusing on the customer and having a better understanding of a variety of applications. Also the way it was explained was really professional, with plenty of examples and real scenarios, showing where, as a generator set manufacturer, we need to be focused."
"The AE Training was a wonderful opportunity not only to learn but also to network with distributors, business managers and sales managers. The training gave us a detailed review on different aspects of product selection. Use of examples and live exercises to illustrate individual topics was very helpful in understanding some of the complex topics. With this training I came out with knowledge of HV vs LV system installation guidelines, transient performance calculations, understanding symbols on electrical diagrams, fuel-type considerations and precautions to take when installing generators in harsh environments. The training material, session and presentation were well written, easy to understand and follow."