Cummins Makes Progress on Reaching 2020 Environmental Goals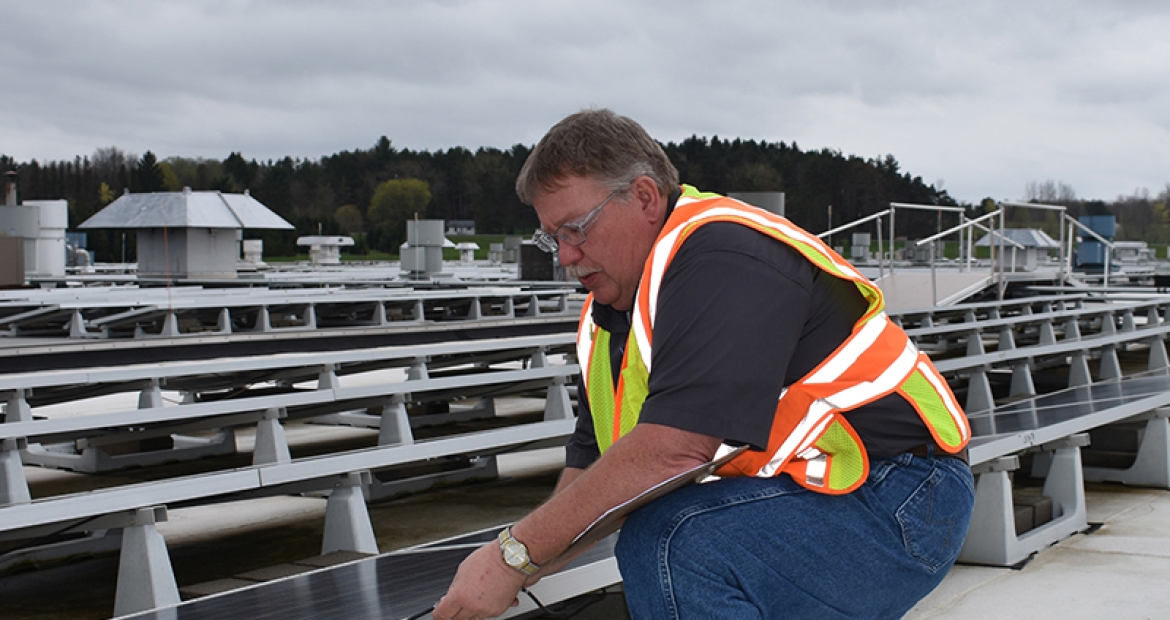 CUMMINS MADE PROGRESS ON THE COMPANY'S GOALS FOR REDUCING ITS ENVIRONMENTAL IMPACT IN 2016, ESPECIALLY FOR WATER AND ENERGY. THE COMPANY HAS ESTABLISHED NEW 2020 GOALS IN THOSE TWO AREAS. 
"The environmental teams around the globe worked hard on making progress on our established goals and setting two new aggressive ones," said Mark Dhennin, Cummins' Director of Energy Efficiency and Environment.
WATER
By the end of 2016, Cummins reduced its direct water use intensity by 42 percent, surpassing the company's goal of a 33 percent intensity reduction adjusted by labor hours by 2020. On World Water Day, March 22, 2017, Cummins announced it was increasing its goal to a 50 percent intensity reduction by 2020.
The revised 50 percent intensity reduction goal represents a potential total water savings of more than 760 million gallons of water since 2010 as Cummins facilities improve practices and upgrade infrastructure.
"Businesses can't operate, and people can't live, without water," said Brian Mormino, Executive Director of Environmental Strategy and Compliance at Cummins. "We have a responsibility to come together in collective action, and Cummins is committed to being part of the solution."
Cummins' water neutrality work is progressing as well. Seven sites toward the company's goal of 15 have now been validated as water neutral, off-setting their water use with community improvements that either conserve water or make new sources available.
ENERGY
Cummins in 2016 approved its third energy goal in 10 years after exceeding its second energy and greenhouse gas reduction goal in 2015. The new goal is a 32 percent reduction in energy use intensity by 2020. The intensity factor is based on hours worked, not revenue as previously used.
Cummins achieved a 24 percent reduction in 2016. The company's GHG emissions decreased by 11,600 tons on an absolute basis and 2 percent adjusted for hours worked. Cummins had a number of challenges in maintaining progress on the goal, including several new buildings and distributor branches included in scope as part of the Distribution Business' North American acquisition.
WASTE
The company in 2016 recycled 89 percent of the total waste it generated over the year, equivalent to approximately 169,000 tons of waste.
Since the baseline year of 2010, Cummins' total waste disposed decreased by about 6 percent in absolute terms, while experiencing a 34 percent reduction in disposal adjusted for hours worked.
Compared with 2015, Cummins' total waste disposed in 2016 increased by 2,600 tons or about 14 percent on an absolute basis and increased by 14 percent adjusted for hours worked. This was primarily due to the acquisition of the North American Distributor locations.
The company has five Zero Disposal sites in Europe, one in North America and one in the Asia-Pacific region. Under Cummins' definition of Zero Disposal, waste can only be burned as a last resort to create energy and then only if there is a net energy gain, creating more energy than is needed merely to sustain combustion.
PRODUCTS IN USE
Cummins fuel economy teams throughout the world have implemented more than 200 projects since the goal of reaching a 3.5 million metric ton annual run rate of CO2 for products in use was announced in 2014. By the end of 2016, Cummins had achieved a 2.9 million metric ton annual run rate toward the company's 2020 goal.
Global momentum with customers has yielded new initiatives to reduce fuel consumption, and more Power Systems and Distribution Business projects were launched in 2016. The average fuel economy improvement of 6.7 percent across all projects is larger than the company's original projections for 2 to 5 percent improvement.
LOGISTICS
To meet the company's logistics goal of reducing CO2 per kilogram of goods shipped by 10 percent, Cummins aims to create and maintain an efficient transportation network that reduces emissions by improved transport planning to maximize loads and minimize distance traveled.
Cummins recorded a 3.7 percent reduction of CO2 per kilogram of goods moved in 2016.
In the U.S., which accounts for approximately half of the company's transportation spending, three of the four operational areas are now managed through a single transportation system. Transportation leaders are analyzing their use of third-party logistics providers and moving towards implementing a transportation data analytics system in 2017.
TO SEE MORE ABOUT CUMMINS' SUSTAINABILITY PERFORMANCE, CHECK OUT THE COMPANY'S 2016 SUSTAINABILITY PROGRESS REPORT.