Talking Cummins Truck Targets Future Engineers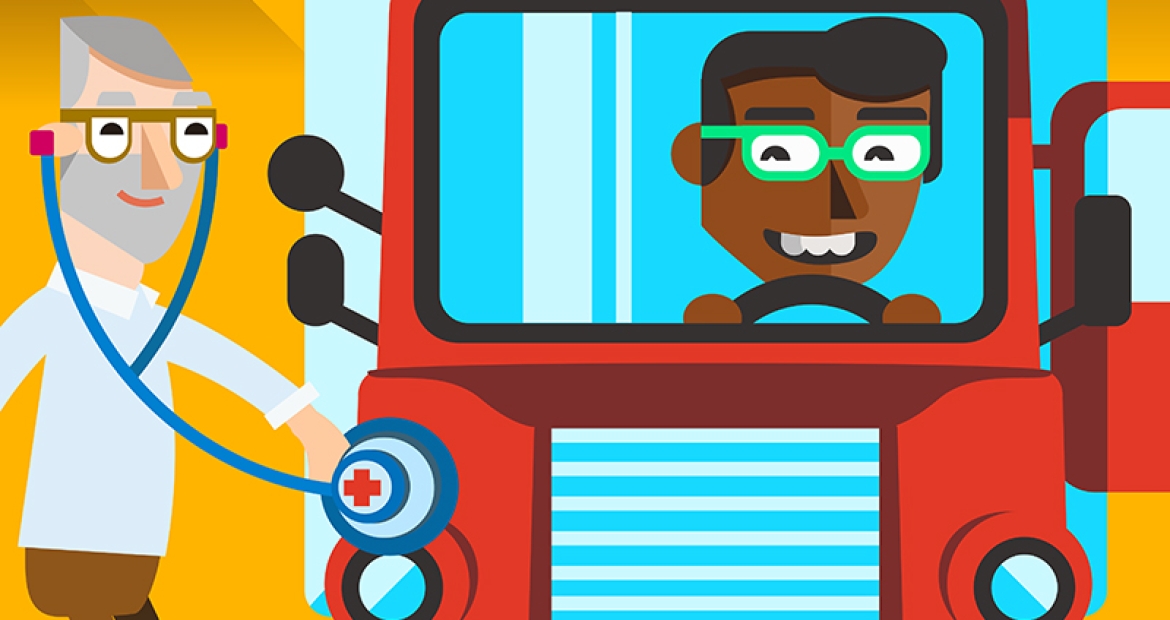 ENGINEERS MAHESH YANAMANDRAM AND TOM McKINLEY WORK WITH HEAVY-DUTY TRUCK ENGINES AT CUMMINS. SO DESIGNING ENGINES MADE OF CARDBOARD, BOTTLE CAPS, RUBBER BANDS AND STRAWS WAS A LITTLE DIFFERENT FOR THEM.
But talking trucks are cool whether it's an 18-wheeler heading down the highway or a kid's STEM challenge built around the kitchen table.  It didn't take long for the two men to agree it was the perfect idea for a Cummins-themed challenge on the popular website CurriosityMachine.org.
"Our engines are talking all the time," said Yanamandram, a senior engineer in Cummins' Engine Business who works with customers to make sure their engines run properly. "Through telematics our engines are constantly telling us whether they are too hot, or too cold, or need something to help them perform  better."
McKinley
"The data our engines send out over the air is not all that different from the way people send text messages," added McKinley, Systems Integration and Validation Director in the Engine Business. "When Mahesh first suggested building a talking truck, I thought it was a great idea."
The goal of CuriosityMachine.org is to get kids excited about science, technology, engineering and math (STEM). Sponsored by Iridescent, a science education non-profit, the website features design challenges using household materials to show kids a career in STEM can be both fun and rewarding.
Challenges on the platform typically include a list of building materials, some basic prompts, pictures of the finished product and a video designed to help kids think about possible solutions. Students are then encouraged to follow the standard engineering design process – Inspiration, Plan, Build, Test, Redesign and Reflect.
Yanamandram
THE HACKATHON
The talking truck was the culmination of an effort lasting several months to come up with a Cummins-themed challenge. Involving about two dozen engineers, the Cummins Curiosity Machine Hackathon was funded in honor of retired Cummins Vice President and Chief Technical Officer John Wall, who championed numerous efforts to develop future engineers during his nearly 30 years with the company.
Project organizers and Cummins Engineers Mukul Aggarwal and Tripti Gupta said participants were put through a rigorous screening process until 10 finalists emerged. The finalists were then placed on two-person teams based on their diverse qualities in hopes of coming up with the most creative designs.
Aggarwal and Gupta said there were many great ideas among the Cummins finalists:
A self-stopping car that can avoid collisions made from a cardboard box, a small motor, clips and other easily accessible materials (Jeff Daiker and Karthik Jagadevan).
An engine made of plastic cups, a cardboard box and other household materials (Carol Moreno and Katelyn Perera).
A transmission made from cans, duct-tape and Styrofoam (Danielle Lewis and Matthew Turczi).
And a fuel delivery system made with aquarium tubing, a water bottle and other material (Aditi Rana and Prashanth Oruganti).
"We want to celebrate everyone's hard work, which made the hackathon a huge success," said Gupta, Technical Productivity and Reliability Leader in New and Recon Parts Engineering. "All the teams came up with innovative ways of creating simple challenges from complex Cummins engineering designs."
Yanamandram and McKinley work in the same general area in Columbus, Indiana (U.S.A.), but before the hackathon they had never met. The laid-back McKinley might have seemed an unlikely pairing with the ebullient Yanamandram, who said his biggest fear upon learning who his partner would be was "overwhelming Tom with my enthusiasm."  But they worked well together over the three or four sessions needed to come up with a design challenge.
The final decision on which project would get posted was made by Iridescent, which took into account several factors including what might best capture the interest of the students who use the site.
AN EXTRA BENEFIT
In addition to having their challenge added to CuriosityMachine.org, Yanamandram and McKinley also now have the distinction of being transformed into cartoon characters by the website as part of the challenge video designed to inspire potential participants.
"That was quite a surprise," said McKinley. "Everyone who knows me and has seen it kind of does a double take. But that's good."
"I loved watching cartoons when I was young," said Yanamandram, laughing.  "Watching myself as a cartoon in reality was an amazing feeling. It was one of my childhood dreams coming true!"
WATCH THE VIDEO AND TAKE THE CHALLENGE
If you want to take the Cummins challenge visit the Curiosity Machine website. You can also see the challenge in action by watching the video below.