Cummins' Locomotive Demonstrates It's Great For Freight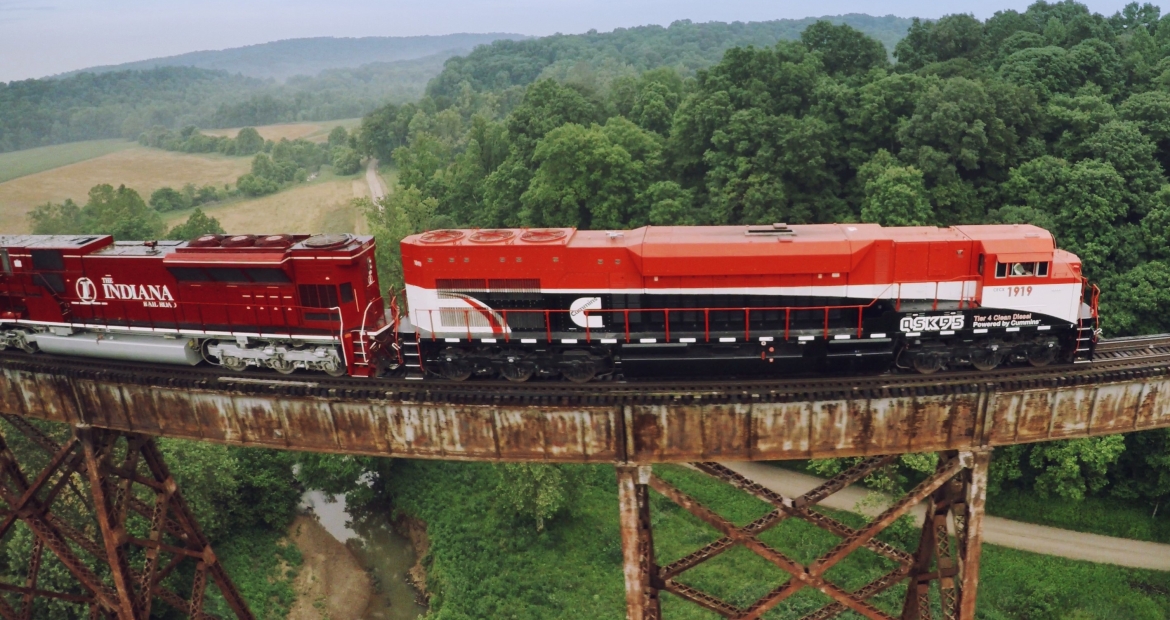 The distinctive red and black locomotive powered by a Cummins' QSK95 engine put up some impressive numbers over its first year of operation on the Indiana Rail Road, beyond just the weight it pulled.
The Cummins locomotive recorded a 16 percent improvement in fuel economy compared to the engine it replaced, an 89 percent reduction in oxides of nitrogen (NOx) and a 98 percent cut in particulate matter (PM).
What some call the company's "mobile locomotive testing lab," also demonstrated over 12 months that it has plenty of muscle, too.
"It pulls better than anything else we have here in terms of an engine 4,300 to 4,400 (horsepower)," said Bob Babcock, Senior Vice President of Operations and Business Development for the Indiana Rail Road.
"When you want to throttle up on the engine, it gets rolling in a hurry," he added.
The locomotive, which is owned by Cummins, completed its first full year of operation in March 2017, logging about 3,800 hours as it pulled coal and mixed freight over the Indiana Rail Road's 500 miles of track south and southwest of Indianapolis, Indiana (U.S.A).
The 95-liter, 16-cylinder engine is one of the most powerful high-speed diesels to be installed in a locomotive. Cummins purchased and re-powered a 40-year-old locomotive to demonstrate that the QSK95 could pull freight efficiently.
The engine is already proving popular with passenger rail systems, powering Siemens' new low-emission, diesel-electric Charger locomotive. The Charger locomotive will be delivered to passenger rail systems across the United States beginning in 2017. The QSK95 was the first single, prime-power engine certified by the Environmental Protection Agency (EPA) to meet its Tier 4 standards.
The system used in the Cummins' freight locomotive also meets Tier 4 certification, replacing a larger, medium speed diesel engine without the aftertreatment equipment to meet Tier 4.
One of the first things the Cummins' locomotive demonstrated is that a QSK95 with Cummins' SCR exhaust aftertreatment could comfortably fit in an older locomotive. The SCR system removes NOx emissions while the engine combustion removes PM, two critical air pollutants.
Over the past year, the Cummins locomotive has gone through extensive study by company engineers, enabling such things as development of the best combustion formula to optimize fuel efficiency. Melina Kennedy, Executive Director of Rail & Defense for Cummins Engine Business, said the past year has demonstrated how well the SCR system works in a freight configuration.
"We've learned a tremendous amount over the past year," Kennedy said. "We're really grateful for the relationship we've had with Indiana Rail Road and our other partners."
Outside the United States, the trend toward replacing older medium-speed diesel engines with cleaner, more efficient high-speed diesels is well established. Inside the U.S., however, most freight trains are still powered by medium diesel engines.
"There's not just an advantage from an environmental perspective to high-speed diesel," Kennedy said. "We've seen a significant decrease in the cost of ownership due to the increase in fuel efficiency."
Indiana Rail Road's Babcock says the engine has been an all-around performer for his company.
"We're able to use this engine on multiple types of service, from fast unit trains of inter-modal to hard pulling, big coal trains, to merchandise trains to local switching," he said. "We think we have been the right fit to really run this engine through its paces."
The see the Cummins QSK95-powered locomotive in action, check out the video below.