Model Engine Builds Interest in STEM Around the World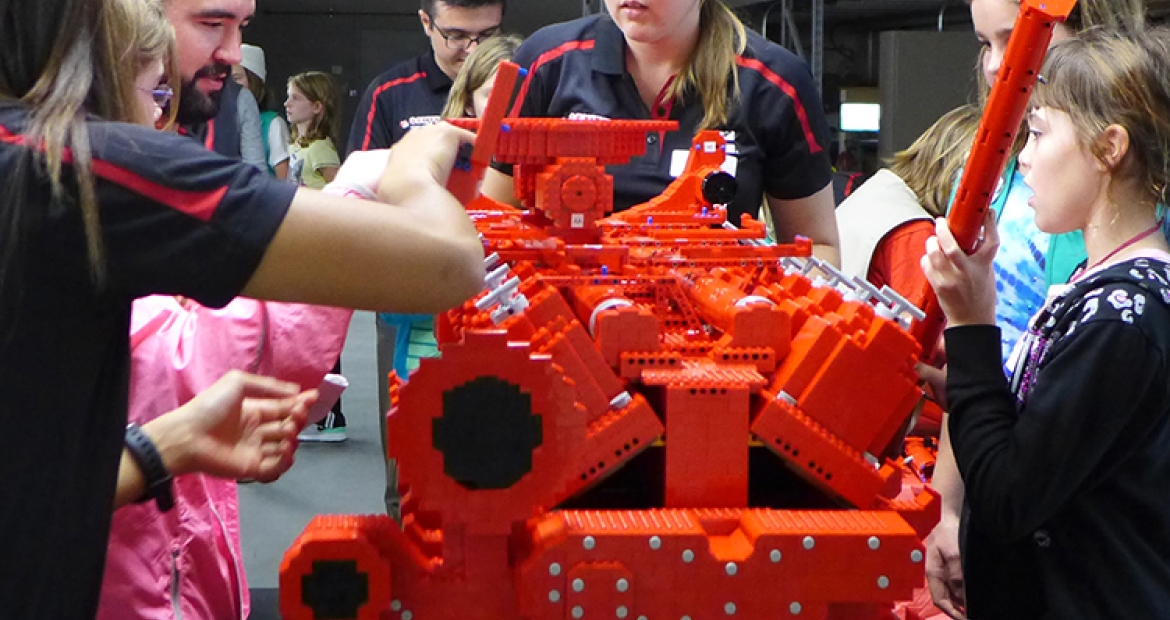 Women have long been under-represented in engineering in the United States...
...so when Cummins Chemical Engineer Alyssa Arend met with a group of Girl Scouts last year, she had a secret weapon to pique their interest in the subject: A model of the company's QSK95 engine made entirely of LEGOs.
"What makes this so great is that it effectively shows how the STEM area is both approachable and relevant," said Arend, who organized a session last year with about 30 Girl Scouts from the Madison, Wisconsin (U.S.A.) area. "Through using everyday objects to build a complex structure, the larger and sometimes ambiguous concept of STEM becomes more tangible. We tried to communicate that engineering is involved in almost everything in their lives – from baking cookies to building snow forts."
That's exactly what Rich Whitney and his team had in mind when they developed the Cummins LEGO model engine.
Shashi Singh, a Controls Applications Engineer in Cummins Engine Business, helps a visitor to the Cummins booth attach a LEGO component to the LEGO engine at the STEAM! Innovation Fair outside Indianapolis.
For the past five years, the model has been helping persuade girls and boys around the world to think about careers in Science, Technology, Engineering and Math (STEM). Typically, students pair up with Cummins engineers to build the model, and talk about STEM in the process.
 "The idea started when we were brainstorming ways to help our campus recruiting teams connect with college students," said Whitney, Cummins' Global Employment Branding Leader.
"We wanted more of our employees to help students get more interested in STEM education and careers while providing a space for them to talk and work collaboratively to accomplish a big project."
About that time, Cummins introduced its QSK95, the largest high-speed diesel engine the company has ever built. Whitney's team saw an opportunity to promote college recruiting, STEM and the new engine – all at the same time.
They partnered with Brickworld, a group of LEGO enthusiasts, to build the engine, and STEM advocacy groups such as Project Lead the Way, to develop the best way for engineers and university students to interact with middle and high school students.
There were many challenges along the way. For example, they learned building the engine at 20 percent of scale would still require 30,000 bricks – way more than could be put together in the 2- to 3- hour session the team envisioned. The LEGO enthusiasts suggested permanently gluing some parts together to speed up assembly.
Cummins employees from Stoughton, Wisconsin help a group of girls construct a model QSK95 engine. Lego builds are part of Stoughton's efforts to increase diversity in science, technology, engineering and mathematics (STEM).
Over its history, the engine has been most popular among Cummins employees working directly with community groups and middle and high schools. In all, more than 2,000 young people have participated in the project in the U.S. and U.K. and a second model is now in India.
Whitney's team is in the process of developing a new program built around the concept of individual LEGO engines that integrate 3D printing technology with moving pistons, cams, crankshafts and valves so students can get a better idea of how the engine works and generates power.
"The new engine model was inspired by all the students who would ask us, 'What happens inside the engine?'" Whitney said. "I want to show them why an engine is so fascinating."
Related Articles
This article is part of a 2016 series that highlights STEM (Science Engineering Technology and Math)-related topics. You can read the other articles here.