Million Mile Profile: Patty Brodeur, Driver for HVH Transportation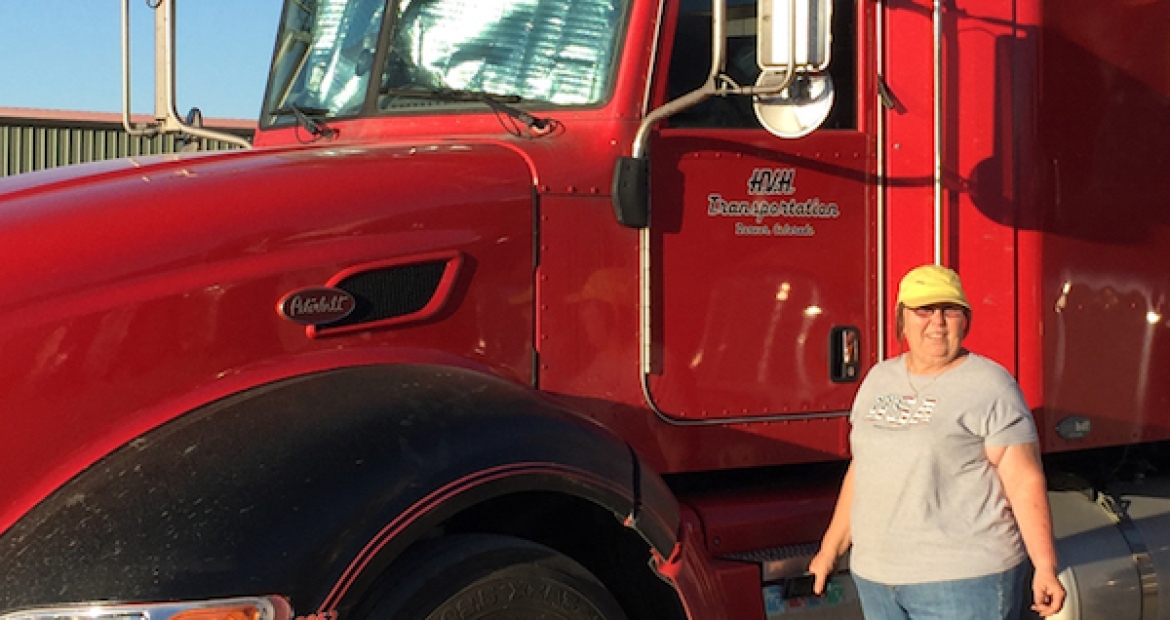 Cummins engines are known for durability and years of reliable service. Many drivers easily surpass the million-mile mark with their Cummins-powered vehicles, qualifying them to join our Million Mile Club.
We recently talked to new Million Mile Club member, Patty Brodeur, a driver for HVH Transportation out of Denver, Colorado…
Cummins: What originally attracted you to the trucking business?
Patty: When I was 10 years old, my uncle started a business as a flatbedder. He came to our house to show off his truck, and I was hooked.
Cummins: How did you get your start as a driver, and what do you enjoy most about it?
Patty: 21 years ago, my husband needed to find a new line of work after being injured on the job. We decided to give trucking a try together, and we enjoyed it for many years. When he passed away, I thought I would never be able to do this by myself, but as time went by, it became easier. I have family and friends all over the country. Being a driver allows me to visit them, even if it's just for lunch.
Cummins: What do you drive, and what type of work do you do?
Patty: I have a 2009 Peterbilt 387 with a 487-horsepower Cummins ISX15 engine that I use to haul dry van for HVH Transportation. I've been with them since January 2003. I drive just about everywhere, except the east coast.
(Cummins Note: Patty's truck is powered by an EPA '07 ISX 455ST rating engine. This is designed for severe service applications, and while the advertised peak horsepower is 455, when operating in high output mode, this engine will actually reach 487-hp, as Patty indicates.)
Cummins: Why did you choose a Cummins engine?
Patty: The first company we worked for had a truck with a Cummins M11. We were green, just out of truck driving school, but it took everything we gave it and then some. So, when it was time to buy my own truck, I bought one with a Cummins. I like that I can take it to a truck stop or repair shop and the mechanics know how to work on it. I also enjoy stopping by the Cummins booth at the Mid-America Trucking Show each year. I ask lots of questions, and they are very patient with me. Knowledge is power, and that builds confidence.
Cummins: Do you have a favorite story from the road?
Patty: My husband and I were at a driver's appreciation event at a Flying J in 1998. We met another couple that worked for the same company and we really hit it off. Thing was, our employer had a no pets policy, and we had a dog with us in the truck. We didn't want our new friends to know, so when we needed to take the dog for a walk, we just said we were heading out to check on the truck. A few minutes later, my husband saw the other couple secretly walking their dog too. We walked over to them and they thought they were busted. Then we showed them our dog and we all had a big laugh. We're great friends to this day.
Cummins: What's your best tip to keep an engine going for more than a million miles?
Patty: Well, I've got 1,019,236 on my Cummins engine, and I'd say the key is never using inferior oil filters. They cause the oil pressure to drop. Also, try to take it to the same shop whenever possible. Familiarity is everything.
Cummins: How much longer do you plan on driving, and what's after that?
Patty: I just turned 60, and I think I will drive a few more years. Then, I want to get a small fifth wheel to hitch to my Cummins RAM 2500, and travel to some of the state parks and tourist traps I was not able to take the big truck to.