Big-Bore Engines Making Big Comeback. Don't Compromise.
Over the past four to five years, a lot has been written about the shift away from big-bore 15-liter engines to medium-bore (11-liter to 13-liter) engines. This was particularly true among truckers looking to minimize fuel costs.
New data shows that many of the industry's trend-setters have discovered the truth in the old saying, "there's no replacement for displacement." They've come to understand the benefits of new technology in the big-bore engines, and have been making the switch because it saves them money. The comeback has been dramatic.
According to Polk Registration Data, the gap is rapidly shrinking for medium-bore engines as more of the industry transitions to big-bore engines that are more efficient in total cost of operation.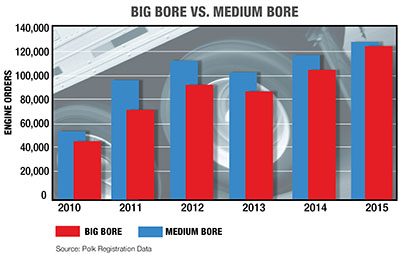 In 2010, medium-bore engine registrations surpassed big-bore registrations for the first time, with the gap growing to 23,000 additional medium-bore units in 2011 (14% more than big-bore). But this margin started shifting back toward the larger big-bore engines in 2013, and in 2015 was less than 5,000 units, which means there is now less than a two percent gap between medium- and big-bore engine orders. Whereas the ratio was 55/45 percent in favor of 11- to 13-liter engines just 3 years ago, today it is virtually even at 51/49 percent.
Cummins ISX15 is inherently more capable than any medium-bore engine, it can climb up hills at a lower rpm with less stress on the engine. Larger displacement engines are capable of producing more torque at lower rpms, which means more power using less fuel.
It's also true that the lower rpms you run on a consistent basis, the longer your engine will last. Plus, the faster average road speeds with a big-bore engine lead to greater driver satisfaction – as does the integrated engine brake on Cummins ISX15, the most powerful in the industry.
While there are certain routes and loads where the medium-bore engine makes sense, new technology such as the ISX15 SmartAdvantage™ Powertrain, enhanced downspeeding capabilities and Cummins ADEPT™ suite of electronic features have added significantly to the 15-liter advantage. Plus, the new automated transmissions are being very well received by drivers, as they reduce fatigue while maximizing operation of the vehicle.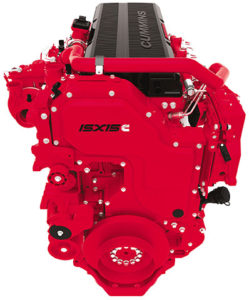 Of course, the big-bore engine that more truckers are choosing over any other is Cummins ISX15 with broad availability now at all truck manufacturers. On average, there are 1,700 more ISX15 engines sold per month than the nearest competitor.
When you go to buy your next vehicle, you might see a lot of trucks on the lot equipped with medium-bore engines. There's a reason they are still sitting on the lot. Don't settle. Don't compromise. Demand the industry leading big-bore Cummins ISX15 and get the best fuel economy, maximum uptime, exceptional performance and long engine life. Everything you need to increase productivity and profits.