Rediscovered 1939 Cummins HB Engine Gets New Life
After 45 years lying in a rusting dump truck, a long-lost member of the Cummins family made its way home last month. A rare 1939 Cummins HB diesel engine was reclaimed from the South Dakota prairie and lovingly transported back to our Columbus, Ind. production facilities for restoration.
Owen Hanson of Bison, S.D. says the Cummins engine powered vehicles for his family for many years. It was transplanted multiple times, with the majority of its life spent powering dump trucks. The HB's eventual occupation was hauling sand across the oil fields in a patchwork International Harvester, finally succumbing to decades of hard use in 1971.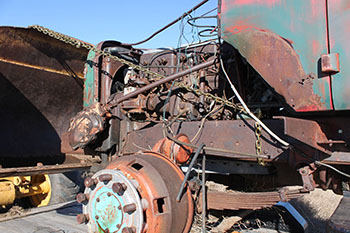 Since then, the International and the Cummins engine at its heart laid abandoned in the middle of the prairie, beaten on by the elements and swallowed up by the ground – a sad state for such a storied engine.
The first Cummins H-series engines date back to November 1931, when Cummins founder Clessie Cummins unveiled the original prototype. A newspaper at the time declared, "A babe was born in Columbus today – a babe of the automotive world, which in time may grow to be the most popular type of truck and bus power plant in the country."
Cummins HB diesels went on to play critical roles in World War II, as the U.S. military bought up every possible diesel engine for the European campaign. Following the war, most were scrapped to salvage metal for other applications.
While this particular HB diesel never crossed the Atlantic, Hanson thought it a shame to let such an iconic and rare engine languish in obscurity, so he called Cummins to gauge interest in reclaiming it.
Speaking to Bruce Watson, then curator of the Cummins historical collection, Hanson relayed the engine's story and explained he would like to see it restored to its former glory. A serial number check revealed the engine rolled off the Cummins line on August 15, 1939.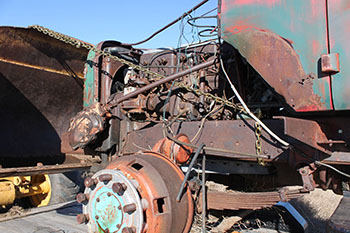 Watson soon made the trip to South Dakota to retrieve the diesel, finding that other than a missing rear axle, the old International was largely intact, with the engine still securely in place. With help from a Hanson family member, a large wheel loader and some heavy chains, Watson extracted the truck from its resting place and loaded it onto a flatbed for the trip home.
The discovery of this historic engine, which is now back in Columbus, sparked a lot of interest among Cummins fans. An article in TruckTrend generated more than 1200 emails, many with recommendations for how the engine should be restored or displayed. The Cummins team is elated at the groundswell of support and carefully considering the best way to move forward.
For Cummins fans and team members alike, this long-lost HB is both a snapshot of the past and a testament to Cummins enduring quality. To that end, we say simply, "Welcome home, old friend."
Learn More About Cummins History
Photos originally published in TruckTrend. Credit: Tim Esterdahl.