Mobile Apps Bring Cummins Service Anywhere You Roam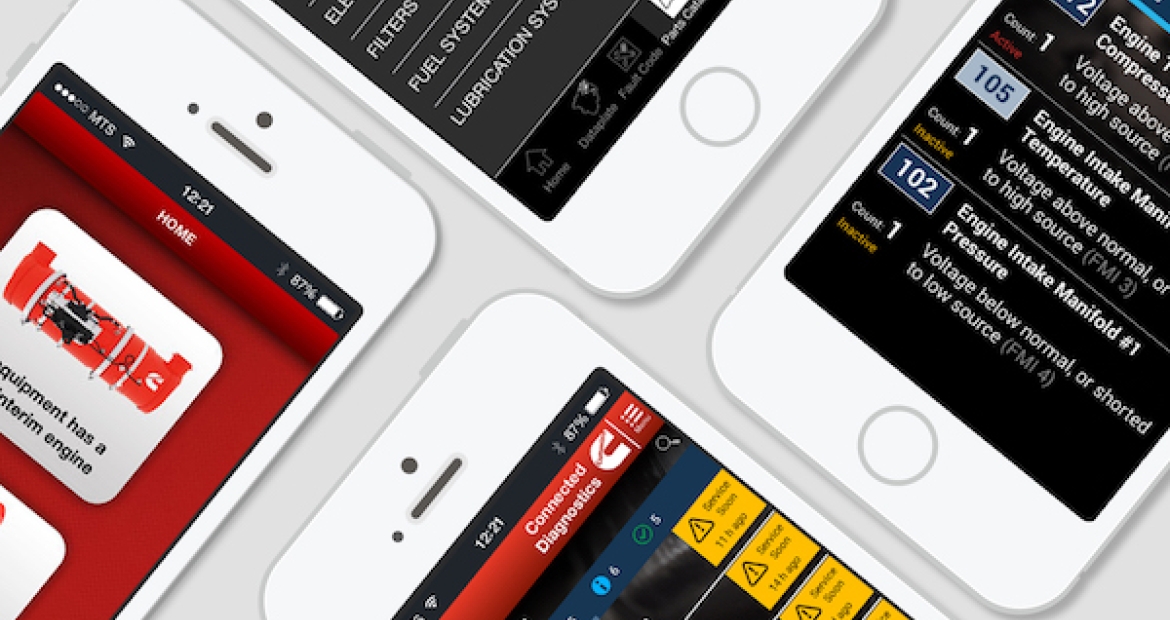 Wherever Cummins engines take you, you can rest easy knowing that legendary service travels with you. While Cummins operators enjoy a worldwide network of dealers, distributors and other repair locations, our mobile apps put the power of Cummins service in the palm of your hand. Our family of advanced apps helps drivers and technicians diagnose any problems that may arise on the job and get answers when you need them most.
We have new apps coming online in the near future, but check out some of the powerful Cummins smartphone apps you can download now...
Connected Diagnostics
The Cummins Connected Diagnostics app takes engine connectivity to the next level for Connected Diagnostics-enabled engines. Connected Diagnostics works with electronic engines in on-highway, off-highway, marine and power generation applications, including industrial diesel engines. With the app, you can view notifications about engine faults directly on your smartphone, including prioritized fault codes, probable root cause and recommended actions to maximize your uptime. It also connects you to the nearest qualified service location and Cummins Care.
QuickServe Mobile
Besides your local service shop, Cummins QuickServe Online (QSOL) is your best source for Cummins parts, service and maintenance help – and this great app puts it in the palm of your hand. The QSOL app provides easy, on-to-go access to part options, parts catalogs, a fault code analyzer and engine dataplate information for more than 15 million Cummins serial numbers. If you need help servicing your Cummins, the QuickServe Mobile app has you covered.
Tier 4 Resource App
Tier 4 engines are complex machines, so we built the first educational Tier 4 Operator app to make managing your engine easy. The app's guided walkthrough answers all your questions about Cummins Tier 4 Interim/E.U. Stage IIIB and Tier 4 Final/E.U. Stage IV engines and aftertreatment systems. Rather than leave you guessing about a dash light, the app provides a handy guides to Diesel Exhaust Fluid (DEF) dash lamps, Diesel Particulate Filter dash lamps and your dash inhibit switch. Should you run into any trouble on the road, the app includes a DEF locator and a connection to the Tier 4 experts at Cummins Care.
Cummins Fault Code Advisor
While the QuickServe Mobile app includes a fault code analyser, we know some fleet managers and service technicians want to get right to the problem. Available for Android devices, the Cummins Fault Code Advisor delivers a valuable snapshot of your Cummins engine. The app helps gather and manage J1939 public fault codes, and can even read certain public fault codes for non-Cummins modules, offering a stronger diagnostic tool for technicians and managers. Through the app, technicians can display and share a full snapshot of engine information including as make, model, serial number, total idle hours, trip fuel information, and total crankshaft revolutions via e-mail. An additional adapter may be required to connect your equipment.