6 Answers About Diesel Exhaust Fluid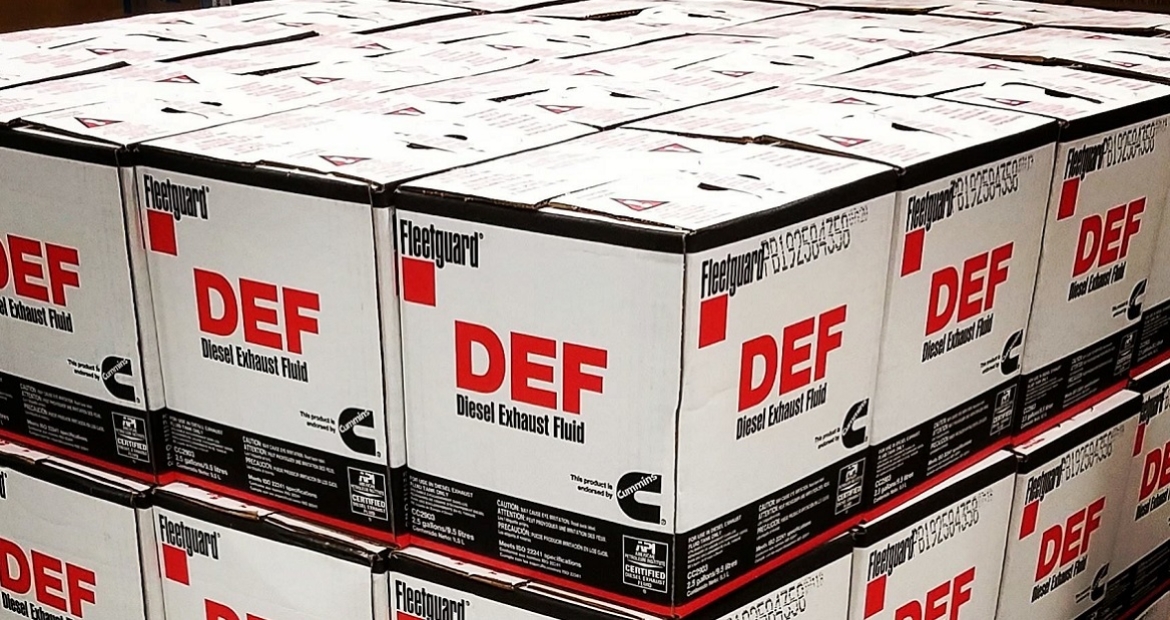 You have questions about Diesel Exhaust Fluid (DEF), and we have answers. 
Pick Up Diesel Exhaust Fluid (DEF) Nearby
With the addition of Selective Catalytic Reduction (SCR) to Cummins diesel engines for a wide range of vehicles built in 2010 or newer, we've answered some of the most common questions about Diesel Exhaust Fluid (DEF).
Here are answers to 6 frequently asked questions about DEF:
Q1: Where can I find DEF?
A: Because almost all diesel-powered passenger cars and trucks built since 2010 are equipped with Selective Catalytic Reduction (SCR) and require Diesel Exhaust Fluid (DEF), it is readily available at most fueling stations and automotive parts retail stores. Truck stops often have a DEF pump right on the fuel island. You can also get DEF at major OEM locations, including Cummins dealer and distributor locations. If you have a large enough fleet and the storage capacity to justify bulk purchasing, your fuel supplier may be able and willing to supply DEF to you directly.
Cummins Filtration has partnered with Old World Industries as the exclusive manufacturer, packager, and distributor for Fleetguard® Diesel Exhaust Fluid in North America.
For a comprehensive list of DEF retailers, visit DiscoverDEF.com. There you can see local facilities that carry DEF, and even enter a trip and map out all sources for DEF along your route.
Q2: What's the shelf life of DEF?
A: DEF shelf life depends on the temperature of your storage facility. It is recommended that DEF be stored between 12°F and 86°F, but when stored below 65°F, shelf life is extended to 2 years. It is recommended to store DEF in a climate-controlled environment and out of direct sunlight to extend shelf life. 
Q3: What happens if DEF freezes?
A: While DEF does freeze at 12 degrees F, frozen DEF does not impact the start-up or operation of the vehicle.  Upon engine start-up, the SCR system provides heat to the DEF tank and lines which allows the DEF to thaw rapidly and keeps it flowing to the aftertreatment system regardless of the outside temperature.
Diesel Exhaust Fluid is formulated with 32.5 percent urea and 67.5 percent deionized water. In storage or when the engine is not in use, DEF will freeze at 12°F (-11°C). At this concentration level, the urea and the water freeze and thaw at the same rate – ensuring that you always have the correct amount of each. Engines with SCR are specifically programmed for optimal performance at this ratio, which is why it is important to make sure you get a quality brand of DEF that meets ISO specifications.
There is one operational difference to note: Like any water-based fluid, DEF expands when it is frozen (by approximately 7 percent). In cold weather, when the operator shuts the vehicle down, waiting 60 seconds before turning off the battery will allow the fluid to drain back out of the hoses and into the DEF tank.
No anti-gelling additive or freeze point improver should ever be added to the DEF, as they will impede its ability to perform correctly and may damage SCR system components.
Q4: How much DEF will my equipment use?
A: DEF consumption will vary depending on the environment, operation and duty cycle of the equipment you are using. On average, DEF consumption is 3-5% of your total fuel consumption levels.
Since most DEF fill-ups will take place at the same time as you are getting diesel fuel, it's helpful to look at usage from that perspective. Our recommendation is to simply top off your DEF tank each time you refuel. If you are running a vehicle that gets very low actual activity, or the vehicle is stored in high ambient temperatures, where shelf life might be a concern, adjust your DEF refills accordingly and consider having a spare bottle of DEF available.
Q5: What happens if my equipment runs out of DEF?
A: All EPA 2010 engines with SCR are designed with a gauge that shows the DEF fluid level, similar to a fuel gauge. In addition, they are equipped with a system of flashing lights to alert the operator well in advance when the DEF tank is getting low on fluid. If the reservoir is not replenished with DEF and runs low, vehicle speed will be limited, but as soon as DEF is added, the engine will resume normal speed levels. A prudent measure would be to have a top-off gallon jug of DEF available on each piece of equipment with an EPA 2010 engine with an aftertreatment system.
Engines manufactured before July 8, 2011, may behave differently than described above. Talk to your local Cummins representative for more details, and ask for Cummins Bulletin 4971316, "Driver Tips For Fire And Emergency Vehicles." 
Q6: Does my equipment use a DEF filter?
A: Yes, all Cummins SCR systems come equipped with a DEF filter located in the DEF tank.
DEF filters help keep unwanted contaminant out of your SCR equipment.  If DEF is not properly filtered, urea crystals and other contaminants gained during transport and storage can cause the SCR system to malfunction or not work properly. Using Fleetguard DEF filters will help you prevent plugged DEF dosing valves and enable the Cummins SCR equipment to reduce harmful NOx emissions as intended. The Fleetguard UF101 filter can be used on any 2010-2016 Cummins engine with an SCR system. For 2017 and newer Cummins engines, such as the X15, use the Fleetguard UF106 filter. For more information about DEF filtration for today's engines, visit https://www.cumminsfiltration.com/DEF_Urea. 
Learn More About Cummins Engines