Unleashing the Power of Cummins to Benefit Customers and the Environment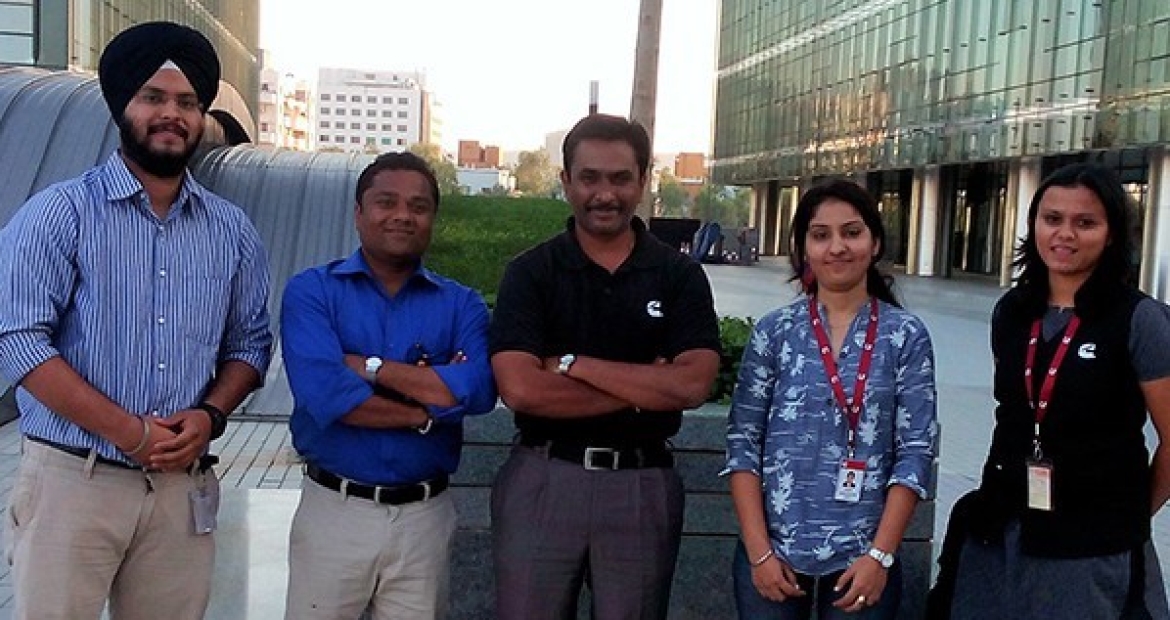 To see how important fuel economy is to Cummins' Amol Wairagade and his team in Pune, India, one only has to look at their extensive "project hopper." The list of initiatives the team wants to tackle over the next few years includes 24 projects related to helping customers get better fuel economy.
The ideas range from developing stop-start technology for bus customers to creating a fuel economy switch that enables heavy-duty truck drivers to easily change to a fuel efficiency setting.
"We want our customers to be the market leaders on fuel economy," Wairagade said. "We know how important fuel costs can be to their profitability."
Improving fuel efficiency, of course, also means a corresponding decrease in carbon dioxide (CO2), a key contributor to global warming and the primary greenhouse gas emitted through human activities, according to the U.S. Environmental Protection Agency (EPA). Improving fuel economy is both a win for the environment and a win for Cummins' customers, too.
"Amol's fuel economy team in India is doing outstanding work," said David O'Brien, Cummins' Fuel Economy Leader. "Their work demonstrates that fuel efficiency is a critical issue not just in North America, but all over the world. We have a tremendous opportunity to help our customers globally and improve the environment at the same time."
Cummins has set a goal of partnering with its customers worldwide to improve the efficiency of its
products in use, reaching by 2020 an annual reduction of 3.5 million metric tons (MMT) of CO2 and saving 350 million gallons of fuel. Emissions from the company's engines and generators in use represent 99 percent of Cummins' CO2 footprint.
O'Brien is the point man on reaching that goal, working with teams around the world like Wairagade's to help customers achieve both better fuel economy and CO2 reductions.
Wairagade was working on fuel economy before the goal was officially established in 2015 because one of the company's strategic partners in India was asking for it as way to differentiate itself from its competitors.
He says helping customers get better fuel efficiency with their Cummins' products has some bottom line benefits for the company, building brand loyalty that will pay off when customers choose their next engine, generator or component.
"Customers have been very appreciative of our efforts," Wairagade said. "There is no doubt in my mind that this is good for Cummins, too."
Wairagade's team meets monthly with O'Brien's team to share the lessons each group has learned. Bill Kendrick, Fuel Economy Senior Engineer and a member of O'Brien's team, said the meetings are invaluable.
"We find that everyone benefits from these meetings," said Kendrick, an expert on fuel efficiency. "We discuss the work being performed by all regions of the world to help generate new ideas and see how others have solved problems."
The team in India hopes to have the fuel economy switch available by early 2016 and the stop-start technology, which saves fuel spent idling by stopping the engine when the vehicle is at rest and then restarting it to move forward, before the end of 2016.
Wairagade believes the stop-start technology might be especially useful in cities in India where traffic is frequently congested. O'Brien said what's learned in India could be applied in China and other locations where similar traffic conditions exist.
"Every market is a little bit different regarding emissions standards and other factors," O'Brien said. "But if we collaborate with our customers and with our Cummins employees all around the world working on fuel economy, we can develop solutions that fit the unique aspects of a particular market better than our competition and deliver these same economic and environmental benefits."
Wairagade agrees.
"We want to unleash the full power of Cummins to win for our customers and win for the environment, too," he said. "Our hopper list is long, but this is a very exciting time to be working in this area."