Cummins Helps Fuel a Community's Commitment to STEM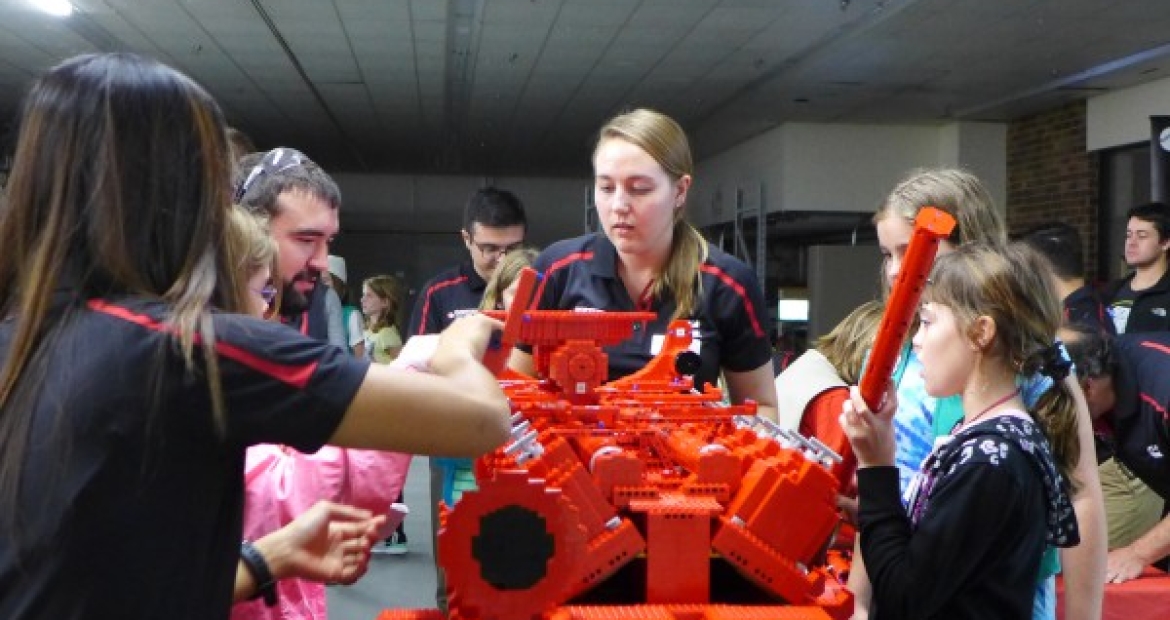 Making people's lives better by unleashing the Power of Cummins may seem like a simple statement but it's what guides 54,000 Cummins employees. Today, Cummins engineers are working together to build a brighter future through a lightweight engine that produces zero emissions. Although the engine does not work, employees are using it to turbocharge the minds of aspiring engineers.
A "Fab Lab" in Stoughton, Wisconsin is inspiring greater student interest, community engagement, and Cummins employee mentoring in science, technology, engineering and mathematics (STEM).
In Stoughton, Wisconsin more than 30 young women constructed a QSK95 engine using just Legos with the help from Cummins Emission Solutions (CES) and Cummins Filtration (CF) employees.  This event was part of Stoughton's ongoing efforts to increase interest, diversity and access in science, technology, engineering and mathematics, or STEM.
"We want to show girls that engineering is all around them," Alyssa Arend, a CES Chemical Engineer, said. "One-on-one interaction with Cummins engineers provides a great opportunity to discuss girls' interests and what engineering means as a career."
Cummins employees are not only leading LEGO® builds but they are also engaging with local students through the Stoughton Area School District's "Fab Lab" or Digital Fabrication Laboratory. In 2012, Cummins helped bring the global MIT program to Stoughton to encourage greater STEM entrepreneurship using 3D printing, laser cutting, engraving, milling and other technical activities.
"I read about Fab Lab while on vacation and took it to my Community Involvement Team (CIT), which tasked me to pursue its feasibility with our local schools," Mike Connor, a retired Mechanical Engineer from Cummins' Research and Development, said. "From there I led a VOC (voice of customer) at the school to identify our needs and applied for Cummins Foundation support to fill our gaps."
Connor and school leaders also recruited local business and foundation partners to provide half of the program's needed funding to ensure its long-term sustainability. Today, The Fab Lab is up and running in Stoughton's high school and is accessible nights and weekends for adult entrepreneurs who want to learn and experiment. Their engagement, commitment and investment to the organization is paying off.
When Stoughton's Fab Lab started, just three percent of the program's participating students were female. Now more than 20 percent of Fab Lab's enrollees are females. In the future, Cummins employees would like to increase that number to 50 percent.
"We always ask 'How do we get the next generation into technical fields in a cool way?'" Robert Porter, a Test Engineering Manager and Stoughton's Education Subcommittee Leader, said. "When students show off their projects you can see the light in their eyes."
As the young girls attach their respective LEGOs®, their excitement reflected off the shiny red and plastic engine that they helped build.
The LEGO® QSK95 engine travels around the country, creating excitement at events on college campuses, diversity career fairs, as well as the Cummins headquarters in Columbus, Indiana.
LEGO®, the LEGO® logo and the Minifigure® are trademarks of The LEGO Group.
Additional Resources: Check out the YouTube video below to take a look inside the Stoughton Fab Lab.
Want to see an actual Cummins QSK95 LEGO® build? Check out the video below.