Members of Cummins Leadership Team Honored for Their Work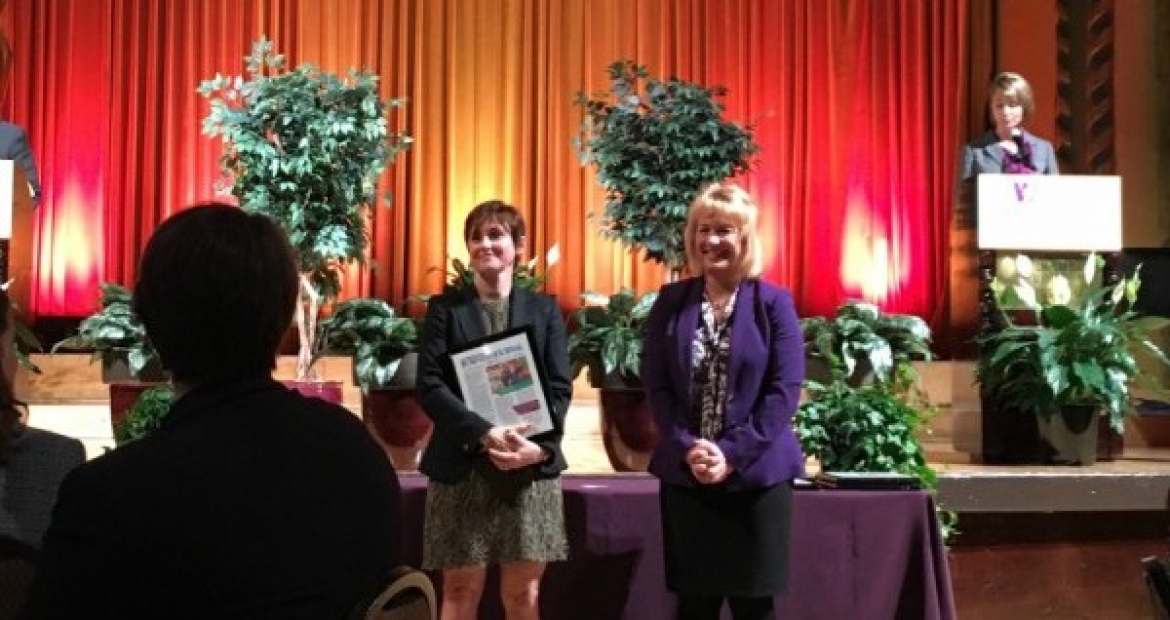 Cummins is a global company that embraces diverse perspectives and empowers its employees. In the past month, two members of Cummins leadership team have been honored for displaying outstanding leadership. Today, these influencers are making a big difference not only in the company but in their communities as well.
Sharon Barner, Vice President and General Counsel, received the Pamela L. Carter Award for Transformative Leadership on Oct. 28 at the Transformative Leadership Awards Dinner in Washington, D.C. The award is given to those who have demonstrated commitment to advancing the empowerment of women in corporate law.
Marya Rose, Vice President and Chief Administrative Officer, was recognized as a 2015 Women of Influence on Nov. 6 by the Indianapolis Business Journal. The award acknowledges Indiana women from both the public and private sector who have demonstrated professional excellence and leadership in their careers and community.
So what ties these two influential women?  They both empower diversity and inclusion in their professions, and confirm that with perseverance and hard work, anything is possible.
Throughout her career, Barner has strived to open doors and provide opportunities for diverse lawyers that weren't always available to her. She strongly believes in advancing Cummins' mission of recruiting and retaining diverse employees, a lesson she learned when her high school guidance counselor told her he didn't think an 'A' student like her could succeed at Syracuse University.
Highly disappointed with her counselor, Barner used that as motivation to prove him wrong.  Four years later, she graduated from Syracuse and earned her law degree at the University of Michigan Law School.
Rose graduated from the Indiana University Robert H. McKinney School of Law in Indianapolis and later became an attorney with Bose McKinney & Evans. Many would be happy, to graduate and land a job soon after college, but Rose admits that she grew restless with her work.
"I thought that's what I wanted," she told the Indianapolis Business Journal, "but I'm a pretty social person. Working solitary in my office with depositions didn't turn out to be the most exciting thing."
After a brief stent in public service, a former co-worker, who now works at Cummins, lured her to the Columbus office.
Today, both women are making countless achievements both outside and within Cummins.
Rose was among the leaders who helped launch Cummins' Unified Communications & Collaboration program. This program is intended to tie all Cummins' communications capabilities into one platform which promotes innovation, empowers employees and improves work productivity. As a leader of the Corporate Local Diversity Council, she is helping bring awareness to visible and invisible diversity at Cummins. Outside of Cummins she serves as chairwoman for Planned Parenthood of Indiana and Kentucky.
Barner has brought her passion for mentoring to Cummins. Since joining Cummins in 2012, her goal has been to help reduce the number of outside law firms from 150 to 25 through a law firm convergence project. She is also a strong believer of advancing Cummins' mission of recruiting and retaining diverse employees. At any given time, she mentors six to 10 women and several men who are at different stages of their careers- both at Cummins and outside the company.
When we embrace diversity we open the doors to everyone. Cummins congratulates both Barner and Rose on their achievements!