Catalysts for Fuel Efficiency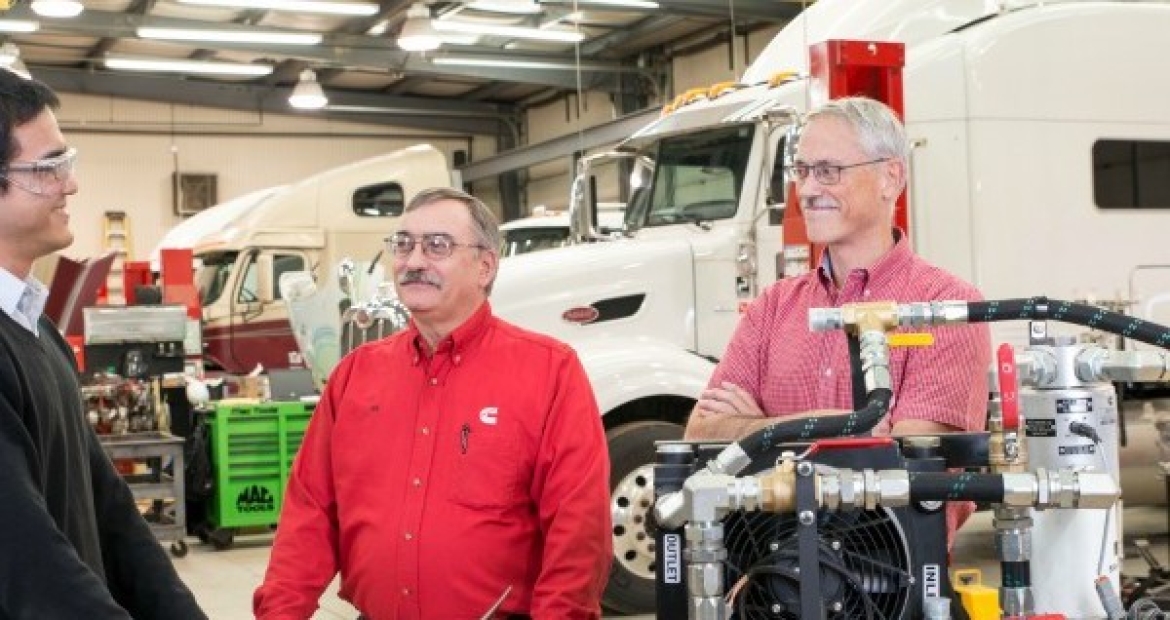 Team promotes working with customers to improve fuel economy.
From his desk in Columbus, Indiana, Cummins Fuel Economy Engineer David Yu uses sophisticated tools to tell customers details about their operations thousands of miles away that even personnel on the ground might not know.
Cummins' Fuel Economy Team is promoting the importance of working with customers to improve fuel efficiency across the company.
He analyzes large amounts of data about the time engines are working and idling in various locations, the fuel they consume, distances traveled and many more factors to suggest ways customers can get better fuel economy, resulting in a corresponding reduction in greenhouse gas (GHG) emissions.
"We've got incredibly talented people helping our customers operate Cummins products more efficiently throughout the company," said David O'Brien, Director – Fuel Economy and Engine Business Unit Sustainability. "David (Yu) is doing some tremendous work, but most of what's happening in this area is taking place at customer sites, where we're working side-by-side to save fuel and at the same time reduce GHGs."
Cummins has set a goal of partnering with its customers to reach an annual reduction of 3.5 million metric tons of carbon dioxide (CO2) by 2020, saving 350 million gallons of fuel annually. Cummins estimates that about 99 percent of its CO2 footprint is attributable to its engines when used by the company's customers.
CO2 is the primary greenhouse gas emitted through human activities, according to the U.S. Environmental Protection Agency (EPA), accounting for more than 80 percent of all greenhouse gas emissions from human activities in the United States.
Measuring fuel use very precisely is critical to Cummins' Fuel Economy Team. David Yu (left), Fuel Economy Engineer, here works with machinery designed to give very precise measurements. He is joined by Bill Kendrick (center), Technical Advisor – Vehicle Performance and David O'Brien (right), Director – Fuel Economy & Engine Business Unit Sustainability.
The perpetually energetic O'Brien is leading the company's efforts to meet what Cummins calls its "Products-In Use Goal." An engineer by training who worked for many years in marketing, O'Brien is part scientist and part promoter in this role, always encouraging his fellow employees to work with customers to achieve greater and greater fuel efficiency.
Along with his team consisting of Yu and Bill Kendrick, Technical Advisor - Vehicle Performance, O'Brien is implementing a strategy to reach the company's goal across all engine and global market segments, with a special emphasis on large on-highway fleets of trucks and off-highway operations such as mining that use a lot of fuel. The team is working with personnel across the company to improve fuel efficiency when Cummins products are in use.
Precise measurements are critical to their efforts. Kendrick, for example, is working on new technology that will more accurately measure the flow of fuel into engines whether that fuel is diesel or natural gas.  Accurately measuring fuel flow is essential to quantifying the benefits of changes to engines, machines or equipment operations.
O'Brien's experience in marketing can be seen in the website he's started and the internal newsletter he produces extolling the virtues of fuel efficiency both for the environment and the customer's bottom line. Fuel savings translate directly into reducing GHG emissions, making his team's work a win for customers and a win for the environment, too.
He believes it's also a win for the company in the customer loyalty fuel economy work can generate. He's seen many examples where customers have purchased new Cummins engines at least in part because of the outstanding service they received on fuel efficiency with their old engines.
"I see my role as the catalyst," O'Brien said. "I'm not doing the work. My goal is to help make it go faster and further."
While a lot of focus is on the largest fuel consumers both on- and off-highway, O'Brien said Cummins has worked with many different customers to recalibrate engines for optimal fuel efficiency, ranging from fleets of forklifts to ski resort snow-making machines.
"We've been doing this kind of work with our customers for a long time," O'Brien said. "We have the personnel and the know-how to make a tremendous difference. If we can help customers reduce one of their major cost centers and help the environment at the same time, to me that's huge."