Redefining Efficiency: Accelerating CO2 Reductions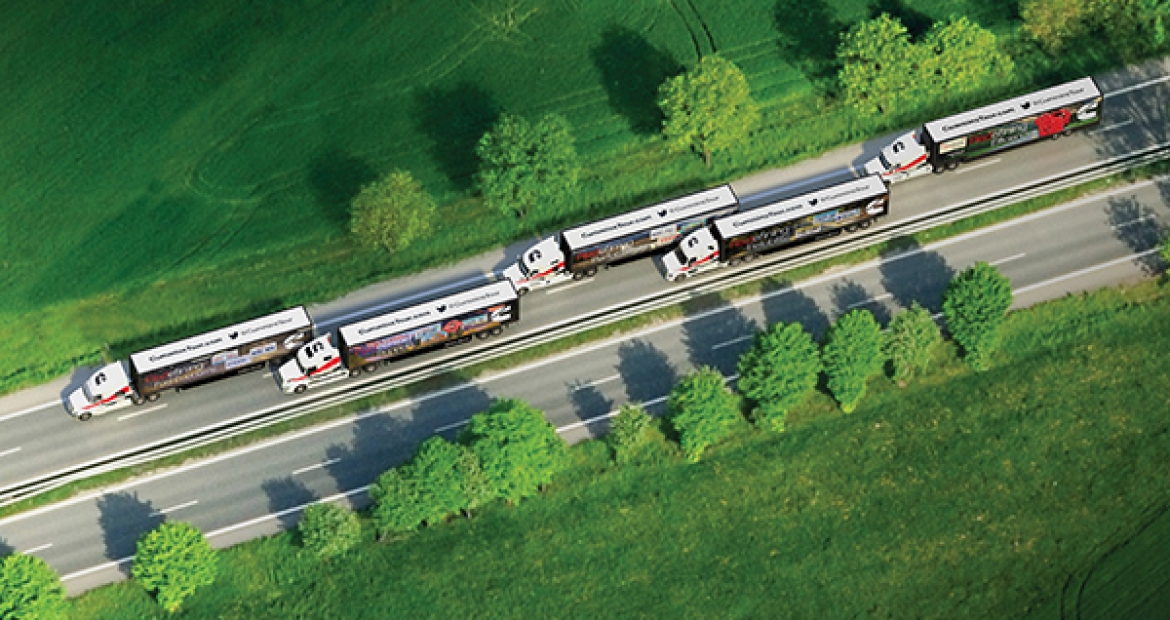 This summer, Cummins' coast-to-coast Redefining Efficiency Tour across North America sparked conversation about how we can continue working with our customers to improve fuel efficiency and reduce carbon dioxide (CO2) emissions.
In order to pinpoint the areas requiring focus, we must measure our overall efforts. Our company's recent voluntary report to the Carbon Disclosure Project (CDP), an effort to encourage greater public environmental reporting and drive change, is one means by which we report this information.
Cummins has reported its facility greenhouse gas emissions to CDP for 10 years. This year we reported our estimate that the collective emissions of just over one million engines Cummins and its JV partners sold in 2014 would be 914 million metric tons over their useful lives of 10, 20 or even 40 years.
Reducing lifetime emissions is an ongoing effort, and we want to keep talking about CO2 reductions and accelerating our work on them.  Our biggest opportunity to reduce our CO2 footprint is with the fuel efficiency of our current and future products, both in their design and use.
Here are four important things to know about Cummins' commitment to fuel efficiency and CO2 reduction.
1. Reducing CO2 emissions is a win for the environment and for our customers
We've already set a goal for working with our customers – reaching by 2020 an annual reduction of 3.5 million metric tons of CO2.  By 2020, we would save in total 16 million metric tons of CO2 and 1.6 billion gallons of fuel.  That's equivalent to taking 3.4 million cars off the road for a year and saving our customers $6.3 billion.
We're also in the midst of setting a strategy and goal for 2016 in "designing for the environment" to use less material and fuel in the company's new products. This will provide even greater fuel economy benefit before our products are in the hands of our customers.
2. Cummins and its customers care about reducing lifetime emissions
Our customers tell us that fuel efficiency is one of the top attributes they look for when making a purchase. They want to deliver the computers, smart phones and other consumer goods we've all come to depend upon as cleanly and efficiently as possible. The same goes for the schools, transit systems, construction companies and fire departments that depend on our engines to move people, build infrastructure and protect communities.
Over the next five years, we expect to work with 20 percent of our customer base, touching nearly two million engines, and tailoring engine specifications to customer applications, ensuring they have the latest tools to improve fuel efficiency.
3. We will use our technical leadership to innovate
The Redefining Efficiency Tour showcased for our customers Cummins products like the SmartAdvantage Powertrain and ADEPT electronic features, both designed to achieve the best fuel economy. Visitors to the tour also saw real world demonstrations of our connected diagnostic tools that help optimize uptime, and the new Single Module exhaust aftertreatment system that is up to 60 percent smaller and up to 40 percent lighter than the current EPA 2013 system.
Cummins' technology leadership and innovation has enabled the company to meet increasingly more stringent emissions regulations across the globe.  Advances over the past 20 years have helped reduce oxides of nitrogen and particulate diesel engine emissions in North America by more than 95 percent.   We have long embraced new regulations, even when they seem next to impossible to reach, and we continue to use our vast expertise to develop products with even better fuel economy.
4. We partner with others for a cleaner environment
There is growing public demand for environmental regulations of all kinds by governments in almost every country.  Customers increasingly want the environmental attributes our products provide to meet these new regulations, with the power and reliability our products feature to help them compete and win.
By participating in the rule-making process, Cummins is in a good position to excel in regulated environments, providing real value to our customers. We are also engaged in many other collaborations and partnerships, working with non-governmental organizations (NGOs) like the Environmental Defense Fund and leading universities and research labs.
SuperTruck, a Cummins-Peterbilt partnership with the U.S. Department of Energy (DOE) that wrapped up in early 2015, set out to improve the fuel efficiency of a concept tractor-trailer. In 2014, SuperTruck averaged a 75 percent increase in fuel economy and a 43 percent reduction in GHG emissions in head-to-head, 24-hour testing against a 2009 baseline truck. The partnership provided an incredible amount of information that should help our entire industry.
It's just one example of how Cummins is redefining efficiency.  We believe these kind of initiatives are good for the environment, good for our customers and good for our business.
Click here for more information on how Cummins calculated the lifetime product emissions and to our 2015 Sustainability Progress Report for more on our commitment to product efficiency in our Environment section.