Redefining Tour Demonstrates How Cummins Delivers on its Mission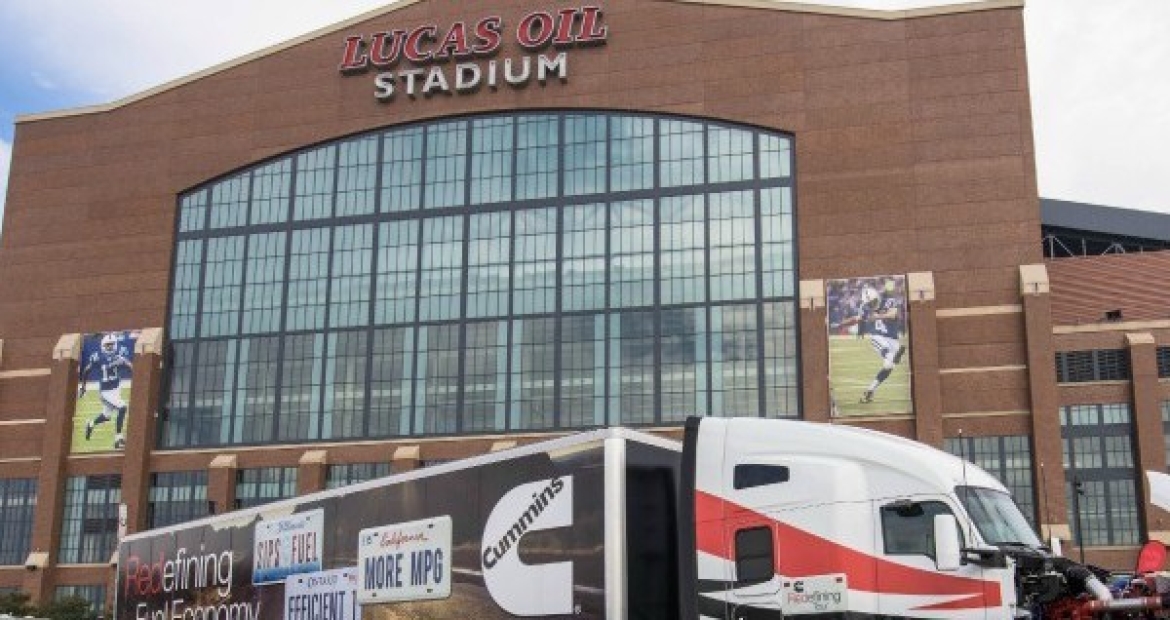 After driving most of the more than 76,000 miles covered during Cummins Redefining Tour, Mike Carlson said he'll never think about fuel economy in quite the same way.
Hauling just over 60,000 pounds as part of the 36-city tour across North America to demonstrate some of the company's latest technology, Carlson said he frequently got better than 9 miles per gallon in the tractor-trailer he drove for most of the tour while averaging better than 8 miles-per-gallon over the entire trip.
Trucks on the road today generally get closer to 6 or 7 miles-per-gallon depending on their age, make and model.
The team responsible for making the REDefining tour a success, including Mike Carlson (second from left), take one last group photo at the final stop in Indianapolis.
"If you had told me I'd be getting 8.3 or 8.4 miles per gallon when we started this trip, I'd say that's impossible," the professional driver with Mobile Events said in the parking lot of Lucas Oil Stadium in downtown Indianapolis, Indiana, where the tour ended Oct. 6. "This trip has completely changed my perspective on fuel economy."
The Cummins Redefining Tour featured five Class-8 truck-and-trailer combinations representing major original equipment manufacturer (OEM) brands. The trucks were powered by a combination of Cummins' current ISX15 engine, the Cummins Eaton SmartAdvantage™ Powertrain and the 2017 ISX15 engine with the compact and highly efficient Single Module aftertreatment system.
The vehicles also featured specifications catering to both fuel-efficiency and high-performance-oriented customers.
While fuel economy was only part of the message delivered during the tour – efficiency, performance, reliability and customer support were other key themes – it came at a critical moment in the company's environmental sustainability
efforts. Cummins is exploring ways it can reduce the greenhouse gases (GHGs) produced by its products in use. Improving fuel economy translates directly into GHG reductions.
The five trucks hauled various equipment used at trade shows that Cummins set up at stops along the way to give customers and others a chance to ask questions ab
out the company's latest innovations. Several of the technologies had fuel-saving components, including:
The SmartAdvantage Powertrain: Fuel economy is improved through a combination of down-speeding and optimized communication between the engine and transmission, making it easier for drivers to operate within a larger "sweet spot" for better fuel economy.
ADEPT (Advanced Dynamically Efficient Powertrain Technology): ADEPT adjusts speed, power and gear selection to take advantage of vehicle momentum and operate the engine sporadically at idle, maximizing efficiency. ADEPT includes SmartTorque2 and SmartCoast. SmartTorque2 determines the exact amount of torque needed to maintain road speed and eliminate downhill shifts. With SmartCoast, the engine and transmission work in concert to improve the efficiency of coasting.
Single Module aftertreatment: Designed to be up to 60 percent smaller and 40 percent lighter compared to the 2013 solution it supersedes, the Single Module improves emissions reduction performance. Its smaller size enables better heat management and retention for improved fuel economy capability.
Carlson said fuel mileage and reliability were the two issues he was most frequently asked about along the tour. He said at one point while he was driving, he was contacted over his CB radio about the Cummins tour. The other driver joined the Cummins caravan until it pulled into a rest stop where he asked all about the new technology.
Amy Boerger, Vice President – North American Engine Business, said the tour reminded her of some of the barnstorming efforts Clessie Cummins led in the 1920s and 1930s, once traveling by truck from New York to Los Angeles for less than $12 in fuel to demonstrate the benefits of the diesel engine.
While not a scientific test, the Redefining Tour served much the same purpose as Clessie's cross-country forays, connecting with customers to demonstrate how Cummins is developing technology in keeping with its mission that everything the company does "leads to a cleaner, healthier, safer environment.