Cummins Tour – From the Road: Boston to Farmington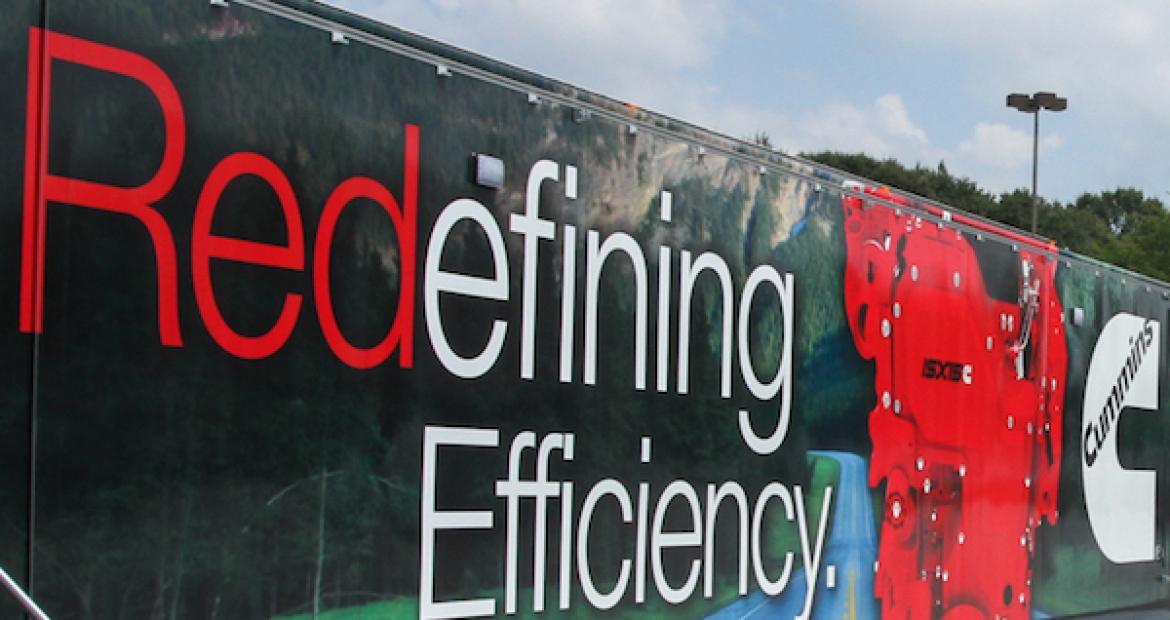 The Cummins Northeast team was excited to have the Cummins Redefining Tour come to New England for stops in Boston, MA and upstate NY. And I was especially thrilled to learn that I would have the opportunity ride along in the trucks to experience the new technology.
For those who don't know my background, I spent a large portion of my Cummins career as a Territory Manager and Distributor Field Service Engineer working with end customers on improving fuel economy and performance. I have logged hundreds of ride along hours in trucks across the US to better understand how to optimize performance and troubleshoot concerns. However, with some of my recent roles at Cummins and now in Distribution, I haven't been to able to experience the technology advances first hand.
I had the opportunity to travel from Boston to Rochester, NY riding in the 2017 X15 powered International with Smart Advantage and ADEPT features. I was absolutely blown away by the advances that Cummins has made in optimizing engine performance and fuel economy. The first thing that stood out to me was how the engine has been optimized to run at lower RPMs to save fuel economy. For so many years, we recommended gearing trucks to run in the 1400-1450 rpm range at cruise speed. In my ride along, I saw the engine operating at 1150 rpm for optimal fuel efficiency but with the performance to ensure driver satisfaction. At at these speeds, the engine was extremely quiet and smooth.
The Smart Coast feature was really over the top (literally!) – we had an opportunity to see the advantages of this feature multiple times during the trip. The engine and transmission interacted to take the engine down to idle to save fuel, as well as made for an extremely quiet operation. The International was also equipped with some ADEPT 2 features so it was also exciting to see the engine/transmission combo make PREDICTIVE decisions on engine speed and shifting.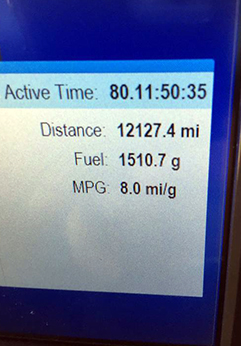 But let's talk about fuel economy… eight MPG for the past trip (~12,000 miles) was unbelievable! At times, we were hitting nine to 10 MPG on short portions of the trip. When I stopped to refuel, I started making calls to my friends in Columbus as the engineer in me needed to know how they were doing it! I was able to reach Jason Owens and talk gear sets, torque curves, etc – and I also learned that there are fleets with current 2013 product achieving these fuel economy numbers. I can remember working with fleets to achieve over six MPG so to see eight MPG is amazing!
Some additional observations on the overall "package." The integration of Cummins and Eaton has truly made this a vehicle that all levels of drivers can excel at driving. With driver recruitment being a constant challenge, truck fleets will be thrilled to have these 'smart trucks' as they will be able to recruit a wide range of drivers and operators. The technology is light years ahead of the early automated manuals or Top2 transmissions that many fleets cut their teeth on. The driver can truly just get in the vehicle and drive and let the engine/transmission take the brunt of the work. I was also impressed with the International chassis – excellent noise isolation made for a very quiet ride and the interior of the vehicle was top notch for driver comfort, sleeping, etc.
Written by Mike Bastuk, Executive Director of Sales and Customer Support for Cummins Northeast